Poker in Afghanistan: Strategy and Tactics at the NATO Base in Kabul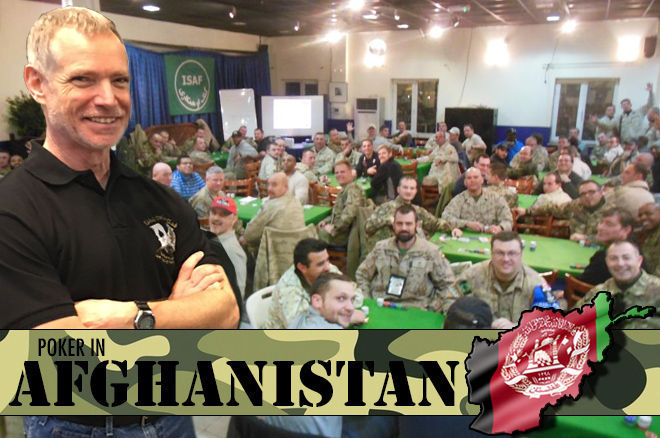 There is no doubt that poker has become a global phenomenon. Log in to an online poker room and you'll see a veritable United Nations of small flags from around the world. Live poker events also span the globe. The international circuit of tournaments can take you from Korea down through the Philippines to the Aussie Millions in the Asia/Pacific area. The European Poker Tour will take you from the British Isles across to Eastern Europe and down to the Mediterranean. And you can play your way across the Americas from Argentina in the south to Canada in the north, eventually hoping to make your way to the big show in Las Vegas.
There are still some places, however, where you might not expect to find a lively poker scene. Like the capital of Afghanistan, Kabul, for example. If you think of Kabul, you probably don't envision big Vegas-style casinos and lively poker rooms. Well, there might not be any big casinos in the Afghan capital, but there certainly is poker, very much so. With all of the danger outside military camps and all the boredom inside, competitive poker is a natural pastime for soldiers and civilians deployed to Afghanistan. And that competitive spirit is at its height in the biggest tournament in Kabul. There's no buy-in, and no big cash prizes, but still every week dozens of players gather for the event. It's the weekly game at the NATO base in Kabul.
PokerNews spoke to Doug Roberts, who organized the game from 2007 till 2014. Roberts was an operations archivist for the International Security Assistance Force (ISAF), a NATO-led security mission in Afghanistan, which ran from the end of 2001 till the end of 2014.
Life at a NATO Base and a Poker Game Each Friday
Whoever watches war movies or gives the good old Tour of Duty another rerun might be convinced war is full of action, with grenades flying and guns firing left and right. The reality is a bit different to say the least. Times are often boring, and some soldiers hardly ever fire their rifles. A military base is like a mini society, with a lot of work to be done, but also some time for relaxation.
"Every base is different," Roberts said. "I was at the headquarters in Kabul, so where we were it was not nearly as dangerous as it could be elsewhere in Afghanistan. We weren't really fighting in the headquarters, of course. We were making the plans."
Roberts' base was in the center of Kabul, very close to the presidential palace. It was only 400 by 500 meters and you had 2,000 people living there. Sometimes you had two, three, or four men in a room the size of a trailer. It was boring and very quiet for lots of people, as most of them could not leave the base for security reasons. You would go to the gym and go to work, that's basically all there was for a lot of people.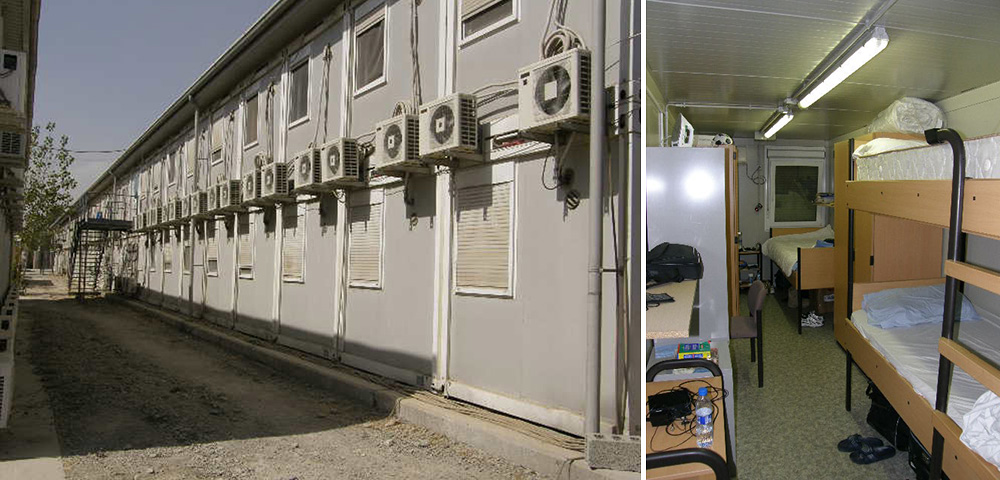 Small rooms at the ISAF base in Kabul (photo: Doug Roberts)
In order to counteract the boredom a little, NATO have so-called "morale" programs. You could get videos, they had pool and ping pong tables, and they had poker.
"When I got there in 2007, a US Navy sailor who was part of the Morale Welfare Activity (MWA) had already introduced Texas hold'em," Roberts said. "When I showed up, they were playing a tournament every Friday, since Friday was the day most people had their one day off. They had a limit of 48 players and it was always full."
Roberts played a lot of poker before he got to Kabul, but hold'em was new to him. He played games like five-card draw, stud, and seven-card stud, so he had poker knowledge. He just needed to apply that knowledge to a new game.
"I got a little book, maybe 10 pages thick, and it basically said 'play good cards!' Roberts remembered. "I sat down in the game one Friday and I won my very first tournament, and I thought, 'This is pretty fun!'"
When the Navy sailor that organized the game left, they needed some volunteers to take over. Roberts, together with his friend Noel Leblanc, jumped in and managed the weekly poker game from that moment on. The first thing they did was add three more tables so up to 72 players could take part. Leblanc, who was a computer guy, brought them into the digital age by introducing tournament director software.
"At one point, I noticed that the software could keep records, I'm an archivist after all," Roberts said. "I started designing a league so we could set up a point system. Now it wasn't just a new game every Friday anymore, the players could actually score points. We had a real leaderboard!"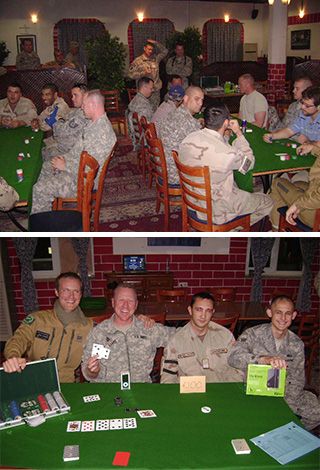 Most guys would come through for six months. Roberts and Leblanc broke it up into a season of six weeks. After the season, there was a championship game with the top 24 players for the season playing for the championship. Making it to that game became a real point of honor for the players.
"Of course, it didn't cost them any money to play, as it was a recreational thing," Roberts said. "Most militaries have rules against gambling, but since it was a freeroll the players couldn't lose anything so it wasn't an issue. But they still took their play and their standings seriously."
The MWA gave them prizes for the top three players each week. You could win cameras, iPods, or similar. The MWA would gather money from all the vendors who had shops on base, and they would take 10 percent for morale programs. Out of that money, they bought chips and cards and little prizes to give away each week.
"People loved it!" Roberts said excitedly. "Honestly, most of the time life was pretty boring for most people at the base. You're away from your family for all this time, and you can't leave this tiny little compound. What do you do? People were really looking forward to Friday, because that would be their time to play some poker!"
It wasn't just them playing poker all the time. If you're sending your troops somewhere dangerous they need some pastime. They're doing a hard job, but no one can work 24 hours a day, seven days a week. For three or four hours one day a week they got to do something else and free their mind. The rest of the time those deployed soldiers and civilians were doing hard work; sometimes boring, sometimes very dangerous.
After the success of the leaderboard on the NATO base in Kabul, interest in the concept came from outside the camp.
"There was an American base, maybe 1000 meters away, that heard of our game and wanted something similar," Roberts said. "So we helped them set up a game at their base and before we knew it, we started doing competitions between the camps. We had our top eight play against their top eight players. It was a lot of fun. The guys and gals just loved it, and it made me feel good that they were having such a good time."
Custom Chips for Deep Runs
Roberts introduced the point system, which started giving people bragging rights. Besides the points, they went ahead and had custom chips made. There were black, green, blue, red, and white chips at first, but they didn't play with those, they awarded them to people that did well. Making the final two tables got you a chip; white for places 9th-16th, red for 4th-8th. Getting third netted you a blue chip, finishing runner-up made you a green chip. To get the black chip you had to win. Players started collecting those, so if you saw a guy with a stack of whites and a couple of reds you just knew someone was a good player.
Eventually the purple chip was introduced. Roberts had a point system to track the best players each season; winning a tournament gave you 51 points, for example. They started tallying points over a player's entire tour. If you collected 350 points during the time you were there, you got the purple chip. Now you had guys trying to do that as well, and they loved it.
"I'm pretty proud about it all," Roberts said. "The way we did it, and what we turned it into, we really had a nice poker room. The players were dealing for themselves as we didn't have dealers of course, but still we tried to run it very well."

Custom chips
Next thing you know, Roberts and his team got an email from the MWA in Kandahar, as they had people talking about the program and wanted to implement it, too. Roberts shipped their ideas to a couple of different places.
"In Germany, where I'm living and working now, there's a US military base and they were doing some poker," said Roberts. "I instantly introduced them to the tournament director program I used and helped set it up there, too."
Different Nationalities, Different Ranks
Everyone could join, the game was open to everyone that was allowed on the base. You could have an Air Force colonel playing with a Navy lieutenant commander, and you would have a civilian playing with a private and a sergeant. And most times you would have six or seven countries represented at a table. At the peak, they had 50 different countries taking part in ISAF and most of them showed up at the poker tables.
"A Frenchman here, a British guy there, a couple of Americans, and the Macedonians loved the game too!" Roberts said.

It's the nature of tournament poker that you're moving around from table to table as the tournament shrinks down. As a result, you meet a lot of people. Poker resulted in everybody fitting in a bit better, especially the ones who didn't speak strong English. English was the preferred language at the table, as it was the most known, but if your English wasn't so strong yet you could pick it up a little bit at the tables.
"But either way, you would meet people and bond over the game," said Roberts. "Maybe you wouldn't have talked to somebody before, but now you would. When they'd walk around the camp the next day after a game and they would come up to the gate and recognize someone, it was much easier to start a conversation. And if you needed something fixed or needed some assistance with your computer, it was so much easier to walk up to someone you knew from the poker game."
With a lot of people living on a small base, without much privacy, one might expect things to result in big frustrations. Those frustrations might have been there, but things never escalated at the poker tables in the ISAF game.
"Every other guy had a rifle underneath his seat, and the rest of them had pistols on their hips. You might be thinking it was going to be a Wild West shoot out for sure, but no, that wasn't happening," Roberts said. "Yes, you would have arguments. I became the tournament director and studied up on the rules so I could referee. The way we were running it and the way we kept control of it, we were able to settle everything down before it escalated. Nobody ever got into a fist fight even. You had some words and some harsh feelings, but in the end it always ran out OK."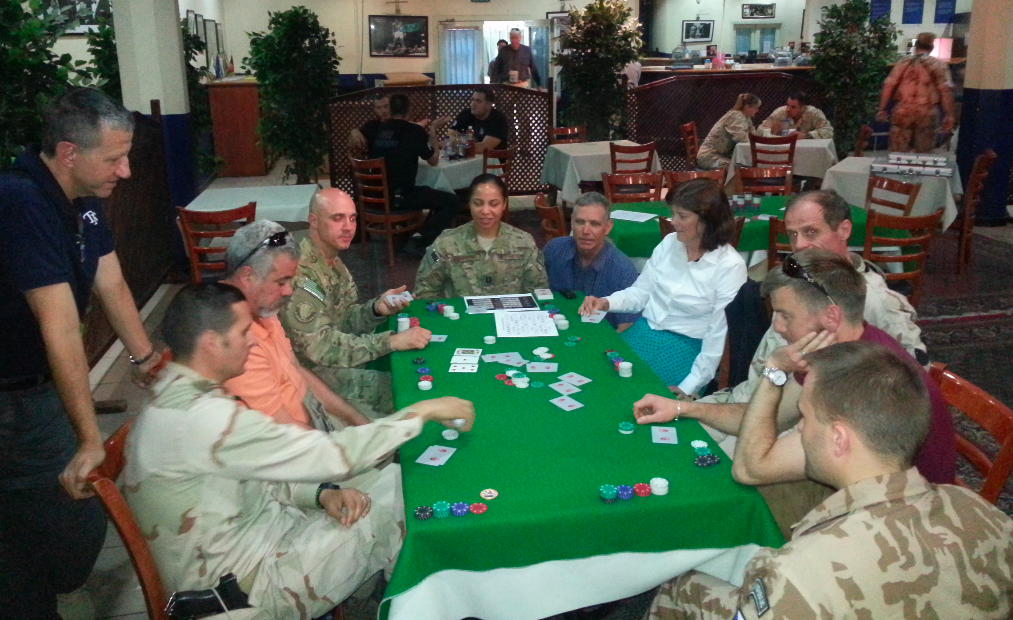 Doug Roberts (squat in the middle) gives poker lessons
Reaction from the Superiors
Poker is often seen as gambling, something not allowed on the NATO base in Kabul. With now 70 players getting at it on the poker tables each week, some eyebrows were raised at first. The fact that players couldn't lose anything resulted in a positive attitude towards the game from the higher ranking officers, they saw the effect and were convinced it was a good thing. The only thing bigger than the poker program was bingo. Poker was a lot more sociable than bingo, as with that game the soldiers were just looking at some numbers.
"Whenever someone was rotated out, they would introduce the new people," remembered Roberts. "'Here's my replacement, I'm bringing him over,' they would say. Lots of people had never played poker, but since it didn't cost you any money it was a great place to learn. Poker isn't that hard of a game to learn, everyone picked it up pretty quickly."
The other thing it proved to Roberts was that it wasn't all luck.
"In fact, poker is an incredibly skillful game," he said. "You saw the same guys at the final table or final two tables week after week. You look at the leaderboard one week after another and 10 of those names were gonna be the same every week. You can't be on the leaderboard week after week after week or earn a purple chip during your tour if you weren't a consistent and solid player."
The Game Today
Roberts isn't stationed in Kabul anymore, but still every Friday there's a game at the NATO base. They still keep track of the points and the championship game is still in place. Keeping scores for longer than a season has been abandoned though.
"I was there from 2007 till 2014, but the guys that took over from me were more short term, so that was hard to keep track of," Roberts said. "But yeah, I still get emails from the guys telling me that they're still doing it and carrying on. The work I did in ISAF was interesting, but those poker games provided some of my best memories of my years in Afghanistan."
Doug Roberts now works for the Allied Joint Force Command in the small Dutch town of Brunssum. He is by no means a pro these days, but that he picked up a thing or two is proven by his excellent results in Amsterdam during the Master Classics of Poker last November. He won the €750 Single Reentry event for €61,152 ($65,430).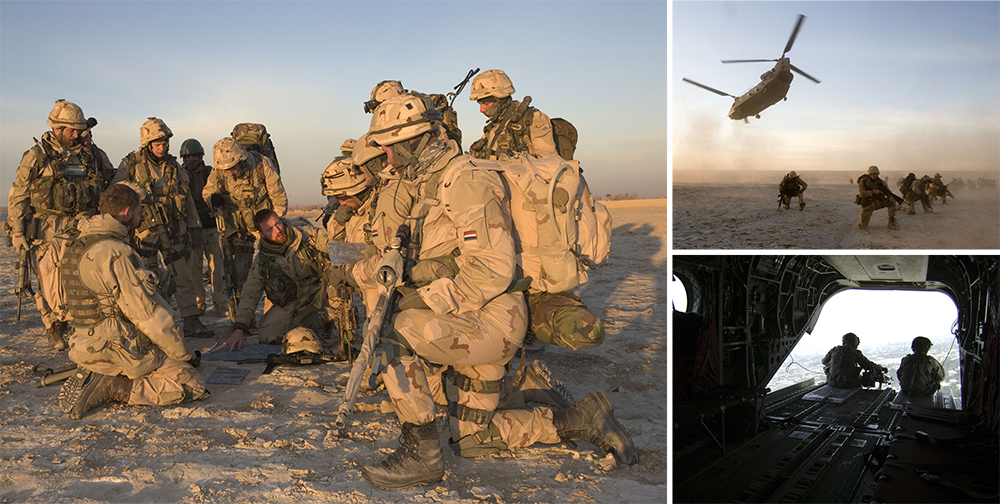 Uruzgan landing zone (photos: ISAF); Helo ride over Kabul (photo: Doug Roberts)
---
Frank Op de Woerd interviews Doug Roberts after his victory at the Master Classics of Poker 2015 (starting at 4:58)
---
Want to stay atop all the latest in the poker world? If so, make sure to get PokerNews updates on your social media outlets. Follow us on Twitter and find us on both Facebook and Google+!