Top 10 Stories of 2015, #1: Online Poker Changes at PokerStars and Full Tilt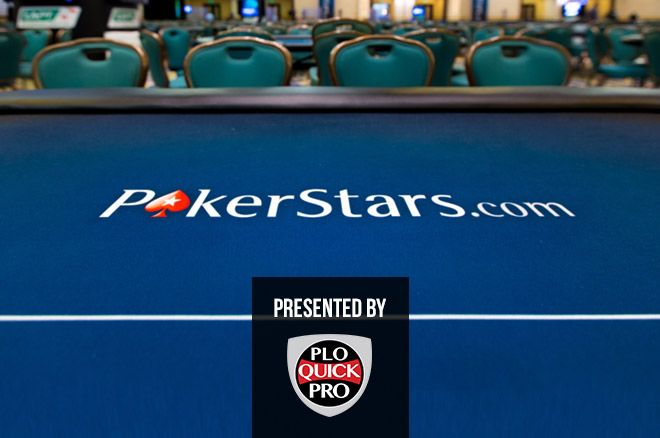 The PokerNews Top 10 Stories of 2015 is presented by PLO QuickPro, the fastest way to learn PLO.
As far as the poker world is concerned, the 2015 calendar year has come to a close. In PokerNews tradition, our staff has scrolled through the archives and gone over the most compelling stories of the year to determine what we feel are the top 10 of the year. Our list was generated based upon a vote from staff members and audience feedback. Over the next 10 days, we'll count down what we believe are the biggest and most interesting stories from 2015.
If 2015 was a transitional year for the poker industry, then it is probably safe to assume that 2016 will mark the beginning of an era for online poker, as rooms like PokerStars and Full Tilt changed their skin to adjust to the new strategies set by Amaya Inc., and gambling groups like bwin.party were object of bidding wars between companies adamant to increase their footprint in the gambling industry.
Following a path already tested — with mixed results — by poker rooms like Unibet Poker, partypoker, and 888poker, PokerStars and Full Tilt decided to focus more on recreational players and modify their offer in a way they believe to be more enticing for first-time and casual players. Starting today, if you play at PokerStars or Full Tilt, you are going to notice a significant series of considerable changes that are supposed to lead to an all-new offer. Here, we offer you a rundown of all the most important changes and some useful explanations to understand the reasoning behind them. All of which was the No. 1 story of the year at PokerNews.
What Changes at PokerStars: VIP Steps and StarsCoin
As from Jan. 1, 2016, PokerStars offers an all-new VIP Club that the room believes to be "an improvement for recreational and occasional poker players." According to PokerStars, the new VIP Club will lead to a "more balanced longterm poker economy and will return the game back to one that rewards skill via winning at the tables rather than playing primarily for volume."
As Vice President of Corporate Communications for Amaya Inc. and PokerStars Eric Hollreiser explained in November, the changes have been adopted "to enhance the playing experience and re-emphasize the fun and social aspects of online poker while attracting and retaining more players to the game."
One of the most visible changes in the poker room's VIP program is the introduction of a multi-step system that the site believes will provide "a clear, easy way to see your progress towards VIP statuses." Starting today, the VIP Steps program replaces the traditional VIP program that PokerStars players have become accustomed to over the years.
The new program utilizes the current VIP levels (BronzeStar, ChromeStar, SilverStar, GoldStar, PlatinumStar, and Supernova), with each VIP level being broken into a number of different steps rather than of VPPs, and with each step earning players a predefined amount of StarsCoin (more on that later) — you can click on this link for a compelte overview of the steps included in every VIP level.
To give you a concrete example, let's say that the players that currently start the year off on the lowest VIP level, the BronzeStar, typically needed to earn 100 VPPs to move up the ladder and become ChromeStar. Under the new VIP Steps program, however, the players need to complete 20 different steps, each requiring them to earn five VPPs.
Players with a VIP status from BronzeStar to PlatinumStar have until the end of the month to complete their current step; should they not be able to complete all the steps needed to reach the next VIP level, StarsCoin for incomplete Steps will be released at 50 percent of the prorated value of the progress earned.
To continue with our example, let's imagine that the BronzeStar player has earned only three VPPs of the five VPPs required to complete their current Step, which offers a reward of 5 StarsCoin. In this case they would get 50 percent of the prorated value, or (3/5 x 5 SCs)/2 = 1.5 StarsCoin.
As you may have noticed from the example above, another important change is the replacement of the variable FPP currency with a new one called StarsCoin which is set to have a fixed value of $0.01. Starting Jan. 1, PokerStars players receive all their rewards in this new currency, while all the FPPs that they had in their accounts have already been converted into StarsCoin at a rate of 1.2 StarsCoin for every FPP.
With the introduction of the StarsCoin currency, PokerStars aims to simplify their VIP programme and make it more accessible to recreational players and beginners. Early this morning, all the prices in the VIP Store, including tournament tickets and cash rewards have been updated to reflect the StarsCoin value of $0.01.
A New Rewards System Launches in January
The Steps Program and the StarsCoin currency are not the only two elements changing at PokerStars, as the room's goal of making the games more enticing for recreational and casual players included also a significant modification of their rewards program.
From today onwards, the VIP Club rewards will be capped at 30 percent, with this new implication mainly affecting those at the higher tiers of the VIP program such as Supernova and Supernova Elite players. "While the impact is significant for the highest level VIP tiers, it will affect a small percentage of our entire base," Hollreiser explained.
With the new reward system, the players from BronzeStar to GoldStar are set to continue earning rewards similar to the ones they were earning before, while players at the highest tiers will suffer for a sometimes significant reduction in overall rewards. Here's an overview of the changes between the new and the old system:
| Status | 2016 Average Rewards |
| --- | --- |
| BronzeStar | No change |
| ChromeStar | Up to 10% increase |
| SilverStar | No change |
| GoldStar | No change |
| PlatinumStar | 10% decrease |
| Supernova | 0-27% decrease |
| 200K+ VPPs | 27-60% decrease |
PokerStars will allow more rewards for players who have already achieved Supernova Elite status in 2015, as the room decided that their rewards will be capped at 45 percent for 2016. Also, by Jan. 1, 2017, the Supernova Elite VIP status will be discontinued.
"We have always believed that poker should primarily be played for the fun and competitive aspects of the game," PokerStars explained. "In recent years, our VIP Club rewards have become so enticing that we have inadvertently altered why some people play and how they play." According to the poker room, these changes needed to be introduced "to move towards a more balanced poker economy and to return the game back to one that rewards skills via winning at the tables rather than playing primarily for volume."
These aren't the only changes, as PokerStars will no longer be offering the quarterly $1 million freeroll for players that achieved Supernova status and above. In lieu of those freerolls, the poker room has already announced that it will run to four $1 million freeroll tournaments in 2016, as part of "an already exciting — though not yet announced — series of promotions, events, and new products" to be released throughout 2016.
Another important change that happened today is that the players will no longer earn any VPPs at pot-limit and no-limit games with blinds of $5/$10 or higher, 8-game with limits of $10/$20 or higher, and other limit games with blinds of $10/$15 or higher. This, according to PokerStars, was decided "to help offset some of the significant costs incurred in offering high stakes cash games."
When the decision to modify the rewards and to no longer grant VPPs in high stakes games became public, players almost unanimously spoke out against the new rewards program, especially the high-volume players who will feel a pinch in their wallets starting next year. However, there is a minority of players that understand why PokerStars is making the change, and some low-stakes players are pleased with the additional rewards and higher-value freerolls.
Hoping to push the poker room to reconsider the changes, a part of the poker community promoted a boycott that took place from Dec. 1-3, 2015, with Dani "Ansky" Stern asking "everyone who values the game of poker at all, recreational or pro, to show their support." Although the list of participants included top names like Ben "Ben86" Tollerene, Phil "MrSweets28" Galfond, Ola "Odd_Oddsen" Amundsgaard, Justin "ZeeJustin" Bonomo, and Jack "jackziyang" Salter, a look at the traffic figures showed that the boycott was not overly effective, thanks to the poker room running a series of special promotions right during the same days.
Talking about the boycott and the new policy adopted by PokerStars, the Director of Poker Communications at PokerStars Lee Jones explained that while the poker room understands the position of the players and the sometimes poor communication between the room and an important part of their player base, the changes are "absolutely necessary."
"We care a lot about what players think; we know they have expectations and we work very hard to meet those expectations," Jones told PokerNews. "The fact that matters is that the VIP program is broken and the ecosystem is broken and we have to do something about it."
January 2016 marks also the beginning of the end for third-party software at PokerStars, as the room is now determined to limit the use of technological advantages as much as possible.
"[Poker] should be about combining logic and an ability to steel your nerves to make that big call or bluff; it shouldn't be about clicking a button because harvested stats tell you to," Hollreiser went on to say.
"We want to make clear rear the line will be drawn to preserve poker as a battle of wits and a test of heart," Hollreiser explained as he announced that the poker room will keep tightening their policies against the use of third-party software as it already happened in 2015. "Technology can aid, but it shouldn't take over."
What's New At Full Tilt
PokerStars is not the only poker site to start 2016 with a focus on recreational players and with the hope this will help to bring new players (and liquidity) into the ecosystem. Months ago, also the room's sister site Full Tilt announced a number of significant changes that included the removal of table selection, of all heads-up tables, of the nosebleed stakes, and a complete overhaul of their rewards Program.
"Full Tilt is making some big changes (…) to not only bring the fun back to online poker, but also to make the site more exciting," the room's Managing Director Dominic Mansour said back in July. "Unless you are the leader, the poker economy in 2015 is broken — and that affects everything."
To fix that, since late 2015, all the players at Full Tilt can choose between a revamped version of their Edge loyalty scheme or the Players Club, a new rewards program "where good things come to those who play."
Aimed at recreational players, The Players Club offers its members a number of freerolls, a special Weekly Windfall flip freeroll and a special mini-game known as The Deal where players can win cash prizes of up to $200 in addition to the Full Tilt Points, ring game tickets, freeroll entry and a shot at the progressive jackpot.
As for the new Edge program, it now has three status levels: Edge, Edge Plus, and Edge Prime. Players receive $1, $1.50, or $2 per 100 Full Tilt Points earned, with Edge Prime members being able to convert their collected Full Tilt Points to cash at a rate of $1 per 250 Full Tilt Points.
Players can also receive a cashback boost of up to 200 percent by playing in games that are experiencing low traffic. An Edge Bonus Cashback symbol will appear next to these games and anyone playing in them receives an additional cash back boost of up to 200 percent, with additional month-long cashback boosts being available to winners of Edge leaderboards.
When the changes to Edge come into force, players still achieve the different levels based on a 30-day or 100-day rolling average. However, these averages have been altered and will now be:
Edge: earn a 30-day average of 80 FTPs or a 100-day average of 70 FTPs
Edge Plus: earn a 30-day average of 250 FTPs or a 100-day average of 150 FTPs
Edge Prime: earn a 30-day average of 500 FTPs or a 100-day average of 400 FTPs
"We're reinventing our rewards programme so that it's genuinely attractive to all players, not just those that play the most," Mansour explained. "It's been a huge team effort and we really believe that the changes we've crafted are going to make online poker a better place. We are excited about returning Full Tilt to its natural place as the innovative leader of the online poker industry."
PokerNews Top 10 Stories of 2015:
Be sure to stay tuned to PokerNews as we continue to count down the top stories from 2015.
Want to stay atop all the latest in the poker world? If so, make sure to get PokerNews updates on your social media outlets. Follow us on Twitter and find us on both Facebook and Google+!
Want to stay atop all the latest in the poker world? If so, make sure to get PokerNews updates on your social media outlets. Follow us on Twitter and find us on both Facebook and Google+!