Top 10 Stories of 2015, #3: WSOP Highs and Lows; Colossal Records, Heads-Up Controversy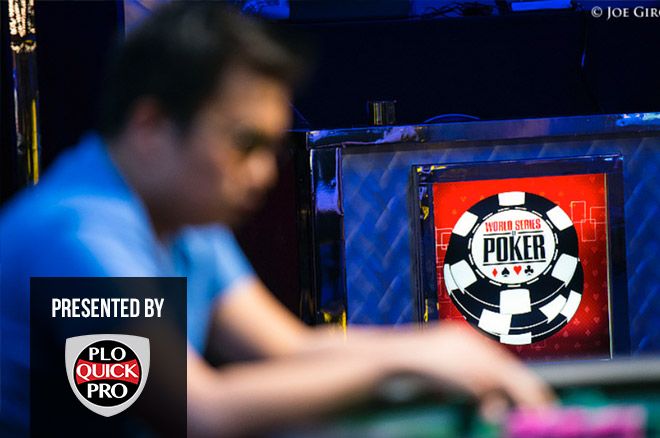 The PokerNews Top 10 Stories of 2015 is presented by PLO QuickPro, the fastest way to learn PLO.
As far as the poker world is concerned, the 2015 calendar year has come to a close. In PokerNews tradition, our staff has scrolled through the archives and gone over the most compelling stories of the year to determine what we feel are the top 10 of the year. Our list was generated based upon a vote from staff members and audience feedback. Over the next 10 days, we'll count down what we believe are the biggest and most interesting stories from 2015.
Coming in at No. 3 on this year's list is a couple of stories from the summer's World Series of Poker.
WSOP Colossus Smashes All Sorts of Records
Be it a relationship, a job, or a yearly poker series, 45 years of the same thing will put a strain on the patience and commitment of nearly anyone. Change can be a good, necessary part of life — something needed to keep things fresh, exciting, and motivating.
The brass at the World Series of Poker certainly subscribes to this theory, always looking for innovative ideas for new tournaments that will pique the interest of an often tough-to-please crowd. When the schedule for the 46th annual WSOP hit the virtual newsstands, one new event grabbed the attention of poker players worldwide: The Colossus, a $565 entry, $5 million guaranteed gold bracelet event.
In many ways, the WSOP has always been about catering to poker's elite, with career bracelet races and $10,000-or-bigger events dominating media coverage and personal discussions. With the Colossus, the WSOP clearly coveted the casual. This was a chance for the poker every-man (and every-woman) to sit down and play for a bracelet, a once-distant dream suddenly an easily-managed reality.
The Colossus had the poker world buzzing like a high school clique when a spicy new rumor hits the mill. Plans were laid and trips booked as even players with only passing interests in the game were eager to fire into the epic event. Some players even related plans to round up stables of horses, calling up old poker buddies whose games were collecting dust, and offering to stake them into what would surely be the softest field in poker history.
One real question remained: Just how colossal was this unprecedented tournament going to be — exactly how many would show up? The 2006 WSOP Main Event, won by Jamie Gold, held the record for largest WSOP field at 8,773. A slew of small stakes reentry tournaments in the Mega Millions series at the Bicycle Casino in Los Angeles laid claim to the biggest ever live fields, with the heftiest coming in at 13,178.
Both records appeared certain to fall. WSOP Vice President of Corporate Communications Seth Palansky projected more than 24,000 entrants while calling his outlook "optimistic." Even most conservative estimates seemed to be north of 15,000.
When May 29, 2015, finally rolled around and the Colossus officially kicked off, it was unlike anything ever seen in the halls of the Rio All-Suite Hotel & Casino. Interminable registration lines stretched throughout, with players who had failed to take advantage of the pre-registration patiently waiting to sign up for a shot at glory. Seeking to make the spectacle as extravagant as possible, WSOP brass hired a number of people to dress as old-time gladiators dressed in full regalia and brandishing trumpets.
The dust from four opening flights began to settle two days later, and the final numbers were tallied. Palansky had been correct branding himself an optimist, but he wasn't high by much. Including reentries, 22,374 entries had been logged, creating a prize pool of $11,187,000.
With such a massive field of players, the Colossus smashed all sorts of records. Amongst those records to fall were most entrants in a live poker tournament, largest prize pool for any live poker event with a smaller buy-in than $5,000, the largest first-place prize for a $500 live poker event, the largest single-day attendance for a live poker tournament, most players to cash in a live poker event, and largest reentry event.
Day 2 dawned with more than 3,400 runners taking their seats, but the good vibes of the record-setting numbers soon turned sour. When the breakdown of prize money was announced with $638,880 earmarked for first, many players gaped in shock as that number was a mere 5.7 percent of the prize pool. Some assumed that officials had mistakenly announced second-place money.
When it became clear that wasn't the case, a number of heated players took to Twitter to air their grievances, with Vanessa Rousso pointing out that such a small cut for first was a major departure from industry standards that typically saw at least 15 percent of prize money to the winner.
Palansky, meanwhile, staunchly defended the prize structure, saying payouts were mathematically sound and based off a time-tested formula. He pointed out that the winner was getting a better return on investment than Martin Jacobson got for taking down the 2014 WSOP Main Event, which had a widely-criticized top-heavy payout that was heavily tweaked for 2015.
"I don't know anywhere else in the world where you can do something and four days later make 1,130 times your investment," Palansky told PokerNews' Marty Derbyshire. "If you make [first place] 10 percent, you're gutting it for everyone else. You're giving the winner $1.2 million and you're taking it from all the other places. If people want to gut everything to make a bigger first-place prize then that's the exact opposite of the message they were sending us three months ago."
Players had no choice but to continue grinding with the announced payouts. As they busted out over the next few days, another issue cropped up with those finishing in the 2,241 paid spots — players weren't getting their dough, instead finding themselves stuck in impossibly long and slow payout lines.
According to the reporting of PokerNews' Chad Holloway, the unprecedented number of payouts had created a bottleneck in the computers, and hundreds at the very least were left unpaid on the day they busted. A number of irate players found themselves sweating collecting a payout in time to get on a plane.
The show must go on, though, and in the end, circuit grinder Cord Garcia emerged atop the largest field in tournament history to claim his first bracelet and the biggest cash of his career.
Despite the tournament's issues, the Colossus overall proved to be a smashing success, and another iteration is planned for 2016. Edges may have been rough, but the big picture painted a truly historic poker tournament that captured the industry and fueled the dreams of thousands.
Controversy Arises in $10,000 Heads-Up Championship
If the Colossus was everything that makes poker great, then the $10,000 Heads-Up Championship that kicked off just as it was ending showcased the darker side of the game.
The Heads-Up Championship is an event that invites much fanfare and holds prestige within the poker community as it is mostly a contest of top players engaging in single combat without the restraints of tight hand selection or the multi-way pots that crop up in full-ring or even short-handed tables. However, controversy marred the 2015 event as a competitor who ran deep stood accused of vicious cheating, leaving a number of disgusted and upset opponents in his wake.
Moldova's Valeriu Coca isn't a name most would peg as a favorite in the event, but he ran through Matt Marafioti, Pratyush Buddiga, Aaron Mermelstein, Conor Drinan, and Byron Kaverman en route to the Round of 8.
Variance can push anyone through a small sample of opponents, but Drinan and others believed Coca had more than that on his side. Drinan and Buddiga took to Two Plus Two to air their suspicions that Coca had cheated, possibly by marking cards and using special sunglasses.
Drinan relayed to PokerNews' Remko Rinkema a number of strange behaviors Coca exhibited in their match, including looking at his own cards numerous times and repeatedly asking to see Drinan's stack. As the match progressed, Coca seemed to have a more and more perfect read of what Drinan held, according to the American pro, allowing him to make perfect decisions on nearly every hand.
In addition, multiple sources told Rinkema that Coca has been banned from a number of European casinos for cheating.
Drinan advised Kaverman and Keith Lehr, Coca's next two opponents, of his concerns. Although Kaverman fell to Coca, Lehr dispatched him in fifth for $54,545 en route to winning the event.
Coca, if he was aware of the accusations, didn't show it the day after the story broke. He was found calmly grinding Chinese Poker in the Pavilion Room and laughed off the idea that he cheated.
"This is fantasy," he said in an interview with Derbyshire. "The players who lost are very good, so they just don't believe they could lose to me for an honest reason. I have no way of marking cards or any other tricks."
The matter appeared to be unresolved as the WSOP initially announced an investigation but little else thereafter until October, when the WSOP released a statement saying the investigation had come to a close and Coca's funds were available for payment. That's undoubtedly a frustrating end for those who believe they were cheated, and the close of one of the most important stories of 2015.
Be sure to stay tuned to PokerNews as we continue to count down the top stories from 2015.
PokerNews Top 10 Stories of 2015:
Be sure to stay tuned to PokerNews as we continue to count down the top stories from 2015.
Want to stay atop all the latest in the poker world? If so, make sure to get PokerNews updates on your social media outlets. Follow us on Twitter and find us on both Facebook and Google+!