Top 10 Stories of 2015, #4: The Loss of David Ulliott, Chad Batista, and Others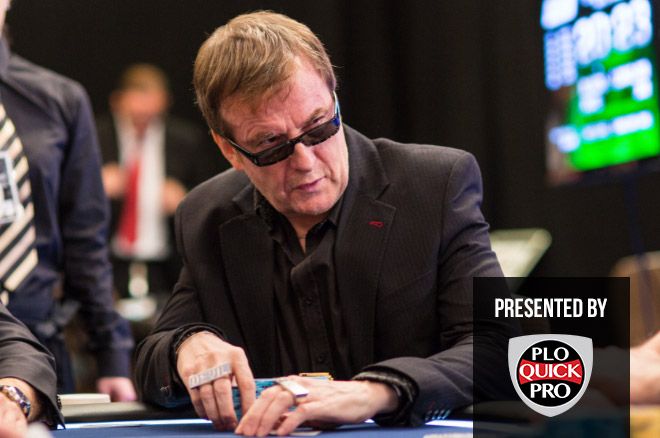 The PokerNews Top 10 Stories of 2015 is presented by PLO QuickPro, the fastest way to learn PLO.
As far as the poker world is concerned, the 2015 calendar year has come to a close. In PokerNews tradition, our staff has scrolled through the archives and gone over the most compelling stories of the year to determine what we feel are the top 10 of the year. Our list was generated based upon a vote from staff members and audience feedback. Over the next 10 days, we'll count down what we believe are the biggest and most interesting stories from 2015.
Coming in at No. 4 on this year's list is the loss of some special players to the game.
David "Devilfish" Ulliott
With the New Year approaching, PokerNews thought it'd be appropriate to take a look back at those the game lost in 2015. Unfortunately they were many – enough to make their collective passing our No. 4 story of the year — though none lost were as big a character as David "Devilfish" Ulliott.
Back in March, rumors began to circulate that the 61-year-old Ulliott, who had live tournament winnings in excess of $6.2 million and a World Series of Poker bracelet to his credit, was battling cancer alongside his family in his Hull home. Less than a month later, he lost that battle.
"It is a hand that life has thrown at me," Ulliott said of the diagnosis. "All my life I have had rubbish hands and I have managed to turn them around. It is what I am good at and this is no different.
"When I found out the news, I shouted the wife and told her we were going out for a meal," continued Ulliott, never one to take things too seriously. "But I said I'd better not order a dessert because things were not looking that good."
Ulliott left behind his wife Anpaktita, and eight children — Kerry, Lucy, Paul, David, Chris, Steven, Mike, and Matthew. He also left the poker world in mourning with players like Phil Hellmuth, Doyle Brunson and Erik Seidel calling for the Devilfish to be inducted into the Poker Hall of Fame. As a result, Ulliott was nominated for the first time, though ultimately fell short of induction.
Perhaps Ulliott's friend, Andrew "Giddy" Perendes, said it best when he said, "Poker is not poker without the name Devilfish."
Simpsons Co-Creator Sam Simon
Of course Ulliott wasn't the only player to exit the game in 2015. In March, the co-creator of The Simpsons, Sam Simon, 59, passed away after a long battle with cancer. Simon was also a renowned animal advocate, philanthropist, and poker aficionado.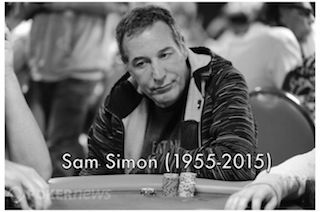 Simon was diagnosed with colorectal cancer in 2012, and in early 2013 he revealed to Jon Leiberman on Leiberman: Live at 5 on Howard 101 that it had spread to other organs and become terminal. Simon said doctors estimated that he only had months to live, but he fought the battle for an entire year.
Poker fans may remember seeing Simon on High Stakes Poker back in 2009. Aside from that, Simon, who first cashed in a poker tournament back in 1995, had amassed $358,655 in tournament earnings, which included a win in the 2010 Winnin' O' The Green $225 No-Limit Hold'em for $57,308, and $39,445 for finishing 329th in the 2007 WSOP Main Event.
]Robert Paul "Eskimo" Clark and Robert "Uncle Krunk" Panitch
A month later, Robert Paul "Eskimo" Clark, 67, passed away. Born June 2, 1947, in Stockton, Missouri, Eskimo was one of seven children by George and Ella (Martin) Clark. He served as a medic in Vietnam, spent time in New Orleans, and eventually found his way into the poker world.
Eskimo's first-ever cash came in the 1988 WSOP when he finished eighth in Event #5: $1,000 Limit Omaha for $4,560. Three years later, he won his first gold bracelet when he took down Event #14: $5,000 Limit Seven-Card Stud for $122,000. Eskimo would go on to capture two more bracelets — 1999 WSOP Event #2: $1,500 Razz for $84,610 and 2002 WSOP Event #7: $1,500 Limit Seven-Card Stud Hi-Low for $125,200.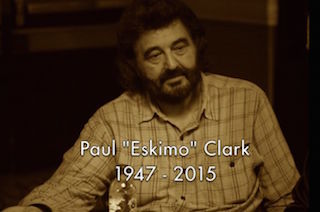 At the WSOP, Eskimo, who developed a reputation as a bit of a curmudgeon, was well known for an incident that occurred during the 2007 WSOP. During Event #29 $1,500 Razz, he had a seizure midway through the tournament that required immediate medical attention. Eskimo was taken from the tournament area, but later returned and ended up finishing fourth for $31,186, the last WSOP cash of his career.
In early May, the poker world lost two very different players in WSOP Circuit regular Robert "Uncle Krunk" Panitch, 63, and Mexico's Gerardo "Chiclick" Godinez, 34. The former passed in his sleep of what was believed to be a heart attack.
"He was, in every sense of the term, 'his own person,'" his brother, Richard Panitch, told PokerNews. "No one would ever accuse him of following the crowd. He was an accomplished amateur chef who 'went organic' long before it became fashionable. Although he had no children of his own, Bob loved his family. He was a 'favorite uncle' of numerous nephews and nieces.
As for Godinez, who ranked eighth on Mexico's all-time money list, he was killed in a car accident on his way to play a poker tournament.
"He was probably the most well-known poker player in Mexico," poker pro Angel Guillen told PokerNews. "He was known for making a fortune playing cash games. When I started to play poker in 2007, Godinez was already on the scene and everyone feared him. He was a good friend, a great guy, an extremely hard worker, and a true grinder. He was very smart with poker, and he made a fortune by playing almost every day for the last eight years that I've known him."
WSOP Commentator Dick Van Patten
On June 23, entertainment icon Dick Van Patten, 86, passed away due to diabetes complications. Van Patten's résumé in the entertainment world is legendary, but less known is that from 1993-95 he served as commentator for the WSOP.
"Mr. Van Patten was very important in poker history for one reason, and that's because when the WSOP was in this formative, backroom smoky, outlaw-type environment, the powers that be wanted to bring in someone who was respectable and mainstream that everyone could connect to," said poker historian Nolan Dalla. "Sure enough, they get the star of one of TV's premiere shows. He was everyone's father, so him coming into the WSOP and announcing it gave it a sense of not only respectability, but also that it was morally ok."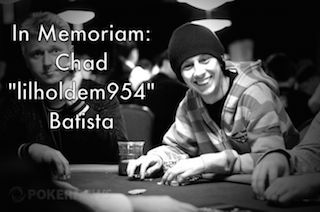 Online Poker LegendChad "lilholdem954" Batista
In August, Chad "lilholdem954" Batista, born in 1981, passed away unexpectedly.
"It is with the deepest sadness that we announce the sudden passing of our beloved son, nephew, cousin, brother and friend, Chad 'lilholdem954' Batista," his family revealed in a statement. "Chad died suddenly this beautiful Thursday afternoon with his family surrounding him. We ask that our privacy be respected at this difficult time and we thank you for your prayers."
Batista, who also went by the moniker "M8kingmoves," was once one of online poker's most prolific players, and from August 22, 2007 to July 2, 2008, he was the No. 1-ranked tournament player at PocketFives.com.
"Back in the 'early days' of online poker, Chad 'lilholdem954' Batista was one of the most feared and successful tournament players in the world," wrote PokerNews' Brett Collson. "He won major event after major event, while attracting fans (and detractors) with his brash and aggressive behavior on the virtual felt. Batista's stardom faded after Black Friday, but his online moniker is one we'll certainly never forget."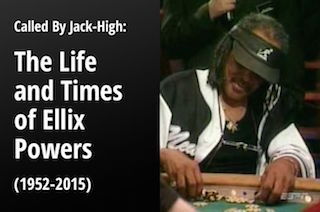 Ellix Powers and Dianna Donofrio-Trigatzi
Another player to pass in 2015 with Ellix Powers, best known for his antics at a 2004 WSOP final table. Powers' life and death were explored in a PokerNews feature piece titled Called By Jack High: The Life and Times of Ellix Powers (1952-2015), which you can read by clicking here.
Most recently, Dianna Donofrio-Trigatzi, 69, passed away on December 14 after a long battle with cancer. Known for her poker advocacy, Donofrio-Trigatzi previously served as Nevada State Director for the Poker Players Alliance and is known for advancing the game in the years surrounding the poker boom.
PokerNews joins the rest of the poker community in remembering these players and all those lost in 2015.
PokerNews Top 10 Stories of 2015:
Be sure to stay tuned to PokerNews as we continue to count down the top stories from 2015.
Want to stay atop all the latest in the poker world? If so, make sure to get PokerNews updates on your social media outlets. Follow us on Twitter and find us on both Facebook and Google+!