Top 10 Stories of 2015, #9: PokerStars Approved to Operate in New Jersey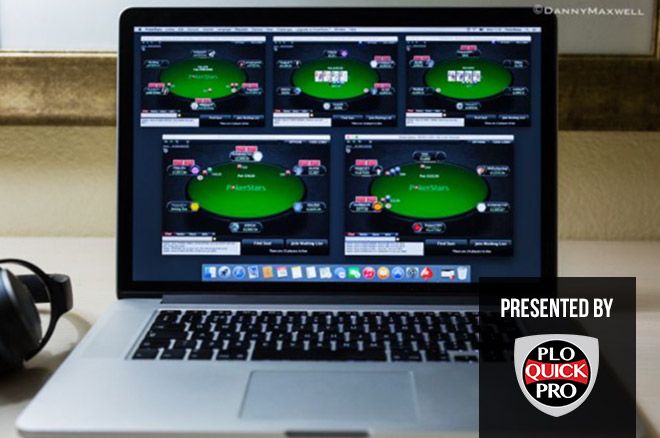 The PokerNews Top 10 Stories of 2015 is presented by PLO QuickPro, the fastest way to learn PLO.
As far as the poker world is concerned, the 2015 calendar year has come to a close. In PokerNews tradition, our staff has scrolled through the archives and gone over the most compelling stories of the year to determine what we feel are the top 10 of the year. Our list was generated based upon a vote from staff members and audience feedback. Over the next 10 days, we'll count down what we believe are the biggest and most interesting stories from 2015.
Coming in at No. 9 on this year's list is PokerStars receiving approval to operate in New Jersey.
PokerStars Granted New Jersey License
On Sept. 30, 2015, Amaya Gaming received approval for PokerStars and Full Tilt to operate in New Jersey by the state's gaming regulator, the New Jersey Division of Gaming Enforcement (NJDGE). It is expected that the company's online gaming sites will officially make entry into the Garden State sometime during the first half of 2016, offering online poker and casino games.
After the launch takes place, it will mark the first time either PokerStars or Full Tilt makes a reentrance into the United States marketplace since Black Friday shook up the online poker world with the U.S. Department of Justice (DOJ) shutting down both sites, along with the now defunct Ultimate Bet and Absolute Poker, on April 15, 2011.
More than four and a half years is a long wait for both of the online sites, neither of which had an easy path. While PokerStars refunded its US-based customers for money held in their accounts less than a month after Black Friday took place, it became quickly apparent that none of the other companies, including Full Tilt, had sufficient funds to do the same. Later in 2011, those sites in trouble also shut themselves down to international players as well without paying off customers' balances.
After a deal fell through in late 2011 for French investment firm Groupe Bernard Tapie to purchase Full Tilt for $80 million, many in the industry were left wondering if we saw the end to what was once the second largest real-money online poker room. Without a buyer, not only would Full Tilt have no shot at reentering the U.S. marketplace, but no chance at also coming back into existence to service international customers.
In 2012, rumors began circulating that PokerStars was potentially interested in purchasing their one-time biggest rival. The purchase by PokerStars became reality on July 31, 2012, after coming to an agreement with the DOJ following months of negotiations.
At the same time the turmoil at Full Tilt was taking place, the state of Nevada made history by becoming the first state to approve regulated online poker in December 2011. Full Tilt and PokerStars were ineligible to receive licenses in Nevada due to "bad actor" clauses contained in the approved gaming legislation.
Six months later, Delaware became the second state to approve online poker and the first state to approve other forms of regulated online gaming, including casino games. 888poker is currently the only licensed software provider in Delaware.
In early 2013, New Jersey became the third state to pass gaming online gaming regulation to allow licensed companies to offer both casino and poker offerings. A few months later, PokerStars announced its partnership with Resorts Casino Hotel with hopes of being able to offer services to players in the Garden State.
However, it quickly became apparant that PokerStars would have an uphill battle to make its reentrance into the U.S. due to "bad actor" clauses in the state gaming regulation. Both PokerStars and Full Tilt were left on the sidelines when the official launch of partypoker NJ, BorgataPoker.com, WSOP NJ, 888poker NJ, and the now defunct Ultimate Poker NJ took place during November 2013.
Once it became apparent that it would be unlikely for PokerStars or Full Tilt to reach American soil anytime in the near future under its existing ownership, the parent company, The Rational Group, was sold to Canadian-listed Amaya Gaming for $4.9 billion in June 2014.
After the agreement was reached, a representative at PokerStars acknowledged this was one of the key reasons for the deal to take place, along with being able to compliment both online poker rooms with games outside of poker.
According to a press release issued by PokerStars at the time the purchase was announced, "Amaya believes the transaction will expedite the entry of PokerStars and Full Tilt Poker into regulated markets in which Amaya already holds a footprint, particularly the U.S. Additionally, Amaya will provide an extensive selection of its online casino games to expand the Full Tilt Poker casino platform. Amaya intends to strongly support Rational Group's growth initiatives in new gaming verticals, including casino, sportsbook, and social gaming, and new geographies."
Shortly afterwards, New Jersey State Senator Ray Lesniak raised hopes and expectations for online gaming enthusiasts in the state, advising in Sept. 2014 that PokerStars would likely be approved for online gaming within the next few weeks.
"It's going to be soon and it's going to be huge," Lesniak said at the time in a phone interview with PokerNews. "PokerStars is going to make a huge investment in Atlantic City, not just in Internet gaming but in their brand and in bringing attractions to Atlantic City."
Months passed by, and we entered 2015 with PokerStars and Full Tilt still in limbo in New Jersey before Senator Lesniak once again raised expections on Jan. 10 Tweeting that he expects the NJDGE to issue licenses as soon as March 2015.
Shortly following this announcement, residents in New Jersey using the Full Tilt iOS play-money app were surprisingly greeted with an announcement that the company has been licensed by the NJDGE. This turned out to be a mistake, however, it did lead many to believe that both PokerStars and Full Tilt would be on its way into the Garden State soon.
PokerNews then discussed with New Jersey players about what they thought about PokerStars potentially returning with every person expressing optimism.
Poker player and poker coach, Mike "gags30" Gagliano, was one to express his optimism believeing the New Jersey online poker market can only benefit from the site's great software and reputation for a good schedule and promotions..
"I think the biggest thing players are looking forward to is just software that works," Gagliano told PokerNews. "Everyone is sick and tired of the partypoker software crashing every day on them," Gagliano continued. "I think stars will take over multi-table tournaments, their schedule and promotions will most likely be much more appealing than what's available on WSOP.com or partypoker. Everyone is pretty tired of playing the same boring WSOP schedule with their horrible tournament structures."
Things remained somewhat quiet until late September when Amaya CEO David Baazov expressed optimism about receiving a license in the third quarter of 2015.
Baazov explained some of the reasons behind the long wait, while also believing that Amaya's purchase of PokerStars and Full Tilt would exclude any "bad actor" clauses in the state's gaming regulation.
"Regulation ensures license holders have the correct auditing, fraud and fund protection in place to protect consumers and allow strict government oversight," Baazov explained to the Financial Post in September. "To achieve those objectives it's important to support and lobby for clarity and regulation that will allow consumers and governments to feel secure in knowing that they're protected by a legitimate, forward-looking industry."
The Director of New Jersey Division of Gaming Enforcement (NJDGE) David Rebuck around the same time also explained some of the reasons Global Gaming Business' Roger Gros for the delays in New Jersey siting a "thorough, comprehensive review" of Amaya's acquisition of The Rational Group.
Rebuck also discussed the intensive work and due diligence required to be performed by the NJDGE, stating that, "We've done 80 sworn interviews, we've traveled to half a dozen foreign countries."
A week later, dreams became reality when on Sept. 30 both PokerStars and Full Tilt were given the green light by the NJDGE.
Understandably Amaya was excited by finally received its approval with Baazov stated on the PokerStars Corporate Blog that, "We are very pleased to add New Jersey to the long list of regulated markets that have found PokerStars and Full Tilt suitable to offer real-money online gaming."
Baazov was also quick to thank the NJDGE for granting the license after an extended due diligence.
"I want to thank the DGE for their thorough and fair review of our business," stated Baazov. "We look forward to bringing our popular brands, innovative technology, marketing prowess and world-class security and game integrity to the growing New Jersey online gaming market. We anticipate providing additional details of our launch plans in the near future."
Baazov also commented on how the approval would impact the company. "Since the acquisition, we have consistently delivered on our stated strategy," Baazov explained. "Today's announcement follows the divesture of our B2B businesses for total gross proceeds of approximately $524.8 million; the launch of casino games on PokerStars, which we estimate has one of the largest active user bases of any online casino; the refinancing of our long term debt and the reduction of our annual interest expense by approximately $62 million. We are excited about our new product pipeline and enthusiastic that we will experience growth in existing and emerging markets in the future."
After approval was granted, PokerNews also took the opportunity to discuss the news on an episode of the PokerNews Podcast:
It is believed that both PokerStars and Full Tilt will make their official launch into the New Jersey marketplace during the first half of 2016, with optimistic projections of the first quarter.
Stay tuned at PokerNews as more develops with the return of PokerStars and Full Tilt to the Garden State.
PokerNews Top 10 Stories of 2015:
Be sure to stay tuned to PokerNews as we continue to count down the top stories from 2015.
Want to stay atop all the latest in the poker world? If so, make sure to get PokerNews updates on your social media outlets. Follow us on Twitter and find us on both Facebook and Google+!