Top 10 Stories of 2015, #10: GVC Buys bwin.party, Ourgame Buys WPT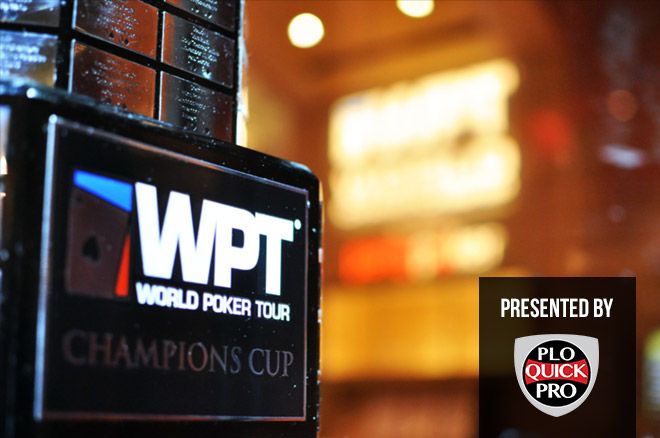 The PokerNews Top 10 Stories of 2015 is presented by PLO QuickPro, the fastest way to learn PLO.
As far as the poker world is concerned, the 2015 calendar year has come to a close. In PokerNews tradition, our staff has scrolled through the archives and gone over the most compelling stories of the year to determine what we feel are the top 10 of the year. Our list was generated based upon a vote from staff members and audience feedback. Over the next 10 days, we'll count down what we believe are the biggest and most interesting stories from 2015.
Starting off this year's list at No. 10 is two stories within one, highlighting big time acquisitions within the industry.
GVC Holdings Purchases bwin.party
Bwin.party Digital Entertainment's board of directors announced on Sept. 3, 2015, its decision to accept a takeover bid from GVC Holdings.
The deal valued at an estimated £1.118 billion ($1.71 billion), was further cemented last week when 99.9 percent of bwin.party shareholders and 99.1 percent of GVC Holdings shareholders voted in favor of the sale. Additionally, the bwin.party Court overwhelming approved the takeover. The Court plans to reconvene again in late January 2016 for one final vote with a potential Feb. 1, 2016, target date for the deal to be finalized.
Assuming things go as planned, the merged company will be listed on the London Stock Exchange the following day with the current Chief Executive Officer of bwin.party, Norbert Teufelberger, serving as its non-executive director.
The offer came on Sept. 3 and was for 129.64 pence per bwin.party share, representing a premium of about 12.5 percent on the day's closing price. The companies communicated that the deal will be at least in part be financed via a senior secured debt issued by Cerberus for up to €400 million ($445.2 million).
Additionally, GVC plans to raise about €206 million ($229.3 million) "by way of a placing of new GVC shares to institutional investors, and a subscription of New GVC Shares by certain investors, under the Fundraising." The company added that "certain GVC Directors will also participate in the fundraising."
Both bwin.party and GVC believe the merger of both their offerings and customer bases will create many synergies, allowing the merged company to cut operational costs by up to €125 million ($139 million) by the end of 2017 while also better positioning themselves to pursue further growth in the online gaming and sports-wagering marketplaces.
In September, bwin.party Chairman Philip Yea commented about the value and synergies of the deal stating that, "In recommending the Offer from GVC, the Board has taken into account many factors including, but not limited to, the headline value per share and the consideration being offered, the level, timing and deliverability of the financial synergies to be generated and the enlarged Group's growth strategy in an increasingly competitive marketplace."
GVC's Chief Executive Officer Kenneth Alexander believes that the synergies in the deal should provide long-term value to shareholder.
"Sports betting is in our DNA and leveraging GVC's experience of successfully acquiring and restructuring online gaming businesses, notably Sportingbet in 2013," stated Alexander. "We look forward to merging the two operations to deliver long-term value for combined shareholders."
While GVC and bwin.party should complete the deal early in 2016, for many months it looked like a long shot for the two companies to merge. Takeover discussions began in 2014 with Amaya Gaming, 888 Holdings, William Hill, Ladbrokes, and Playtech at the time all reported to being mentioned as potential buyers of the gaming company.
The field appeared to be narrowed down to two forces with 888 Holdings issuing one proposal, and GVC and Amaya, the owner of both PokerStars and Full Tilt teaming up for a competing proposal.
On July 7, GVC and Amaya swooped in with a bid of £900 million ($1.4 billion). Despite this huge bid, it appeared that GVC and Amaya lost out on purchasing the company when 888 Holdings announced it acquired bwin.party for £898.3 million on July 17.
888 Holdings appeared excited by what at the time they thought was a done deal. The company's Chief Operation Officer Itai Freiberger commented at the time that, "Once completed, this deal will create one of the leading operators in the growing global online gaming industry."
This announcement did not deter GVC, as a little more than a week later the company dropped Amaya as a partner to bid £1 billion ($1.55 billion) before increasing its bid in the beginning of August to $1.6 billion. GVC intensified the situation more a couple of weeks later by making a third bid, this time for a reported $1.72 billion.
GVC made it known in early September that if their bid wasn't accepted, that they wouldn't go down quietly. While stating that they weren't planning a hostile takeover, many in the industry thought this would become a possibility based off a statement GVC Chairman Lee Feldman made to The Times.
"We don't see (going hostile) as necessary right now as we're offering a higher price and have a better operating track record," Feldman explained. "That said, we believe GVC should own this asset and we wouldn't exclude any strategy."
However, later in the month, bwin.party's Board accepted GVC's latest proposal and we should expect to see the combined company being operations in beginning of 2016.
Ourgame Acquires the World Poker Tour
While bwin.party was entertaining bids for its company, it was also in separate negotiations during the year to sell the World Poker Tour (WPT), a company it acquired in 2009 for $12.3 million.
On June 21, 2015 the WPT announced that is was acquired by Hong Kong-listed Ourgame International Holdings Ltd. for $35 million in cash or almost three-times the price bwin.party paid for the company six years ago.
The growth in value of the WPT was primarily driven from the tour growing from 16 WPT Main Tour stops when bwin.party acquired the company to more than 70 total events, which include the WPT Main Tour, WPT Alpha8, WPT National, and WPT DeepStacks.
WPT President & CEO Adam Pliska seemed pleased by the acquisition, stating at the time that, "Having already established an exciting partnership with Ourgame, a high-growth company led by an enthusiastic group that is fully invested in the global growth of the sport of poker, we are delighted to now become a fully-integrated member of the Ourgame family."
Furthermore, Pliska shared with PokerNews that under the new ownership they would be able to partner with any of the major online poker rooms, and not be tied to bwin.party.
"The new deal allows us to work with anyone now," Pliska elaborated. "If there is a real-money gaming operator, we'll be looking to work with them. We're open, and I'm completely open, to talk to any party out there, and I will be talking to all of the parties out there."
Pliska also was thankful for the support bwin.party gave the tour during its ownership stating that, "I want to thank bwin.party CEO Norbert Teufelberger and bwin.party CFO Martin Weigold for all of their support over the last six years, and for helping facilitate this agreement."
Be sure to stay tuned to PokerNews as we continue to count down the top stories from 2015.
Want to stay atop all the latest in the poker world? If so, make sure to get PokerNews updates on your social media outlets. Follow us on Twitter and find us on both Facebook and Google+!