PokerStars Pro Naoya Kihara Looks To Continue Sunday Million Success in 10th Anniversary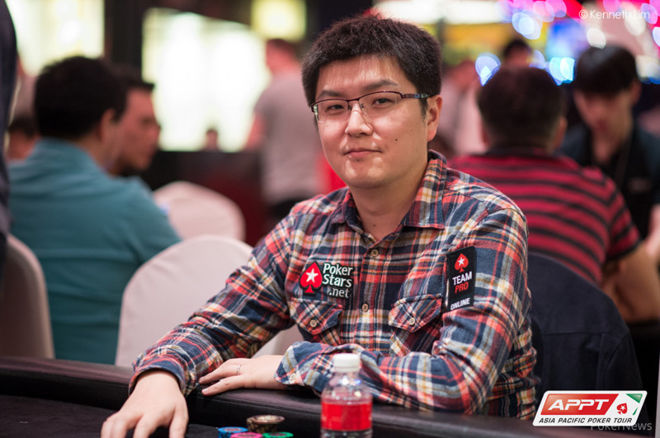 This Sunday, PokerStars will host a special 10th Anniversary $215 Sunday Million featuring a $10 million guaranteed prize pool and award at least $1 million to the winner.
The very first Sunday Million, which took place way back on March 5, 2006, drew 5,893 players and created a $1.178 million prize pool. Impressive, but the upcoming edition, which will offer reentries (players may reenter up to three times until late registration ends after three hours of play) is slated to blow it out of the water. Part of the reason being that PokerStars has been giving away free entries via hyper-turbo freerolls.
More than a dozen PokerStars Team Pros will be playing the tournament, including Chris Moneymaker, George Danzer, and Johnny Lodden. In addition, a slew of PokerStars Team Pros will be streaming their action on Twitch. Those who will be streaming include:
In addition, Team Pro Naoya "nkeyno" Kihara will be in action, which is interesting considering the man from Japan has finished second and 19th in two Sunday Million tournaments over the past year. As such, he has an interesting take on the tournament, which PokerNews decided to ask him about heading into Sunday's 10th Anniversary special.
PokerNews: What are your plans for the 10th Anniversary Sunday Million. Obviously you'll be playing, but where will you be playing from?
Kihara: I'll be playing from my home in Tokyo. I wake up around 8 p.m. in Japan, which is usual for me, then start the session from midnight. The Sunday Million then starts at 3.30 a.m. I'll eat rice and meat to give me energy for a long session, but I don't bother to do any exercise beforehand.
On what device do you play online poker?
I use a desktop computer with two monitors. One monitor is for playing and the other one is for the tournament lobby, Skype, etc.
In the past year you've finished second and 19th in two Sunday Million tournaments. How do you do it? What advice do you have to new players taking part on how to make a deep run?
In the early rounds, you should play your normal game, but once you're deep into it you should apply a lot of pressure on your opponents even if they cover you. For most players, when they make a super deep run in the Sunday Million for the first time, they don't want to regret busting out with a poor hand. Of course it is really scary, but it is definitely +EV. In order to have a deep run, you can't be afraid of losing all your stack. Even if you move all in every hand, you still have a chance to win, but if you fold every hand, you will never win.
Do you remember the first time you played the Sunday Million?
I don't remember the details too well, but it was in 2010. At the time, a $215 buy-in was very big for me. In one of those first tournaments back in 2010, I remember I got up to about 300,000 chips from 10,000, which was 30 times the starting stack, and close to $6,000 in equity according to ICM. At the time, I just wished I could have cashed out that money, as $6,000 was super huge for me at that time. I would rather have taken that guaranteed cash than played on for the big prizes (laughs).
When you play the Sunday Million, do you prefer to play right when it starts or late register?
I don't usually late register for the Sunday Million. I might do it if I have a final table of another event going, but I normally don't. I really like to play the early rounds with super deep stacks and there are some great chances to win plenty of chips versus softer players.
Given you're a Team PokerStars Pro, do you feel you have a target on your back when you play the Sunday Million?
When I became a Team Pro back in 2012, I felt that to some extent — it felt different. I had no idea how people would try to play against me, and for a while I didn't do so well. But now I've had the red spade next to my avatar for three and a half years, I've forgotten how they played against me without the spade.
In terms of online titles, where do you feel the Sunday Million ranks and why?
The biggest title in the world is the World Series of Poker Main Event, followed by the WSOP $50,000 Poker Players' Championship. Second biggest title would be an EPT, WPT, WCOOP, and SCOOP main event title. Then a WSOP side event bracelet and Sunday Million comes next, with WCOOP and SCOOP titles after that. But a special edition Sunday Million, with $10 million guaranteed, is almost the same as the WCOOP Main Event for me.
What's next for you as far as poker is concerned? Will we see you at the 2016 WSOP?
I'll definitely go to WSOP 2016. And I'm going to my first EPT Grand Final from April 26 to May 6. I'm really excited to be playing there.
For history's sake, here's a look at the 10 biggest Sunday Million prize pools in history.
| Date | Tournament | Players | Prize Pool | Winner | First Prize |
| --- | --- | --- | --- | --- | --- |
| 12/18/2011 | $215 Sunday Million 5th Anniv. | 62,116 | $12,423,200 | Kyle "First-Eagle" Weir | $1,146,574 |
| 6/3/2011 | $215 Sunday Million 5th Anniv. | 59,128 | $11,825,600 | Luke "Bdbeatslayer" Vrabel | $844,209 |
| 3/15/2015 | $215 Sunday Million 9th Anniv. | 50,432 | $10,086,400 | BRAYDEN93 | $597,719.60 |
| 3/3/2013 | $215 Sunday Million 7th Anniv. | 49,287 | $9,857,000 | benislovas | $848,589 |
| 3/2/2014 | $215 Sunday Million 8th Anniv. | 46,586 | $9,317,415 | DrUPSWING | $1,038,540 |
| 2/21/2010 | $215 Sunday Million 4th Anniv. | 36,169 | $7,233,800 | Mike "RichieRichZH" Friedrich | $1,141,510 |
| 11/3/2013 | $215 Sunday Million 6th Anniv. | 33,732 | $6,746,400 | slyfox151 | $590,482 |
| 12/28/2014 | $215 Sunday Million $5M Guaranteed | 31,439 | $6,288,015.00 | TrondheimAAA | $489,130.83 |
| 12/27/2015 | $215 Sunday Million $5M Guaranteed | 31,335 | $6,267,000 | Internett93o | $354,187.08 |
| 12/8/2013 | $215 Sunday Million $5M Guaranteed | 26,925 | $5,385,000 | sincinaty118 | $421,971 |
For more information on the 10th Anniversary Sunday Million, click here. You can also download PokerStars via PokerNews to get started.
Get all the latest PokerNews updates on your social media outlets. Follow us on Twitter and find us on both Facebook and Google+!