bestbet Dir. of Poker Jesse Hollander Talks Florida Poker, Customer Service, and More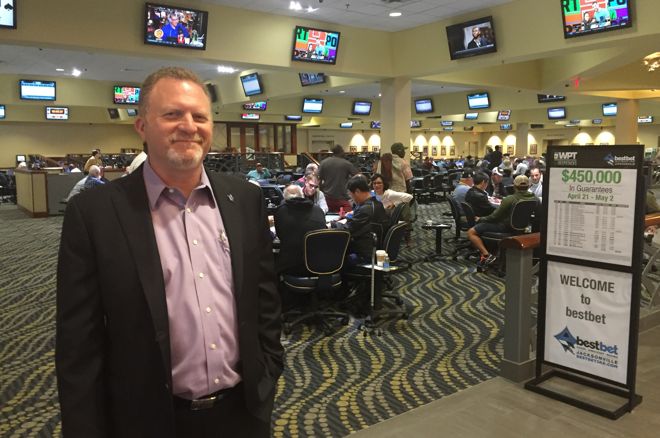 If you've been around the poker industry long enough, or have played in Northern Florida, there's no doubt you've crossed paths with Jesse Hollander, Director of Poker Operations at both bestbet Orange Park and bestbet Jacksonville.
Hollander, who has worked in the gaming industry for nearly 25 years, began his career as a blackjack dealer in Colorado. Within a year, he transitioned into poker, and since then has either dealt or served as floor across the country, including in Colorado, New Mexico, California, Minnesota, Nevada, and Florida. In addition, he's been an avid player since the early 90s, winning $53,592 in live tournaments.
Nowadays, Hollander oversees all aspects of the daily operations — including staffing, player development, creating promotions and tournaments, assisting with marketing, etc. — at the two venues.
PokerNews recently spoke to Hollander, who has been married nine years to his wife, Allison, with whom he has two daughters — Jade, 12, and Chloe, 8 — to learn more about his poker career and bestbet poker.
PokerNews: How did you become involved in the poker world?
Hollander: When I was in blackjack dealing school I would get bored towards the end so I would sit in on the poker dealing class. I had already played some poker, but at that I time realized how little I knew about the game. After I got a job in Central City, Colorado, dealing blackjack, I would always go up the mountain several hours before my shift to play poker. I became experienced at Omaha hi-low and stud hi-low before I learned to play hold'em well, so I still prefer to play those games over hold'em.
How did you come to work at bestbet Jacksonville?
In July of 2010, the laws changed in Florida to allow uncapped buy-ins and betting. At that time, bestbet was looking for a new management team. They felt they were doing well, but with the change in regulations they needed to find someone who could take them to the next level. The president of the company was looking throughout country for someone who could take bestbet to the next level and eventually decided on myself, as well as other key members.
bestbet Jacksonville seems to be a hotspot for poker. Why do you feel it's so popular among players and what will you being doing to both cater to the existing customer base and to bring in new players?
The poker action has been going great in Jacksonville. I think our experience has brought a level of comfort to the players. They know when they come here the room will be run well, the dealers will be efficient, and they will have a positive playing experience, win or lose.
We do a lot with cash promotions and tournaments to keep our existing players coming back and we have started some new marketing campaigns like "Poker 101" to attract new players. We host several large tournament circuit events throughout the year that draw players from all across the nation. Due to this, we have a fairly aggressive satellite program we use to give our regular players an opportunity to play some of the bigger events without having to come out of pocket for the whole buy-in.
What do you feel sets bestbet Jacksonville apart from the other poker rooms in Florida and the world?
Again, I think my experience and that of the entire management team has helped make the Jacksonville poker rooms a great place to play. Players know they will receive fair rulings in a comfortable environment, the dealers are competent, and the general camaraderie gives both bestbet locations a welcome feeling that you are not likely to experience elsewhere. Bestbet Jacksonville is a very spacious room with 82 total tables. The chairs are big and comfortable, and there's plenty of room in between tables.
If you had to sum up your poker philosophy, what would it be?
Players need to feel comfortable and safe when they play. The overall experience should be fun and entertaining in a regulated environment. One of the hardest things to get over as a new player is the intimidation factor. When players can come in with confidence, sit down and have a good time, they will come back over and over again. You need to make everyone feel welcome, whether it's their first time in or you see them every day.
bestbet has brought in tours such as the WPT and MSPT. What inspires you to bring in these big tours?
These events are great for us and for Jacksonville. They bring lots of new players from around the country who may never have chosen to come to this area had there not been a good poker tournament to come play. These events are also very exciting for our local players because they have a chance to play at a live streamed or televised table with some of pokers greatest players. I also like these events because I get to see lots of old friends, players, and industry people as well.
Are there any special comp deals or promotions associated with the poker room?
We have daily high hand cash promotions where not only the player with the highest hand wins money, but everyone else dealt in that hand wins money as well. A couple of our best promotions are $1,000 high hand with $200 table share every 30 minutes and spin the big money wheel where the winner can win up to $5,000. We also have bad beat jackpots in Texas hold'em, seven-card stud, and Omaha. They all get pretty big at times and the current Texas hold'em jackpot is over $150,000.
You recently traveled west for the 2nd Annual American Poker Awards. How was that experience? Would you like to see bestbet Jacksonville win an American Poker Award in the future?
The American Poker Awards was a great time. So far I have a perfect record, as I have been to both of them. It would be great to have bestbet receive an award or to receive one myself, but most importantly I just want to be invited back next year.
Is there anything else you'd like to let our readers know?
We have a weekly radio show hosted by Allison "Alliemcdeal" Hollander with myself, "The Boss," and Alan "F.N.A." (Friday Night Alan) every Wednesday night from 6- 7 p.m. on 1010XL AM and 92.5 FM. We talk all things poker including news, cash play strategy, tournament tips, and anything else poker related. We also frequently play interviews or have live call-ins from professional players.
For more information on poker at bestbet Jacksonville, visit bestbetjax.com.
Want to stay atop all the latest in the poker world? If so, make sure to get PokerNews updates on your social media outlets. Follow us on Twitter and find us on both Facebook and Google+!