BlogNews Weekly: Autism Speaks, Phil Ivey's Disastrous Read, Fight Night Returns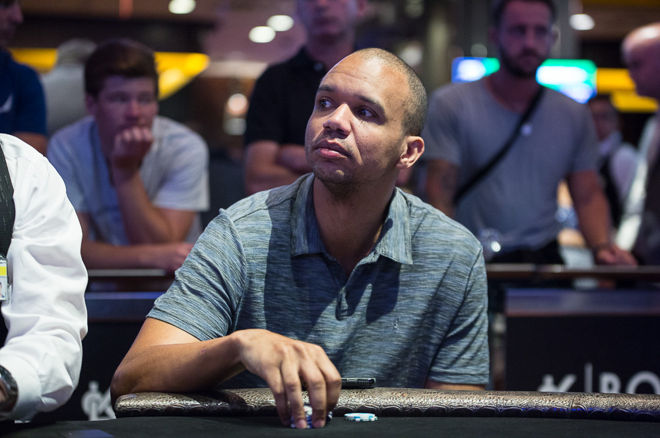 Each week, PokerNews brings you insight into the happenings at the major poker sites. Featuring the most popular blog posts, BlogNews Weekly is your one-stop shop for all your poker blog highlights.
This week, BlogNews Weekly brings you highlights from the latest PokerStars, Full Tilt, and partypoker blogs.
PokerStars Partners with Autism Speaks in New Jersey
In a blog entry titled PokerStars forges alliance with Autism Speaks in New Jersey, PokerStars recently announced it partnered with the New Jersey Chapter of Autism Speaks to help support research, promote advocacy, and raise awareness during this month's Autism Awareness Month and beyond.
It is likely you know someone with Autism. This author's older brother is severely autistic, so this is a topic that touches home. Long-time PokerStars Team Pro member Chris Moneymaker's life is also affected by this disorder and he shared his delightment about the partnership stating that, "My family and I were delighted to learn of PokerStars' commitment to Autism Speaks New Jersey, which, in turn, will raise funds and awareness for research and advocacy across the country. Our family has been and is currently affected by this disorder, and as a dedicated member of the PokerStars family, I am personally touched by the brand's decision to support a cause near to my heart."
As Vice President of Corporate Communications for Amaya Inc. and PokerStars Eric Hollister pointed out, millions of families are affected by Autism.
"Today, autism is a complex and often misunderstood disorder that affects 1 out of 68 children and millions of families, including many of those within the PokerStars family," Hollister said. "We are eager to partner with Autism Speaks New Jersey to help raise funds and awareness for this important work."
Autism Speaks New Jersey is also pleased about the partnership with the organization's Executive Director Heather Hays proclaiming, "We are thankful for the generous support of PokerStars and their commitment to raising autism awareness and promoting inclusion and acceptance by leveraging their global platform. During the month of April and over the next few months, we will be announcing exciting fundraising initiatives and events with PokerStars NJ and Helping Hands to further engage with local communities and encourage friends, neighbors and families to support autism awareness."
Learn more on the PokerStars Blog about the PokerStars partnership with Autism Speaks New Jersey.
Phil Ivey Loses a $40,000 Pot After a Bad Read
Professional poker player and Full Tilt Blog contributor Ben Jenkins discusses in a blog entry titled Hand of the Week: Phil Ivey? Just a Fish on a Heater a hand where poker legend Phil Ivey either misread his opponent or his hand during a fairly big television cash game.
The hand began when Ivey raised the action to $2,500 holding the
with the blinds at $400/$800 with a $100 ante. David "Viffer" Peat opted to disguise his holding by just calling from the button instead of three-betting with the
, while David Oppenheim completed the action from the big blind with the
.
Ivey didn't connect with the flop of
and made a fairly standard continuation bet of $5,500 into a pot of $8,900. Peat once again disguised the strength of his hand by calling instead of raising, and Oppenheim folded. Both players opted to check the action on the turn when the
appeared, and then things got interesting.
After the
completed the board on the river, Ivey checked the action to Peat who bet $10,000 into a pot of $19,900. To most people, the smart move here would be for Ivey to fold, or, if he had a good read, to raise to take down the pot. Instead, Ivey called with just queen high, proving that even the best players in the world do not always play perfectly.
Check out the Full Tilt Blog to read more.
Fight Night Returns to partypoker
With partypoker embarking on a boxing theme throughout the year, it should be of little surprise the online poker room announced the return of Fight Night on April 12 with $260,000 in guaranteed prize pools.
Fight Night tournaments give every type of player something to battle for on the felt, featuring four tournaments with buy-ins at $5.50, $22, $109, and $530. All four fight-themed tournaments offer twice the guaranteed prize pool of the regularly scheduled tournaments dubbed Jab, Contender, Uppercut, and High Roller.
Here is a look at the April 12 Fight Night schedule:
| Time (EDT) | Tournament | Buy-in | Normal guarantee | Fight Night Guarantee |
| --- | --- | --- | --- | --- |
| 14:00 | The Jab | $5.50 | $10,000 | $20,000 |
| 14:00 | The Contender | $22 | $20,000 | $40,000 |
| 14:00 | The Uppercut | $109 | $50,000 | $100,000 |
| 15:00 | High Roller | $530 | $50,000 | $100,000 |
Head to the partypoker Blog to learn more about Fight Night on April 12.
Want to stay atop all the latest in the poker world? If so, make sure to get PokerNews updates on your social media outlets. Follow us on Twitter and find us on both Facebook and Google+!