Five Thoughts: High Roller Records, Chino Rheem's Credit Score, and DP on TV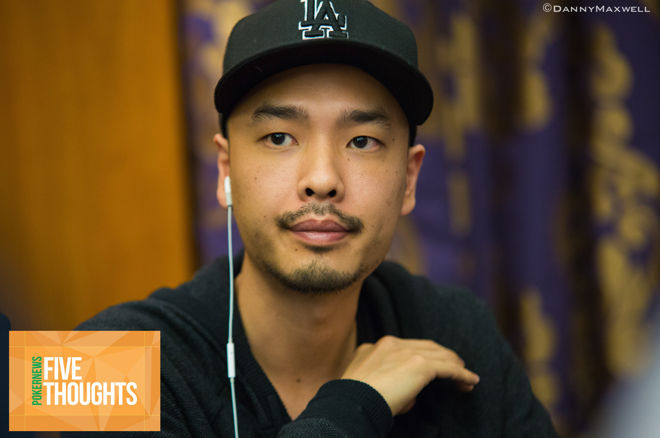 After the World Poker Tour wrapped up another successful season in Hollywood, Florida, all eyes are on Monaco this week with the PokerStars and Monte-Carlo® Casino EPT Grand Final kicking off.
The event runs April 26 to May 6, 2016, with too many tournaments to count and is the last big thing on the poker scene before the 2016 World Series of Poker begins May 29 in Las Vegas.
PokerNews' coverage will start with Day 1 of the €100,000 Super High Roller event on April 28 and organizers are expecting this to be one of the biggest high roller events ever.
Super High Rollers Raring To Go
Like most working stiffs, I have a hard time wrapping my mind around the idea that someone is willing to pay €100,000 to enter a poker tournament. Yet here I am in Monaco, where the €100,000 Super High Roller goes off Thursday, and is looking to top last year's record-setting 71 entries.
Somewhat less surprising is the fact Hall of Famer Erik Seidel took that event down, as he's been the biggest beneficiary of the boom in big buy-in events around the poker world over the past few years.
Media alerts from PokerStars claim Team PokerStars Pros Daniel Negreanu and Jason Mercier were already signed up to participate and they expect that record of 71 to fall. Being somewhat less ambitious, I'm going to set the over-under at 50 entries and still wonder why anybody but Seidel is willing to fire what amounts to a pretty decent year's income into this thing. Don't even get me started on the turbo-structured €50,000 Single-Day Super High Roller coming up Sunday.
Bad Credit? Need A Loan? Act Fast, Call Now: The Chino Rheem Story
David "Chino" Rheem has done it again. He won his third WPT title last week, taking down the Seminole Hard Rock Poker Showdown $10,000 Finale for $705,855, and once again, managed to let his success on the felt get overshadowed by stories of bad debt.
Just like they did when he won the 2008 Doyle Brunson Five Diamond World Poker Classic for over $1.5 million, the 2013 WPT World Championship for $1.15 million, placed seventh in the 2008 World Series of Poker Main Event for $1.8 million and won a 2011 Epic Poker League title for $1 million, the legions who have lent money to Rheem over the years apparently followed him to the cage looking for payback.
How someone can have over $8 million in career tournament earnings and still owe is beyond me. Let's just hope this score finally settles the score, and we can begin to talk about Rheem as one of the greats of the game, instead of a bad credit risk. He obviously has the poker chops and track record to be in the conversation about the best players on the planet, all he needs now is a little work on his credit score.
Eating Crow On Maurice Hawkins
Well, I've had this column for about a month now, and that's all it took for someone to one up me.
I called Florida-based pro Maurice Hawkins the "tallest midget" when he won the World Series of Poker Circuit Main Event in Iowa a few weeks ago, comparing the WSOP Circuit to the minor leagues. All he did was head over to the next Circuit event on the schedule in North Carolina and promptly win that one as well.
In fact, by capturing the WSOP Circuit Cherokee Main Event title, Hawkins became the first player ever to win two straight. Plus, he won his seventh ring and $279,722, marking his career best score and putting him within two of Alex Masek's record nine gold rings.
Read more on Hawkins' back-to-back win by clicking here.
#PNPod on Poker Central?
I'm a big Donnie Peters fan, and not just because he signs my paychecks. I find the PokerNews Podcast to be one of the most entertaining and informative pieces of media content in the game. That's why it's exciting to see Peters will be hosting Poker Central's new PrimeTime Poker Report premiering on Wednesday, May 18.
Poker Central should really be applauded here. A relative newcomer to the game, the all-poker TV network could have created a whole slew of content with brand new people, or simply ran reruns of poker's most popular shows from the past. Instead, like it did by bringing on industry insiders Matt Savage and Sarah Herring to host it's own Inside Poker, the network has once again tapped an industry veteran for content.
TV poker is clearly not what it once was, with all the sponsorship dollars falling by the wayside after Black Friday. However, Poker Central seems to be doing things the right way, and by leaning on some familiar poker media faces, they're on the path to creating must-see-TV for poker fans. #PNPod
Ballers Get Shot Clock Callers
I've been covering poker tournaments for the past 10 years now, and nothing annoys me more than habitual tankers who take way too much time with every single decision. Open-folding the six-deuce off should not take three minutes off the clock. It really hurts the growth of the game, as it intimidates amateurs on the felt, and turns of fans tuning in on TV.
I once chatted with high roller and infamous tanker Byron Kaverman about his strategy, asking if he took his time with every decision to try to annoy his opponent's into making a mistake. He basically said no, but if that was a byproduct of him thinking through each street in exacting detail, that was just fine with him.
I'm all for letting players take their time with the big decisions, it's the monotony of epic street-by-street tanking that eats away at my patience, and that's why I was so pleased to see the positive reception the Protection Poker Action Clock got in the inaugural WPT Tournament of Champions last week.
Player's were given a 30-second time limit for each decision and could use one of four 30-second time extensions if they needed it. Apparently the majority of the players liked it, and it's integration into the game appeared relatively seamless.
The Aussie Millions has been using a shot clock in its big buy-in events for years, but the WPT's new Action Clock by Protection Poker is the high-tech version and a little easier to follow. Word on the street is they may start using it for more tour events and should be applauded for taking the steps necessary to keep the game both fan and amateur player friendly. If this is the future of poker, I'm all for it.
*Please note that the thoughts and opinions expressed in this article reflect those of the author.
Get all the latest PokerNews updates on your social media outlets. Follow us on Twitter and find us on both Facebook and Google+!