Five Thoughts: WPT POY Down To the Wire, GPL Nepotism Pays Off, and Ivey Back In Court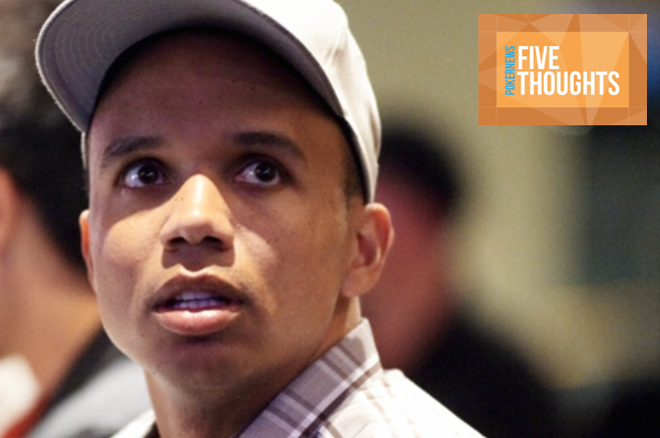 Apparently there won't be any women in the World Poker Tour's inaugural Tournament of Champions, kicking off at the Seminole Hard Rock Hotel & Casino on Friday. That's because this particular event is open only to members of the WPT Champions Club, and since no woman has ever won an open event on the WPT main tour, there are no female members.
Tucson, Arizona's Cate Hall spent this past season, the tour's 14th, becoming the latest to join an ever-growing list of female players who have come ever-so-close to capturing WPT glory. Three super deep finishes on the tour in the past eight months even gave Hall a shot at the WPT Player of the Year title, but much like the hunt for the first female WPT title winner, it was again a case of close, but no cigar.
Mike Shariati Wins WPT Player of the Year Honors
Irvine, California's Mike Shariati earned the WPT Player of the Year title, after winning the WPT Legends of Poker $3,700 Main Event in September 2015, then finishing runner-up in the WPT L.A. Poker Classic $10,000 Main Event last month. The honor did not come without some last-minute drama, however, as Cate Hall took it down to the wire.
Following up on two separate fifth-place finishes and a handful of other cashes this season, Hall found herself in the final 10 at the season-ending WPT Seminole Hard Rock Poker Showdown $3,500 Championship this week, needing to finish third or better to edge out Shariati. Her latest run ended in ninth place and as Shariati took the POY honors, the WPT also narrowly missed yet another opportunity to crown it's first female champ.
Poker is a truly a numbers game and the only real reason there aren't more women winning poker titles around the globe is the fact that so few try. Traditionally, the World Series of Poker fields are filled with about six percent women. A quick look at most WPT registration lists reveals an even smaller number. While she fell short of both becoming the WPT's first female Main Event title holder and the Player of the Year, here's hoping Hall's great year opens the eyes of at least a few smart women who can help prove gender is not a factor on the felt, drive female registration numbers and help the WPT finally crown a woman winner sooner rather than later.
Ivey Back In Court
Phil Ivey, who seems to have spent more time in a courtroom than a tournament room over the past couple of years, is in the midst of a second opportunity to prove he didn't cheat London's Crockfords Casino out of £7.8 million playing Punto Banco.
Ivey admitted he was edge-sorting when he beat the casino out of the cash back in 2012. Crockfords refused to pay and after Ivey sued, a British court heard he and a colleague became adept at reading variations in the patterns on the backs of the cards, using the technique on the way to millions in profits. The court ultimately ruled it had to be considered cheating. However, Ivey appealed and went back to court with the case April 13.
Ivey has been quoted saying he believes edge-sorting to be a "legitimate strategy" and that he "did nothing more than exploit Crockfords' failures to take proper steps to protect themselves against a player of my ability."
I find it hard to disagree with him, and think any player that finds an advantage in the kind of house-edge game that has been sending less-savvy gamblers broke for far too long should be praised, not vilified. Here's to hoping the judge rules in Ivey's favor this time around, and, at the very least, he can get out of the courtroom and back in the tournament room in time for the 2016 WSOP.
EPT Grand Final Qualifies Hundreds
More than 300 players have already qualified through online satellites for the European Poker Tour Grand Final in Monte Carlo set to kick off April 30. In fact, more than 120 are through to the EPT's most prestigious event thanks to a series of €10 Spin & Gos offering up a chance to win a seat on PokerStars.
That many fish in the Grand Final waters are bound to attract a lot of sharks and numbers for the €5,300 buy-in tournament should be through the roof this year.
While the Grand Final has traditionally seen some of the toughest final tables in poker history and a slew of big name winners, it would be awesome to see one lucky amateur make a deep run this time around. In fact, it would be downright Moneymaker-esque to watch someone turn €10 into seven figures at the Grand Final and it might just create an even bigger boom in PokerStars' EPT satellite numbers going forward — something that would have to be considered great for the game on that side of the pond, and hopefully, one day, on this one as well.
Kenney's Nepotism Pays Off
At the Global Poker League's inaugural draft, New York Rounders manager Bryn Kenney built one of the leagues most formidable line-ups, filling the roster with stars Jason Mercier, Tom Marchese, Kevin MacPhee and Jason Wheeler.
Like all but two of the league's other managers, he named himself as one of two wildcard picks, then set about shocking the poker community with a bit of nepotism, naming his less-experienced and less well-known brother Tyler Kenney to the team.
While the younger Kenney does have close to a million in career tournament earnings and a WPT final table appearance on his résumé, there were at least a few pundits questioning big brother's choice. That is, until this week, when Tyler shut them all up.
Not only did he win this week's first six-max match in the Americas Conference, he came runner-up in the second, and it appears no one will ever question Kenney and his league-leading Rounders again.
Can the Buck Be Stopped Here?
Personally, I'm headed to the 2016 Seneca Niagara Falls Western New York Poker Challenge to provide live coverage of the Main Event on PokerNews this weekend.
With its $200,000 guaranteed prize pool, the $1,000 buy-in Main Event is bound to attract some of Western New York's best poker players and one in particular, who's domination of events inside the Seneca Niagara Poker Room of late is simply unprecedented.
Port Colborne, Ontario, Canada's Buck Ramsay is not only the defending Western New York Poker Challenge Main Event Champion, he's the 2014 Seneca Niagara Summer Slam Main Event champion as well. Plus, Ramsay is coming off a final table appearance at the 2015 Seneca Fall Poker Classic Main Event — the finale of the last big series in the Buffalo area before this week's Challenge.
Western New York's poker community is filled with a ton of creative characters and experienced rounders and while Ramsay's recent record is obviously stealing all the headlines right now, it's really just one of many story lines I'm looking forward to covering as they play out this weekend in the shadow of Niagara Falls.
*Please note that the thoughts and opinions expressed in this article reflect those of the author.
Want to stay atop all the latest in the poker world? If so, make sure to get PokerNews updates on your social media outlets. Follow us on Twitter and find us on both Facebook and Google+!