New partypoker Ambassador Patrick Leonard Believes Player Voices Are Being Heard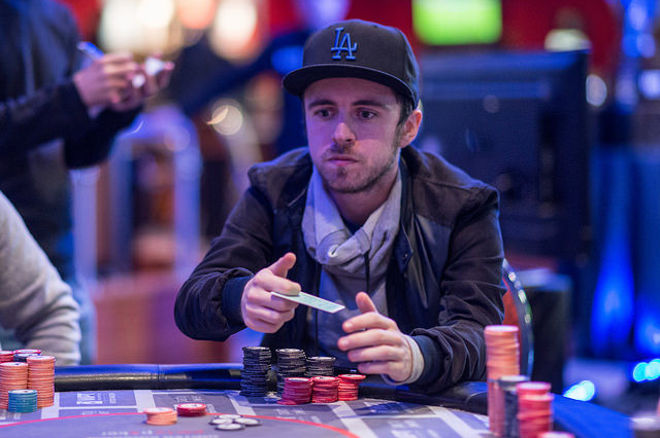 Recently, partypoker announced that the United Kingdom's Patrick Leonard as its newest ambassador. In online poker circles, Leonard needs little introduction, as the 27-year-old player has been dominating online poker games for many years, first in ring games and more recently in multi-table tournaments.
In 2014, Leonard was twice recognized as the No. 1 online poker tournament player in the world by reaching the top of the PocketFives Online Poker Rankings first from Aug. 13-20 and later from Nov. 12-19. Also in 2014, Leonard won his first and only PocketFives Triple Crown. He also won the October PocketFives Monthly Tournament Leaderboard.
However, like all players, success didn't start straight off the bat. Leonard shared on the partypoker blog his first experience playing a home-game in his kitchen didn't go all that smoothly.
"I remember very vividly playing as a 16-year-old in a kitchen trying to fit into a social circle," he said. "They wanted to play cards, I wasn't really interested. I remember my very first hand very clearly. I had
and called down three streets on
because I assumed my cards were good. The hustlers that they were made me feel like it was a cooler, I didn't do so well at the start! I'm very competitive person, I hate losing and as I wasn't winning in the games it made me become obsessed with poker. I studied, joined forums, reached out to successful players, and over time became one of the more successful players in the home games. This showed me from the earliest moment in my career that hard work trumps all and it's been what I've prided myself on throughout my career. I'm not the smartest guy in poker, I'm not naturally made to be a poker player, but I will work harder than the other guys."
It didn't take long for Leonard to improve when he began dominating ring games online. He eventually moved to the tournament arena after ring games became tougher, and he found instant success. Leonard shared with PokerNews how studying is of the utmost importance to improve as a poker player and why doing so with other players is more helpful than merely studying by oneself.
"I think that whilst individual study is crucial in terms of development as a poker player, the people you speak to every day is the most important ingredient to maximizing ones potential," Leonard explained to PokerNews. "I spent the first three to four years of playing seriously just studying by myself and I think that's perhaps why I didn't accelerate as quickly as I should or could have. When I moved to Gibraltar, I lived with Pokerstrategy.com CEO Pavel Stehno and we started to think of poker in a slightly different way, in every spot we always thought 'could we make him fold aces here?' or 'if he has aces, what would make ourselves look really strong here?' At this time (2009), everybody was very honest and there was a very popular theorem called 'Baluga Theorem' that suggested always folding the turn when your opponent put in big pressure unless you had two pair or better. Now I'm not exactly Isaac Newton, but I worked out quickly it was really, really tough to get better than a pair in Texas hold'em."
Despite his success, remaining in the elite class of poker players is hard work for Leonard. He leans on a large stable of players to help him with his studying, and he recently worked with his coaches to examine different aspects of poker. With that, he used the sessions to improve the performance of his large staking operation.
"I now speak regularly with the coaches from the stable that I own, including "Elmerixx", "European", and "Graftekkel", who I believe are currently the three best tournament players in the world, bar none. We have eight top-top coaches and then 60-plus very hungry grinders. The community is the best in the world to learn tournament poker, and it's a really exciting place to be involved in."
Despite Leonard now representing the partypoker brand, as recent as six months ago this wasn't one of the online poker rooms he even had installed on his computer.
"Six months ago I had partypoker uninstalled on my computer, as I didn't enjoy the software, didn't enjoy the structures, didn't like the prize pools, and didn't like the direction that the company was going in," Leonard proclaimed.
This quickly changed for Leonard, though, as he noticed partypoker made some changes and also began listening to his feedback about what they could improve.
"Around four months ago I started seeing some smaller changes and began to give some feedback to the guys there," explained Leonard. "Usually sites don't want to listen, but partypoker was really open to feedback and started changing things that I suggested. I slowly started to play more and more games and then around one month ago, I went from speaking to the guys every couple of weeks to every day. The changes were intense, and I really appreciated being listened to."
Leonard added that some of the unpopular moves, included adding withdrawal fees, were done for a good business reason, however, at the time not were not properly relayed to the community.
"Partypoker initially adding fees to withdrawals was simply a direct response to the hundreds of regs who were fleasing them on a daily basis with kick-back deposit bonuses," Leonard explained. "For around a year, many guys made a living simply from moving money on and off sites. If you had a Skrill account and a sizable bankroll, it was almost easier to just sit back and press deposit and withdraw than to play a full poker session."
Leonard is pleased that not only has partypoker reversed many changes including the withdrawal fees, but that the online poker room now listens to its players as if they are the most important, regardless of how high or low the stakes they may play.
"I think partypoker didn't communicate the changes very well then and I'm happy not only to see them reverse some of those changes and tackle them in alternative ways, but more importantly the communication with the players over the last two months has been amazing," Leonard said. "Partypoker's Poker Network Associate Colette Stewart replies on a daily basis on the TwoPlusTwo forum and she makes sure that every voice, no matter if it's a $1 player or a $5,200 player, gets their voice heard. In terms of the site changing reentries to freezeouts, whilst I do think longterm it's a good plan, it has resulted in some pretty hefty overlays. It's really important that players continue to support partypoker and allow the prize pools to stay at the high amounts that they are currently at. There are only so many times that the tournaments can overlay before the plug has to be pulled a little. Overall though, the growth and trend of partypoker is extremely promising for all players, and having true competitors to Pokerstars is very healthy for players on all sites."
Making positive changes and being heard are the main reasons why Leonard decided to become a sponsored player at partypoker after turning down other offers from other online poker rooms. He also admits while partypoker has definitely made some positive moves, there is still more work to be done.
"I've been asked by numerous sites to be a 'sponsored pro,' but in general I'm extremely vocal regarding problems and I didn't feel comfortable representing sites that I didn't agree with," said Leonard. "Partypoker are far from the finished product, but the people behind the scenes have the players' best interests at heart and I'm happy to represent a site like that."
We asked Leonard if he was going to be one of the key people instituting changes on the site. While he may not be directly involved with how the poker room makes its decisions, he believes his voice will be heard based on how some recent decisions have been made.
"I won't be making decisions, but I will be heard," commented Leonard. "That's the most important thing to me. For example, I had a meeting last Thursday with the 'big guys' at partypoker. I suggested implementing a $109 rebuy tournament on Sunday. Three hours later, the tournament was deployed in the lobby and it had a huge $65,000 guaranteed prize pool. It was so great for me knowing that this tournament would be a huge success and for partypoker to trust me on it and thankfully for it to run really successfully. I have dozens of ideas of how the site should improve and write them on a daily basis to the guys."
One thing that separates partypoker from many of the other major online poker rooms is the prohibition of many third-party software programs, including heads-up displays (HUDs) and seating scripts. Leonard agrees with many in the poker community that seating scripts, which pray on weaker and mostly the coveted recreational players, are a problem for the poker ecology.
"Third-party software is a really big problem for online poker," shared Leonard. "I used to play cash games for years before transitioning to multi-table tournaments. I was basically forced out because I wanted to play on a Mac that didn't support scripts or other third-party software that would give me a big advantage. I still can't understand how certain poker sites have seating scripts in their 'acceptable software' lists."
While Leonard agrees that the perception among recreational players that HUDs are a big problem, he hopes in the future to show they aren't nearly as big of a problem as believed.
"I think HUDs are actually not as big a problem as recreational players assume they are," commented Leonard. "I'm looking forward to writing some blogs in the future and making some videos to show recreational players that HUDs are not a scary tool giving out enormous amounts of information."
Leonard, who now lives in Budapest, Hungary, shared with us his plans to head to sunny Costa Rica to play in the upcoming Powerfest Poker Festival before heading to Las Vegas to play in the World Series of Poker (WSOP) during the summer.
"I'm going to move to Costa Rica for a few weeks and plan on playing as many Powerfest tournaments as possible from there," Leonard said. "Afterwards, I'll fly to Vegas and will be sporting my new shiny partypoker patch in basically every tournament running at the WSOP throughout June and July. Last year was my first real summer in Vegas playing a full schedule and I had some really deep runs with multiple Day 3s, I'm going to go this year hopefully with tonnes of confidence after a big Powerfest series and I'm looking forward to coming home with a tan, a bracelet, and a lucky partypoker patch!"
Get all the latest PokerNews updates on your social media outlets. Follow us on Twitter and find us on both Facebook and Google+!