Poker in Rhode Island: A Review of the Twin River Casino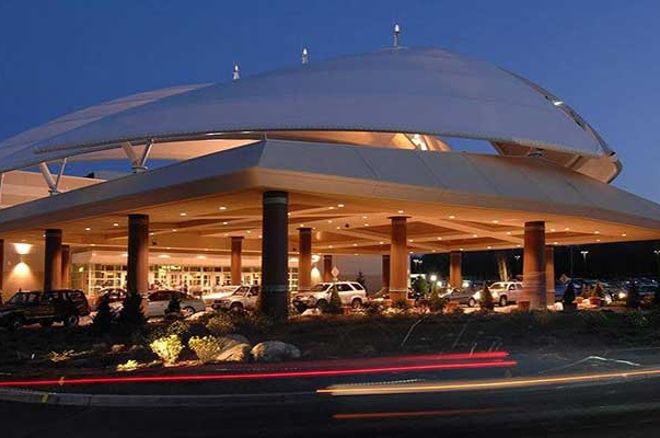 The build-up was tremendous. Way back in 1947, Lincoln Downs, a dog-racing track, opened in Lincoln, Rhode Island, then 30 years later was renamed Lincoln Greyhound Park. Eventually it became a slots-only casino, and poker players driving through Rhode Island to play our favorite game in Connecticut's Foxwoods and Mohegan Sun wanted to know when this more convenient spot might start spreading poker.
In 2007, Lincoln Park became the Twin River Casino, with a Class I gaming license that allowed table games and poker. We were disappointed once again, however, as Twin River would spread blackjack and offer roulette, craps, and other table games, but opted not to have poker.
But then, at the end of 2015, they finally opened a 16-table poker room. The excitement and buzz among New England poker players was intense.
Introducing the Twin River Casino
The Twin River Casino is a more convenient place for poker players located in Maine, New Hampshire, Massachusetts, and most of Rhode Island than are the two excellent, well established rooms in Connecticut. Twin River is just 10 minutes from Providence, 10 minutes from the nearest major airport, under an hour from all parts of Boston, and just a bit more than a half-hour drive from Worcester and Framingham.
But there's a price to pay for this convenience, to be sure. I'd characterize the casino in general as a grade C establishment — surely not failing, but not competitive with the full-service casinos in Las Vegas, Atlantic City, Connecticut, California, and elsewhere with which many of us have become familiar.
Starting with entertainment, you don't tend to get the kinds of major acts that you get at major casinos like the two in Connecticut. Foxwoods, for example, regularly hosts popular acts like Jerry Seinfeld, Howie Mandel, Bob Dylan, and Lady Gaga, but you'll find no such lineup at the Twin River Event Center. There's also no hotel at Twin River, although one is apparently in the works.
Whereas the Connecticut casinos offer dozens of excellent dining options, including Italian, Chinese, BBQ, seafood, steak, and excellent buffets, Twin River has one just one fine dining establishment (a pretty good steakhouse), a couple of pubs, two fairly lame food courts, and a buffet that is regarded by many I spoke to as "pretty awful." The food court nearest the poker room on the second floor, has Sbarro (pizza, calzone, and other "Italianesque" fast food), Johnny Rockets (a '50s-retro hamburger joint), and Dunkin' Donuts. That's it. The other food court has a fairly good Asian takeout place, but little else worth visiting.
Perhaps the greatest gastronomic deficiency is the lack of a breakfast place. Though there is Dunkin' Donuts with its limited breakfast options, it doesn't open until 9 a.m. So if you've been playing all night and want a full breakfast, or even some tiny breakfast nosh before then, you must go outside Twin River (where, in fact, there are a couple of really nice breakfast places about a 10-minute drive away). But in my book, that's not what I expect in a 24/7 casino operation.
And with no hotel there are no major conventions, and that means there are no major conventioneers gambling it up all night in the poker room.
Poker at the Twin River Casino
But let's not bury the lede here — the big news at Twin River is that now there is at least a poker room.
They constantly spread $1/$2 no-limit hold'em with a $300 maximum buy-in. They also have $2/$5 NL with a $500 maximum, and $5/$10 NL with a $1,000 max. These games all run nearly all the time, although you may not find the $5/$10 game going in the wee hours or early on a weekday.
I've played in each of them, about 50 percent of the time at $1/$2, 40 percent of the time at $2/$5, and even one session at $5/$10. For now, the $1/$2 games are pretty soft, as players new to a casino tend to populate these games. There seem to be a relatively lower percentage of winning regular casino poker players in this room, at least in the $1/$2 and $2/$5 games. There is a crowd of casino regulars in the $2/$5 game, but since there are often at least three tables of it during the busy periods, there is usually a soft version of this game to be found. It will be quite beatable for the serious player.
The room also regularly spreads a $3/$6 limit hold'em game, and even fairly often a $5/$10 or $10/$20 stud game made up of players who have migrated over from the Connecticut rooms. The limit hold'em is very soft, while the stud is a rock-fest most of the time. Note that the room never spreads any split-pot game. There is also no Omaha, and no stud hi-low, HOE, or OE.
Though the games have pretty good, soft action most of the time, the room has a few persistent and annoying deficiencies. First, with just 16 tables, and with its convenient location and popularity, it is often nearly impossible to get on a table right away. Do not expect to get a seat without a 2-3 hour wait if you come after 10 a.m. on a Saturday or Sunday, or if you arrive Friday night. You might even find a long wait on a weekday night, or during the wee hours when they have failed to schedule a sufficient number of dealers.
Though the management team is welcoming and making a big effort to run the room, the dealers at Twin River are often inexperienced and sometimes completely inept. I have noticed numerous dealer mistakes, with regard to making change, setting the blinds, even dealing the correct player first. As recently as a couple of weeks ago I observed a couple of dealers defer to loud players on how to divide a pot into side pots, which should not happen. If the dealer can't figure out what's going on, he or she should call over the floor, not rely on the most confident-sounding player (who may well be wrong). But from what I've witnessed this room routinely allows players to bully the dealer into compliance — not a good thing.
This situation does seem to be improving, as the worst dealers have been let go. But they still have a long way to go before their dealers are consistently doing a good job.
Additionally, the dealers and floor are often not up to the major task of controlling a crowd that frequently overwhelms the room. I've noticed players often jumping the line, sitting in open seats when dozens of players ahead of them on the electronic sign-in list are waiting to play. The floor doesn't do a good job of policing this, and protests of waiting players usually go unheeded.
The room is adequate for now, though. There are new decks, perfectly fine chips, nicely felted tables, moderately comfortable chairs, good lighting, a convenient bathroom, and adequate table-side beverage service (with awfully long waits thrown in now and then just like every other room I've ever been to).
The rake (i.e., the amount the house takes out of the pot every hand) is 10 percent up to a maximum of $5 instead of the $4 maximum charged at Foxwoods and Mohegan. It should also be noted that unlike at the Connecticut casinos, there is no bad beat jackpot and therefore no additional $1 bad beat jackpot drop at Twin River.
Conclusion
The tag line for the Twin River Casino appearing on signage and imprinted on all of their poker chips reads "So Much. So Close!" I think that's only half-right. If it were currently accurate, it would read "At Least It's Close!"
The room is definitely conveniently located for the myriad of players who come from Rhode Island, Massachusetts, and northern New England. Unfortunately, the room is one notch or two below the options that are further away. You'll have to judge for yourself how much that shorter drive is worth to you.
The Twin River Resort is located at 100 Twin River Road, Lincoln, RI, 02865. Phone: (401) 723-3200; email: [email protected]
Photo: Twin River Casino.
Ashley Adams has been playing poker for 50 years and writing about it since 2000. He is the author of hundreds of articles and two books, Winning 7-Card Stud (Kensington 2003) and Winning No-Limit Hold'em (Lighthouse 2012). He is also the host of poker radio show House of Cards. See www.houseofcardsradio.com for broadcast times, stations, and podcasts.
Want to stay atop all the latest in the poker world? If so, make sure to get PokerNews updates on your social media outlets. Follow us on Twitter and find us on both Facebook and Google+!