Study Shows eSports Revenues to Hit $463 Million in 2016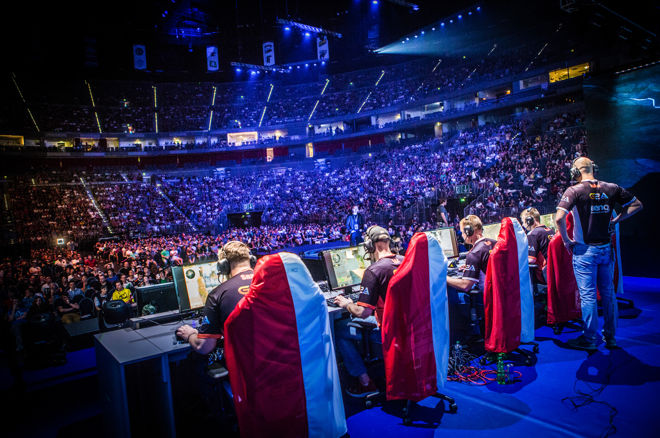 The Global Poker League (GPL) and Sina Sports signed a deal this week that sees Sina Sports become the Official Digital Partner of the GPL in China, giving the GPL massive exposure in the country.
Part of the press release linked to this new partnership states that the GPL, despite being poker-based, is not a gambling league, but is instead an eSport, which focusses purely on competition and interaction with fans of the various franchises.
eSports is big business and an industry in the midst of another boom. Since Atari held the Space Invaders Championship in 1980, a competition that attracted 10,000 participants across the United States, the eSports scene has exploded with global revenues set to hit some $463 million in 2016, up 43 percent from 2015, according to a study by research company Newzoo.
Although eSports has Asian roots, particularly South Korea, it is the United States that is the global leader with approximately 38-percent share of revenues. Newzoo's CEO Peter Warman forecasts the US will maintain its lead with $175 million in eSports revenue in 2016, money generated from online advertising, media rights, merchandise, tickets, and sponsorships.
PriceWaterhouseCoopers (PwC) recently published a reported entitled The Burgeoning Evolution of eSports, which highlights how big eSports has become, and how it continues to grow without any signs of slowing down. In fact, quite the opposite is true.
Social media has been a major catalyst in propelling eSports into the mainstream. Players and fans can now interact seamlessly on the various social media channels, with Twitch seen as the platform that has helped video gaming and eSports become known around the world. Twitch says that its users streamed a staggering 241 billion minutes of video in 2015, which equates to 459,000 years' worth, an unfathomable number when you try to imagine it.
More traditional methods of social media, such as Twitter, Facebook, blogs, and forums are also bustling with eSports chatter. PwC performed a three-month social listening exercise that uncovered 278,000 mentions of eSports. In November 2015, they discovered less than 5,000 mentions, yet by January 2016 this number had ballooned to 45,000.
"The rise of social media, live streaming, and expanded distribution options for broadcasts and top level competition have enabled eSports to break down geographical barriers in a way that many traditional sports have struggled with," said Mike Sepso, Senior Vice President of Activision Blizzard Media Networks.
What Does a Typcial eSports Consumer Look Like?

Part of PwC's study into eSports saw them survey a group of 757 individuals of all ages, sexes, and ethnic backgrounds in an attempt to give a clearer picture of the eSports landscape. For the purpose of the survey, PwC defined eSports as organized video game competitions involving fighting, first-person shooting, multiplayer online battle arena tournaments, or massively multiplayer online games.
The survey results show that only 15 percent of respondents were aware of eSports, a figure than doubled to 30 percent when a definition of eSports was given. Some 57 percent of people who classified themselves as a hardcore gamer were aware of eSports, with 34 percent of people aged 18-24 years knowing what eSports are.
Twenty percent of the respondents were involved in eSports in some way. Only two percent participate in eSports while six percent both watch and participate. The figure rises to 12 percent when asked if they only watch eSports.
The study has also gone some way to quashing the myth that video games are only played by teenagers. The median age of an eSports consumer is 28 years old, with 69 percent being in the 18-34 category. eSports consumers are racially diverse and are more likely to keep up-to-date with the latest technology.
Compared to the non-eSports consumer whose media age was 34 years old, with only 55 percent in the 18-34 years category. Non-eSports consumers are also much less likely to be active on social media, much less likely to play fantasy sports, and are less likely to invest in sports such as buying tickets to a sporting event.
The survey also revealed that 22 percent of women surveyed said they are involved with eSports, compared to 18 percent of men.
COO of GameCo Inc, Cinnamon Booth, said, "For success in eSports, it's critical to recognize that today's 'average' game is not the stereotype of a male teen in their parents' basement."
Watching of eSports Increases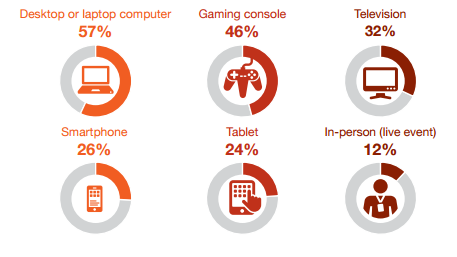 Laptop and desktop computers are still the favored way to watch eSports with 57 percent of respondents using this method. Gaming consoles, such as the Xbox One and PlayStation 4, are used more frequently by females and hardcore gamers.
Some 36 percent of people surveyed said they watch more eSports than a year ago, with the average being 19 days of viewing per year, although this increased to 32 days per year for the hardcore gaming community.
One thing that stands out, and can apply to the poker world, is why people watch eSports online. Female viewers are much more likely to watch for enjoyment and the social aspect that comes with competition, while males appear to watch eSports because they enjoy seeing their favorite games being played at the highest level, and they watch the competitions to improve their own game.

The eSports Business

Exposure and growing a game is all well and good, but businessmen and women don't only do these things for love, they also want to make money. Getting into the eSports business seems like a good way to do this because the average eSports consumer spends $309 per year on video games and related paraphernalia compared to only $163 by non-eSports consumers.
Also, almost one in five of respondents to the PwC survey who had watched an eSports event had paid a subscription fee to do so. Apply that figure to the fact the League of Legends 2015 World Championships receives 334 million total cumulative daily impressions (up from 288 million in 2014) and it is easy to see what eSports is considered to be a lucrative business.
A couple of other facts stand out and show that eSports' popularity continues to accelerate in an upwards trajectory:
More people watched the League of Legends Championships in 2015 than watched baseball's World Series of the NBA finals.
Prizes for winning tournaments are now approaching $10 million.
In 2014, Riot's League of Legends tournament sold out Seoul's second-largest arena, a stadium that once played host to a 2002 FIFA World Cup.
More than 70 million people watch competitive gaming, which is 5.9 million more people than who live in the United Kingdom.
Do you watch or play eSports? What is it about eSports that appeals to you? Let us know in the comments box below?
Want to stay atop all the latest in the poker world? If so, make sure to get PokerNews updates on your social media outlets. Follow us on Twitter and find us on both Facebook and Google+!