Five Thoughts: Molly's Elba Makes Poker Cool Again, GPI's Flawed Formula, and Fan Event of the Summer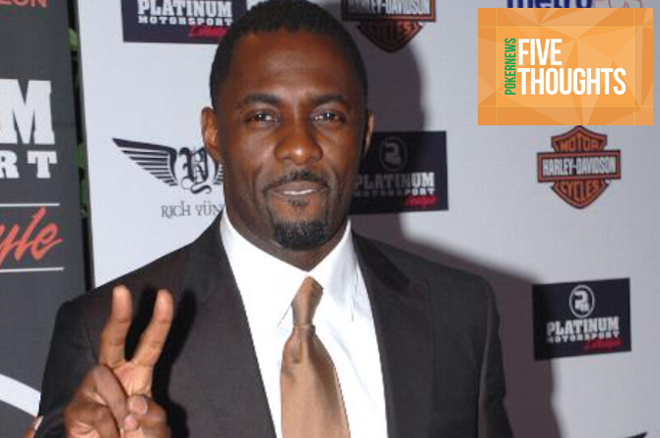 Watching a year-old YouTube rerun of Joey Ingram's Poker Life Podcast with European Poker Tour commentator Joe Stapleton this week, I came across an interesting perspective on where poker's next boom might come from.
According to Stapleton, a knowledgeable poker industry veteran and without a doubt the funniest commentator in the game, poker's original boom in the early 2000s was derived from two things: Chris Moneymaker's historic and rather unbelievable 2003 World Series of Poker Main Event win, and the popularity of the 1998 movie Rounders.
According to "Stapes," and many others for that matter, Moneymaker made the whole world believe they could win, and Matt Damon and Edward Norton made poker look so cool in Rounders, everybody wanted to.
Stapleton went on to say that if poker is going to see another boom in popularity, something needs to be done to make the game cool again.
1. Upping Poker's Cool Factor
The effort to make poker cool again got a major shot in the arm this week with the announcement that British actor Idris Elba will join fellow A-lister Jessica Chastain to star in the Molly Bloom biopic Molly's Game.
Bloom rose to fame in 2014 after penning a book about hosting high-stakes Hollywood home games and the film is said to be based on her memoir.
Elba, who starred in the HBO series The Wire and the British crime drama Luther, is one of the hottest actors in Hollywood these days, and about as cool as it gets.
The film, currently in pre-production, is also set to be the directorial debut of Aaron Sorkin, known for his writing on TV series like The West Wing and successful films like The Social Network and Moneyball.
The idea of a sequel to Rounders has been bandied about for quite sometime, but if the poker world needs something to kick off it's next boom now, Molly's Game may be it, because the cool factor for this cast and crew is simply off the charts.
2. The Formula for Success
PokerNews Editor-in-Chief Donnie Peters got it right this week in an Op-Ed piece claiming Steve O'Dwyer was robbed of Season 12 European Poker Tour Player of the Year honors by a flawed formula.
Despite having more wins, more final tables, and winning more money than Mike "Timex" McDonald, O'Dwyer had to settle for second place, with McDonald earning the bragging rights that come with the Player of the Year title.
Of course, the EPT uses the Global Poker Index's scoring system to determine its POY, and unfortunately, the system's buy-in caps left the award up for debate this time around.
The GPI also powers the WSOP POY, where the winner of the biggest event in poker history and at least one multiple bracelet winner were pretty much out of the running in 2015, thanks to a formula the GPI either can't or won't explain.
I think it's time the GPI realize there is more to being poker's official record keeper than buying up the industry's top player database and naming rights for various POY awards. There's a few weeks left before the 2016 WSOP kicks off and the organization should really spend it defining and perfecting its formula for this year to avoid us all having to put another asterisks beside the latest winner's name.
3. Hawkins On the Verge
Maurice Hawkins recently spoke with PokerNews stringer Jonathan Zaun about his amazing April on the WSOP Circuit that included becoming the first player ever to win back-to-back main events.
In talking about whether or not his recent accomplishments constituted a "breakthrough," Hawkins called me an "idiot" for some comments I made comparing the WSOP Circuit to the minor leagues, and so I think it's important to clarify a few things.
First off, these comments were not meant to insult Hawkins in any way. In fact, while his table persona came under considerable fire in the public comments on the story, my personal belief is that Hawkins is a talented poker player, an entertaining figure at the table, and a solid character off of it.
My only real point was that million-dollar scores, bracelets, and next-level poker glory aren't found on the WSOP Circuit, and that Hawkins' recent success on that tour only indicates he's on the verge of a big breakthrough in the kind of event where they might be.
After defending the Circuit, claiming it has provided him with more than a decent living over the past few years, Hawkins went on to claim he would win a bracelet at the 2016 WSOP and the WSOP Main Event within the next three years.
My read is that we're both saying the same thing here: Hawkins is on the verge of a major breakthrough, and if that makes me an idiot, then so be it. He's come close in recent years, namely with a fourth-place finish in the 2015 World Poker Tour Borgata Poker Open and a ninth-place result in the 2014 WSOP Millionaire Maker, and now it looks like he's riding the ultimate momentum train that will allow him to seal the deal in one of those majors.
4. The WPT: Bigger and Better
The World Poker Tour revealed the remainder of its Season XV schedule last week, including a few new twists.
Details were released regarding the new partypoker WPT Passport, an online satellite system allowing winners to choose the partypoker-sponsored WPT main event they wish to play. Plus, the WPT Caribbean Festival in the Dominican Republic was added to the schedule, and the tour promised enhanced graphics and a new set for the live stream of its non-broadcast events.
Finally, organizers also added a new WPT Festival Championship that will see prelim winners at each stop battle it out for a seat in the main event.
While its common to see main event seats added to prelims or series leaderboards, this move by the WPT to allow its prelim winners to play their way into its main events seems to mirror a new way of thinking on the tour that started with the inaugural WPT Tournament of Champions this Spring.
Of course, the WPT Tournament of Champions will be back next Spring to end Season XV, which, with all these improvements afoot, has a real chance to be the tour's biggest and best ever.
5. The Event of the Summer for Poker Fans
The opportunity to watch more than 24 hours of primetime live coverage featuring the richest and best poker players on the planet battling it out for millions of dollars on a major US digital cable and satellite TV network would have to be considered a poker fan's dream come true.
Well, that dream will become a reality in just a few short weeks after organizers of the $300,000 Super High Roller Bowl announced last week that the CBS Sports Network will air 30 hours of the event live, with 7 p.m. or 8 p.m. ET start times, from May 29 through June 1.
The event will see 49 players playing for pieces of a $15 million prize pool and is slated to include poker superstars like Antonio Esfandiari, Daniel Negreanu, Phil Hellmuth, and Jason Mercier.
But for the fans, it gets even better.
Poker Central and MVMT Watches are offering up the chance to win $1 million for a fan who can select the top seven finishers in order. The MVMT Million Dollar Final Table Challenge is free to enter and entries are limited to one per person before May 29 at 11:59 p.m. PT.
By offering the opportunity for one lucky fan to book a seven-figure score while they watch it all play out live on the CBS Sports Network, I think the $300,000 Super High Roller Bowl has quickly defined itself as the event of the summer for poker fans, before the 2016 WSOP even begins.
*Image courtesy of lukeford.net/Wikimedia.
**Please note that the thoughts and opinions expressed in this article reflect those of the author.
Want to stay atop all the latest in the poker world? If so, make sure to get PokerNews updates on your social media outlets. Follow us on Twitter and find us on both Facebook and Google+!