Nevada Governor Brian Sandoval Pressures New Jersey To Share Online Player Liquidity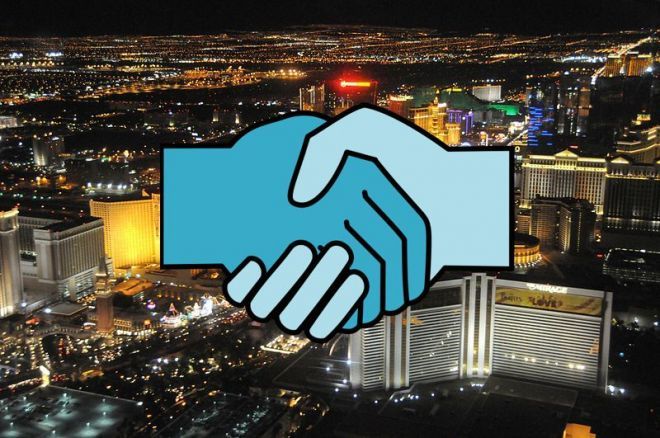 Currently there are only three states in the United States of America — Delaware, Nevada, and New Jersey — which permit regulated online poker. In early 2015, Delaware and Nevada signed a pact enabling the two states to share player liquidity in hopes of growing the game and making them more attractive to players. Now, Nevada is attempting to put pressure on New Jersey to follow suit and share player liquidity.
Recently, Legal Sports Report reported that the Nevada Gaming Policy Committee would meet with eSports representatives to discuss two main topics: "eSports and the next generation of gaming" and "online gaming and future opportunities for Nevada."
While eSports dominated the meeting, Nevada Governor Brian Sandoval took advantage of the spotlight to also talk about online poker, where the state's market is a distant second to New Jersey. Despite Las Vegas being known as the gaming capital of the world, it makes sense that less total players are active in Nevada due to its population of 2.8 million compared to New Jersey's 8.9 million. While Nevada does attract many gaming tourists, playing online isn't one of the top activities, which is another reason why tournament guarantees and ring-game liquidity are much lower than that of the Garden State.
Sandoval created waves during the meeting when he stated the state was immediately ready to sign an interstate agreement with New Jersey.
"I'm ready to go," shared Sandoval. "It's a win-win for both states."
A.G. Burnett, Chairman of the Nevada Gaming Control Board, immediately hopped on the bandwagon by saying the state was "ready, willing, and able" to forge ahead with an agreement with New Jersey to share player liquidity.
Many agree this would be a huge win for Nevada, as New Jersey's online poker economy is holding strong and would provide an increase in offerings attractive to those living in and visiting the Silver State. Additionally, while an agreement may not be as monumental for New Jersey, it would also potentially pave the way for future shared liquidity agreements if other states such as Pennsylvania, New York, Michigan, and California are able to also create a regulated online gaming regime.
Sandoval may have been overly optimistic about the strength of his state, sharing during the meeting that the states coming to an agreement "would be like putting together the Yankees and the Dodgers." While it is true that the two states are currently the biggest to allow for regulated online poker, the market sizes are dwarfed when compared to some of the other states currently considering legislation.
Many Hurdles for New Jersey
Despite the pressure from Nevada, many believe that the two states will unlikely come to an agreement in the near future. The state's regulatory New Jersey Division of Gaming Enforcement (NJDGE) is believed to have explored possibilities in the past with nothing to report.
In November 2014, NJDGE Director David Rebuck raised hopes for players in the Garden State when during an interview with Philly.com he mentioned that discussions not only already took place with regulators in Nevada, but those in the United Kingdom as well. He also shared while no deal was immediately on the table, that in 2015 the regulatory would attempt to expand liquidity.
While it isn't known exactly why a deal hasn't already transpired between New Jersey and Nevada, Online Poker Report editor Joss Wood speculates that politics could be the core reason.
Sheldon Adelson, Las Vegas Sands Chairman and CEO and well-known online gaming antagonist, is believed to have donated a bit to the failed presidential campaign of New Jersey Governor Chris Christie. Typically, financial support from Adelson doesn't come without promises to reciprocally support his agenda.
During the time when PokerStars was awaiting approval for licensing in the Garden State, New Jersey Senator Ray Lesniak was outspoken about how politics were interfering and causing delays in the process.
"This is just another in a series of Gov. Christie's actions that turn his back on the people of the state of New Jersey to boost his presidential campaign," Lesniak shared in a phone interview with PokerNews in February 2015. "My understanding is it was ready to be started in October before Christie interfered. Sheldon thought his ban was ready to go in the lame duck and now he's trying again. I know how politicians' minds work. It's easy for me to see Christie saying, 'I'll buy you time on this, but I can't hold it off forever.' I think it's important to get this story out that Atlantic City is hurting and Gov. Christie is playing presidential politics."
While PokerStars began operations in New Jersey in late March and Christie's Presidential campaign has been suspended, many believe there is little political benefit to Christie, who remains Governor until Jan. 23, 2018, moving ahead with a shared liquidity agreement.
Even if politics isn't an issue there are a few other hurdles to cross to make shared liquidity a reality. One includes that an agreement with Nevada (and Delaware) would currently only benefit one of the three New Jersey networks. In addition to PokerStars NJ, WSOP NJ shares a network with 888poker NJ on 888's software platform, while partypoker NJ shares a network with BorgataPoker.com on partypoker's software platform.
In Nevada, currently only WSOP NV operates on 888's platform, which, as mentioned earlier, shares liquidity with Delaware's regulated sites on 888poker. While partypoker does not currently operate a network in Nevada, it is believed it is something they are considering. Meanwhile, PokerStars is locked out from even applying for a license in Nevada until Feb. 21, 2018 due to a bad-actor clause.
Whether or not they seek and granted approval for a license even then could be further clouded due to insider trading allegations made in March by Quebec's securities regulator Autorité des Marchés Financiers against David Baazov who subsequently took a voluntary leave of absence for an indefinite period of time from as Chariman and CEO of Amaya Inc., the owner of PokerStars.
The fact that shared liquidity might only immediately benefit one network could potentially be overlooked and maybe political issues aren't as big as they seem. However, even if both these issues aren't really issues, there are still a few smaller apprehensions that could prevent a deal to take place including New Jersey previously sharing constitutional concerns where the servers for game-play would be located. Online Poker Report implied this might not be a major concern since the Chairman of the Nevada Gaming Board mentioned this issue could be easily resolved.
Want to stay atop all the latest in the poker world? If so, make sure to get PokerNews updates on your social media outlets. Follow us on Twitter and find us on both Facebook and Google+!