Defending Colossus: 2015 Champ Cord Garcia Feeling Good, But Anti-Sweating Field Size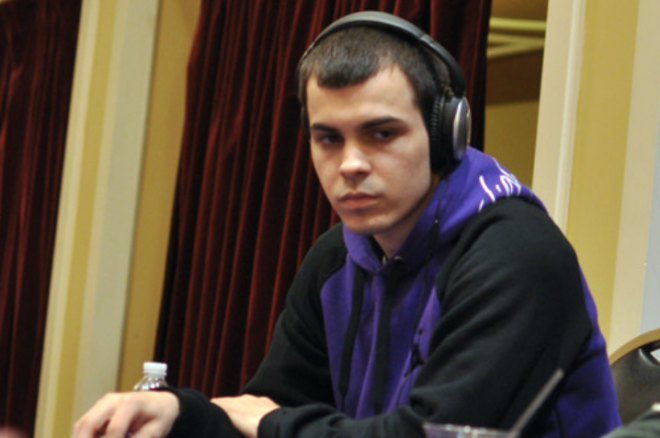 There was at least one player in the field of the first of six starting flights for the 2016 World Series of Poker's $565 Colossus II on Thursday that was secretly hoping the event would not break the field size record it set last year.
However, Cord Garcia, who won the inaugural Colossus at the 2015 WSOP for $638,880, outlasting a record 22,374 entries, really can see it from two different perspectives.
"Yes, I'm anti-sweating the player field," he told PokerNews with a smile. "For the good of the game, I would rather see it grow and get bigger, but for my own selfish reasons, I really would rather keep the record (for winning the biggest live poker tournament in history) for as long as I can."
A number of changes were made to the structure of the event heading into its second year, and Garcia seems to think they were all good ideas.
"The only thing people really complained about last year was that there wasn't $1 million for first and they've changed that," he said. "They're playing so deep into the money on Day 1 now and I like that they've changed that format. I think it's a lot better for the tournament. Adding two more flights is obviously good for us, too."
The structure is certainly faster out of the gate than the 2015 edition, but Garcia says even that is more player friendly than it might appear.
"Either you want to build a big stack early or start another tournament, so that's probably better for us, too," he said. "I like that it slows down later in the tournament when there's less people. All of this is good for us."
Few players can even conceive of the idea of winning a poker tournament with 22,000 players. Being the only player ever to have done so, Garcia claims it might be "irrational confidence" that first led him to believe its possible, and either way, he believes it's going to be a lot of fun to try to do it again.
"What's the worse that can happen? I can bust and I'll still have what I did last year. Plus, if I make a run, it will be that much more epic," he said. "The way I see it is that I've got six chances to get into a poker tournament with a few thousand people. Obviously there will be something like 22,000 people in the field, but if you break it down that way, look at it like a six flight satellite to get into a tournament with a few thousand people, and you get a chance to bag average, under average or a big stack, it's easier to manage.
"I look at things a bit differently, but I think if you don't look at it like it's such a huge field, it won't seem as unlikely to win it as it should."
Garcia says it's all about compartmentalizing, and he's eager to see if that plan can work for him again.
"I'm excited for it," he said. "I don't think I'm nervous at all. I do think if I get to Day 2 or 3 with like 600 people left I'll get more nervous, but right now it just feels like a freeroll."
Garcia was already in and out of the first flight by the time he spoke with PokerNews, but was awaiting Thursday afternoon's second flight to fire another bullet. The first flight was not a sellout, so he figures he's still holding a pretty good shot at keeping his record, despite organizers predicting as many as 30,000 will get in the event by the time six flights are through.
"I have a shot," he said. "Really, I'm one of the people that doesn't think it will surpass last year. I just think a lot of people will be over it by the time we're into flights three, four, five and six. Plus, Flight 1a already wasn't as busy as I expected. I was expecting the first two flights would be sold out days in advance and at least 1a wasn't.
"It'll be interesting to see what the first few flights get. So far it seems very relaxed here. I was expecting a shit show, I'm not going to lie, but it just hasn't been so far.
"I played 1a last year and after it was over I was like 'I'm so glad I pre-registered for all these flights already.' I was just so over it. It was so busy, there were just so many people, the lines were so long. But it seems like they've got a lot of things figured out heading into this year and it's not that bad."
No matter what happens with the numbers, or how the changes effect the second incarnation of the Colossus, Garcia is simply focused on firing away, and taking a shot at defending his title, no matter how implausible that possibility may seem.
"It took three bullets last year," he said. "So maybe that'll be the magic number again."
Want to stay atop all the latest in the poker world? If so, make sure to get PokerNews updates on your social media outlets. Follow us on Twitter and find us on both Facebook and Google+!