Poker Pro Matt Marafioti Resurfaces Following 45-Day Disappearance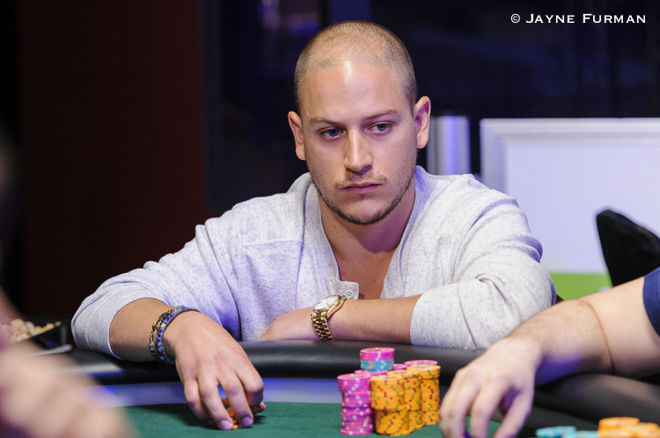 Forty-five days after disappearing without a trace, poker pro Matt Marafioti resurfaced on Monday, August 1st under a cloud of questions.
Marafioti, who rose to prominence as high-stakes online poker pro "ADZ124" during the pre-Black Friday era, posted videos to both his YouTube and Twitter accounts addressing the recent rumors regarding his whereabouts.
While the YouTube video (WATCH BELOW), which spanned nearly 17 minutes, touched on a variety of wide-ranging subjects – including Toronto rapper Drake, the Mafia, and the Illuminati – Marafioti's message on Twitter was much more direct:
I am one hundred percent completely safe, and have been since leaving Toronto. I am doing nothing but enjoying my summer, but haven't been on social media for a while because I was camping. And I didn't realize that after three weeks people would already be looking for me, claiming I have this severe mental problem I don't have.

I'm just having fun enjoying my summer in peace and quiet. Randy Dorfman is not my friend, for the record. So, I'm not really sure what he's talking about, or why he's concerning himself with my family affairs.
The need to clarify his physical and mental well being stems from a series of tweets issued by veteran pro Randy Dorfman, who posted an alert via Twitter that Marafioti had been missing since June 16th.
The tweets from Dorfman, which were posted on July 12th and have since been deleted, sounded the alarm, claiming that Marafioti's parents had not heard from him in nearly a month, and they had requested Dorfman's assistance in locating their son:
Important!! If anyone has seen Matt Marafioti please contact me. Has not been heard from since June & family is extremely worried. Plz rtwt.

Matt Marafioti last seen at @southpointlv in Jun. if anyone has seen him play on Pokerstars lately please let me know. again please retweet

@pokerstars plz contact me if Matt Marafioti has been playing on your site. Family is EXTREMELY worried as he has gone missing since mid June.
Requests for comment sent to both of Marafioti's parents received no reply.
Dorfman also declined to offer any further statement on the matter, directing inquiries to Detective David Groover, a private investigator based in Las Vegas who Dorfman says he helped Marafioti's parents hire.
Reached for comment, Groover offered no clarification on his involvement with the Marafiotis or Dorfman.
In the wake of Dorfman's tweets, fellow poker pros, members of the media, and industry figures soon began spreading the word and speculating as to Marafioti's whereabouts and his mental state.
Over the course of several months Marafioti has posted an extended string of tweets and videos, the sum of which weaves together an increasingly complex narrative about his family and his personal life. Although the details are difficult to pin down, Marafioti's story mentions a video of him rapping which was surreptitiously posted from his phone, his broader participation in Toronto's rap scene, arbitration of a Spin and Go payout dispute, the Ndrangheta crime syndicate in Italy, the Hell's Angels motorcycle gang, international drug smuggling, government surveillance, and President Obama.
They're going to call me "crazy" instead of a "conspiracy theorist" because the "conspiracy" I'm stating is actual truth which they dislike.

— Adzizzy (@Adzizzy)
This is my fault because I got my house robbed while collecting money from a stake in deep makeup and then made the stupid rap video.

— Adzizzy (@Adzizzy)
That's right, now through my rap videos they are trying to frame me as a "threat to society" who needs to be locked in "mental confinement".

— Adzizzy (@Adzizzy)
"We better get ADZ locked in a mental home and killed/tortured before he wins a bracelet so it looks more believable to the public."

— Adzizzy (@Adzizzy)
Given a more substantial medium via his YouTube channel, Marafioti also compiled a slideshow video purporting to provide visual and auditory evidence of his claims, which was entitled "Matt Marafioti Is Being Framed By The Illuminati, Italian, And Jewish Mobs Because Of Drake."
Throughout the tweets and videos Marafioti recounted a complex, and at times convoluted, story premised on a group of individuals and organizations actively conspiring against him. Because of this, Dorfman's announcement that Marafioti had been missing since June prompted fellow poker pros to point out that possible mental health issues may be related to his disappearance.
Someone should have @WSOP check his receipts to see when he last played. He was showing big signs of mental illness. https://t.co/9ucbRKChzL

— Jared Hamby (@TWKftw)
He had been posting some troubling things on his social media and there are concerns about his mental health, spread the word please.

— Barry Carter (@Barry_Carter)
Eight days before his last known contact with family members, Marafioti was working his way through the field in Event #10: $1,500 No Limit Hold'em 6-Handed, emerging from a field of 1,477 to record a 64th place finish. The cash, for $4,198, was Marafioti's second in only three events early in the series, but his summer was cut short when he suddenly departed Las Vegas and cut off all contact.
In his newly posted YouTube video, Marafioti explained his absence as nothing more than a regularly scheduled detachment from the proverbial grid.
This is Matthew Marafioti checking in here, I noticed online the other day that people were saying I'm missing, which is completely untrue. The only thing I'm doing is enjoying my summer with friends, having fun. We went on a camping trip for a couple weeks, it was really enjoyable. It was good to get away from everything.

To be honest, I find the poker community to be a very seeded, one-sided community. So with that being said, I chose to remove myself from the situation in order to grant myself the peace and happiness I deserve, which I live in every single day. So I'm just moving on with my life in a completely positive and happy manner.
PokerNews reached out to Marafioti, and he stated that he'd prefer to keep his whereabouts private for the time being, and that he would eventually be settling down "in a one-bedroom apartment in a different part of Canada somewhere other than Toronto."
Want to stay atop all the latest in the poker world? If so, make sure to get PokerNews updates on your social media outlets. Follow us on Twitter and find us on both Facebook and Google+!