Calling the Clock with Matt Berkey Sponsored by KO Watches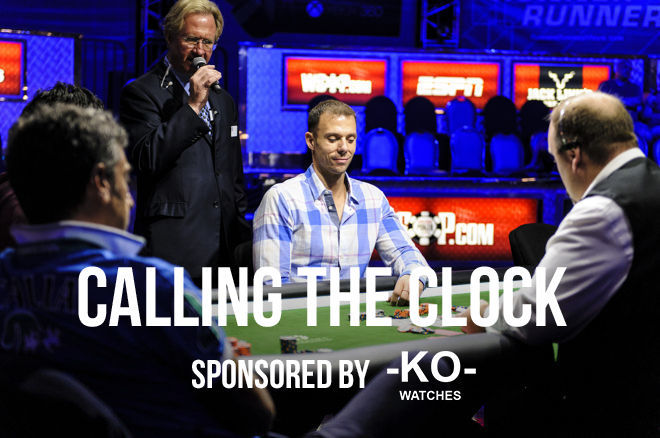 Beginning as a cutting-edge brand active in design, manufacturing and distribution of quality-finish watches from young Mexican entrepreneurs, KNOCK OUT -KO- Watches works to distinguish itself with its quality and clean design, allowing people to use time they have as they wish and without interruption. With our sponsor, KNOCK OUT -KO- Watches in mind, we're now going to "Call the Clock" on Matt Berkey.
PokerNews' Sarah Herring called the clock on Matt Berkey, giving him two minutes to answer as many questions as he can. This week's segment comes from a previous interview with Berkey on the PokerNews Podcast.
First word you think of that begins with "B."
Berkey.
Where were you for Halloween this year?
My house.
What were you?
Nothing.
Ugh. Lame. Would you quit poker for a year if the Pirates won the World Series that year?
No.
Who is your best friend and why?
Jace Criswell. We grew up very similarly and just have been very close since fourth grade.
What's your favorite Disney movie?
Toss-up between Aladdin and The Lion King, but lean Aladdin.
Blondes, brunettes or red heads?
Brunette.
Last show you binge watched?
Currently, This is Us.
Would you rather want to know when you're going to die or how you're going to die?
When.
That's intense. Jennifer Lawrence or Jennifer Lopez?
Write in Jennifer Aniston? Umm younger me says Lopez but current me says Lawrence.
How do you like your eggs?
Soft scrambled.
Biggest splurge with poker winnings?
My car.
Favorite breed of dog?
Pitbull. No question.
Website you visit the most?
Twitter.
Best follow?
I don't have great follows, I got to say.
Favorite hashtag?
#lasttimeberkeywonatournament.
Worst poker trend ever?
The term "You're the worst."
Best poker player that isn't you?
I really want to say Marcus, but nobody knows who he is.
When the clocks stops, time comes to life. Get your hands on a Knock Out -KO- watch right here.
Everybody needs an account at one of these online poker rooms! They're the biggest, the best, and we get you the best poker bonuses. Check out our online poker section for details on all the online poker rooms around.