Calling the Clock with Jesse Sylvia Sponsored by KO Watches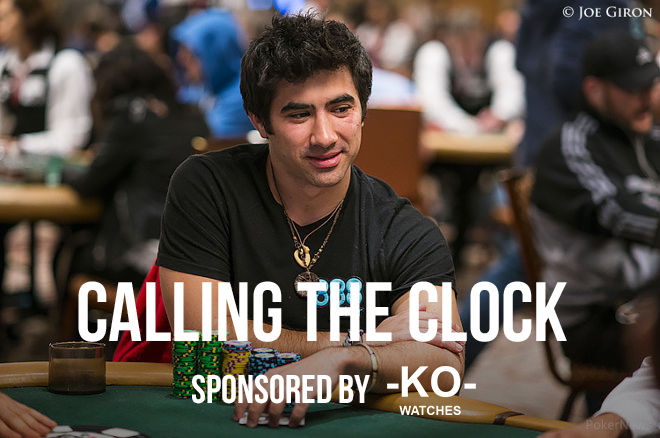 Beginning as a cutting-edge brand active in design, manufacturing and distribution of quality-finish watches from young Mexican entrepreneurs, KNOCK OUT -KO- Watches works to distinguish itself with its quality and clean design, allowing people to use time they have as they wish and without interruption. With our sponsor, KNOCK OUT -KO- Watches in mind, we're now going to "Call the Clock" on Jesse Sylvia.
PokerNews' Sarah Herring called the clock on Jesse Sylvia, giving him two minutes to answer as many questions as he can. This week's segment comes from a previous interview with Sylvia on the PokerNews Podcast.
Have you ever done yoga?
Yes.
Do you do it regularly?
Sort of.
Have you ever been to one of your wife's yoga classes?
Yes.
Does she put extra pressure on you?
No, I don't think so.
What would your walkout song be if you were a fighter?
That's a really good one. Enter Sandman.
What's the dumbest rule in poker?
Depends on the casino, but at the last casino they had one where if you act out of turn you got a three-hand penalty and there would be guys in the one seat who just couldn't see the nine seat, didn't fold yet because the dealer's in the way and they would enforce it on them. I thought that was pretty ridiculous.
Not fair. When you were a kid, did you have a celebrity crush?
Yes. Several. But Jessica Alba was like my main one.
Wow you're so young. What's the last show you binge watched?
Black List but I'm not proud of that.
One thing you can't live without?
Ashley.
Commentating or playing?
Playing.
Best poker player of all time?
I mean, I guess I got to go with like, Doyle [Brunson] or someone, right?
If you could be any living person's coach, who would you choose?
Any living person's coach? Like poker coach?
Yes. Jessica Alba, obviously.
Umm I don't know. She hasn't been in any good movies lately. I got to go with Jennifer Lawrence or Regina Spektor.
No, Jennifer Lawrence, because I want to be in on this too. Like, let's all hang out. Just saying. I don't even know – Regina Spektor's a singer, right? Yeah, I've seen her. She's good, but no. Jennifer Lawrence.
When the clocks stops, time comes to life. Get your hands on a Knock Out -KO- watch right here.
Finding a trustworthy room to play online poker can be a monumental burden. That's all the more true if you're just looking for a place to play poker for free. We've listed five of the best play-money poker sites to enjoy and help hone your skills.