Calling the Clock with Jason Somerville Sponsored by KO Watches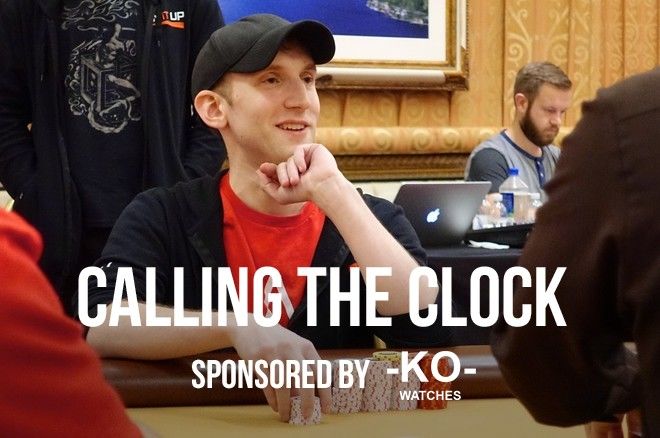 Beginning as a cutting-edge brand active in design, manufacturing and distribution of quality-finish watches from young Mexican entrepreneurs, KNOCK OUT -KO- Watches works to distinguish itself with its quality and clean design, allowing people to use time they have as they wish and without interruption. With our sponsor, KNOCK OUT -KO- Watches in mind, we're now going to "Call the Clock" on Jason Somerville.
PokerNews' Sarah Herring called the clock on Jason Somerville, giving him two minutes to answer as many questions as he can.
Best advice you would give to your 19-year-old self?
Don't gamble too much on other players.
Did you go to prom?
No, I didn't even finish my senior year of high school. I graduated as a junior so I didn't know anybody senior year. So no, I didn't go to any kind of prom.
Wow, lame for you but also kind of lucky for you.
Dirty basement kid, what can I do?
What's the weirdest thing someone's said to you on your Twitch chat?
Oh my god, you could not even believe it, it's insane. It's crazy. I don't even know if I could even say. People say all sorts of things about weird things, about liking parts of my body and toes and, who knows? It's strange. It's a weird universe on the internet.
What's the weirdest thing that's happened to you while streaming?
Huh, man. I've had, I guess I could say I, at one point, had some sort of a weird migraine. I couldn't see and I was in the middle of a tournament. It was like I was in the Thursday Thriller deep, 36 left, and all of a sudden, I had this weird blind spot in my vision and I couldn't see the cards and I was misreading my hand on the stream. And when I busted, I was like, what's going on? I don't even know but yeah, it was fine but it was weird. I couldn't stop the stream!
I mean, I hope you had your brain checked out, but I've had that, too. What is the book you've read most recently?
I read Molly's Game actually. Very good. I thought it was actually great.
I have no idea what he's talking about.
It's the poker book about the celebrity cash games in L.A.
Shows what I know.
There's going to be a movie about it.
What's the book that's changed your life the most?
Hm, book that's changed my life the most? You know, I probably would say maybe like Dan Harrington's tournament series. What was that called? Harrington on Hold'em. That was great. Changed my life. I got rich off that book.
Who's your best friend in poker?
I would say Vivek Rajkumar, World Poker Tour champion and pajama wearer at all times.
What do you like on your pizza?
Nothing. Plain cheese. I'm a New Yorker. We just eat it as it is.
If you could play an instrument, what would it be?
I played the piano for like 10 years, OK. Beautiful piano player. I also played the baritone sax or whatever that was for like one year in like, high school or something.
Like I'm shocked he didn't go to prom. Let's get real. Hardest thing about being a poker player?
The fact that you can play for a month and lose.
BONUS MINUTE:
Favorite cuss word?
Oh, man, fuck. Gotta be. You're fucking paying.
What's the first thing you think of when I say the letter "f"?
Fuck.
Best gift you've ever received?
I'm not really a big receiver of gifts. Pass.
What's your go-to karaoke song?
Oh, man. I love "Hurt my Soul" by Lupe Fiasco.
I don't know what it is. Let me hear it.
Oh, you're going to make me sing at 10 in the morning? It's a bunch of rapping and Lupe Fiasco is singing and I'm not really a karaoke person either. It's like a prom-related thing. I'm not really a partygoer. I'm a dirty basement kid, Sarah Herring. I don't really sing or do rapping or anything.
I don't even know what that song is, which just shows what a loser I am. I'm just going to throw this one in there because I want to know what you'd say, but what's your spirit animal?
Oooh, the falcon.
When the clocks stops, time comes to life. Get your hands on a Knock Out -KO- watch right here.
Be sure to complete your PokerNews experience by checking out an overview of our mobile and tablet apps here. Stay on top of the poker world from your phone with our mobile iOS and Android app, or fire up our iPad app on your tablet. You can also update your own chip counts from poker tournaments around the world with MyStack on both Android and iOS.