Calling the Clock with Lee Jones Sponsored by KO Watches

PokerNews Staff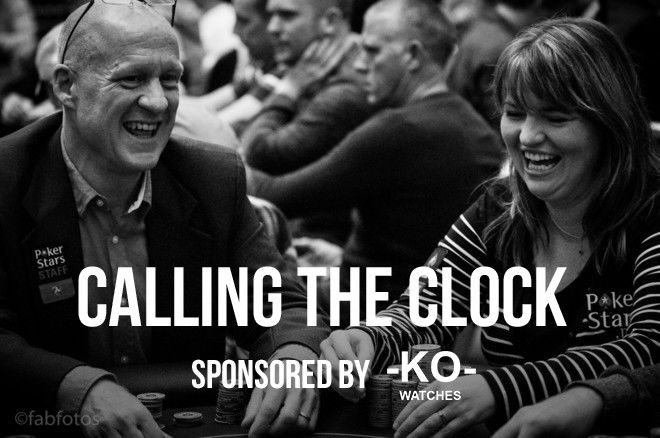 Beginning as a cutting-edge brand active in design, manufacturing and distribution of quality-finish watches from young Mexican entrepreneurs, KNOCK OUT -KO- Watches works to distinguish itself with its quality and clean design, allowing people to use time they have as they wish and without interruption. With our sponsor, KNOCK OUT -KO- Watches in mind, we're now going to "Call the Clock" on Lee Jones.
PokerNews' Sarah Herring called the clock on PokerStars' Lee Jones, giving him two minutes to answer as many questions as he can. This week's segment comes from a previous interview with Jones on the PokerNews Podcast.
Would you ever bungee jump?
Yes.
Have you?
No.
What is your favorite cereal?
Kashi.
What is the most memorable moment you've had in your career?
Sending pizzas to high-stakes players online.
As a joke?
No, it was legit.
Who is the first poker player that you considered a friend?
Roy Hashimoto.
Who was the first poker player you considered an enemy?
Won't answer that.
What's the first thing you notice about people?
Their eyes.
What's the last thing you ate?
Lentil soup.
When was the last time you were on TwoPlusTwo?
Three weeks ago.
When was the first time you were on TwoPlusTwo?
2003.
Have you ever searched yourself on TwoPlusTwo?
No.
Lie! Have you ever Googled yourself?
Yes.
If you were a crayon, what color would you be?
Purple.
Last film you watched?
The Star Wars before Rogue One.
Summer or winter?
I have no idea.
Favorite room in your house?
The living room.
Rolling Stones or the Beatles?
Beatles.
Book you've read more than once?
Big Deal by Tony Holden.
Best gift you've ever received?
Fresh homemade preserves that somebody had made for me.
Wow, you're a cheap date. If you could play an instrument, what would you want to play?
I play multiple instruments. I would like to play Dobro better than I do.
Oh my god. Dobro. Standard. Favorite board game?
Clue.
When the clocks stops, time comes to life. Get your hands on a Knock Out -KO- watch right here.
Finding a trustworthy room to play online poker can be a monumental burden. That's all the more true if you're just looking for a place to play poker for free. We've listed five of the best play-money poker sites to enjoy and help hone your skills.