My 5 Best Things About Playing Poker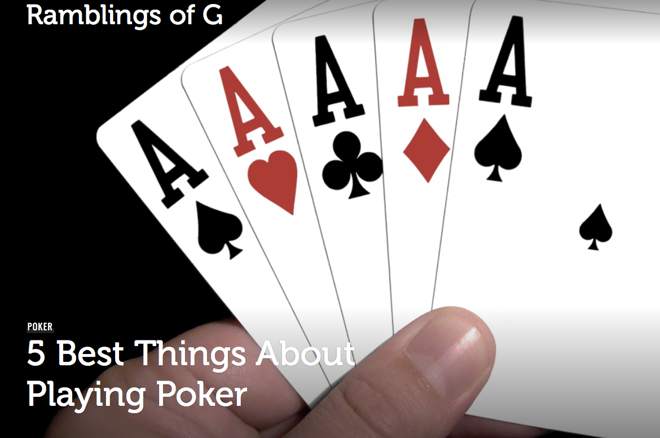 I've been more open about poker with the upcoming PokerStars Festival in Panama and I've had a lot more people ask me about it.
I've actually been pretty surprised how many people are interested in playing more/taking it up so I've decided to do a post about the five best things about the game to maybe convince people to give it a go.
1. The Money
Now this is definitely not an instantaneous thing. You shouldn't expect to start winning thousands as soon as you start playing poker. It takes a lot of hours of practice and self-criticism to become a winning player, but once you've got a good grip on the game, there's definitely a bit of money to be made.
I started playing £2.20 + £3.30 tournaments on SkyPoker when I was first introduced and I'd definitely recommend those levels for anyone who is interested in starting to play the game. It's a lot less damaging to your bank account when you are learning and it's a good way to learn the basics and apply them at all levels.
Before I knew it, I was playing higher games with the roll I had developed from these smaller buy-in games. In 2014 I was able to record over £11K in profit on SkyPoker tournaments just in my free time.
Since then I have moved abroad for a new job so it has been harder to find the time for online, but I'm now trying to apply those same basic skills to the live scene. I've taken a few holidays using this money I wouldn't have had otherwise.
2. The Travel
Have a quick Google of poker tournaments around the world and you will see a vast amount of interesting locations festivals are held. Almost all over the planet, a few tournaments are at one stage or another. These can provide perfect holiday spots for people who like poker but want to experience somewhere new.
Just looking at the PokerStars site, you can see that they have tournaments scheduled for Panama, Macau, Monte Carlo, Sochi and Barcelona in the coming months. There is no shortage of options.
I personally have been to Prague, Barcelona and Marabella for events. Panama is my first excursion out of Europe for an event and I'm thoroughly looking forward to it. I've also got my eye on a WSOP Circuit event in Rotterdam in August but I'll have to wait until the schedule is released before seeing if I can get time off work.
3. Keeping your mind active
Making decisions under pressure is the essence of poker. Walking your brain through how a hand is played to work out whether you should be calling or folding is not only important to becoming a winning player, it's necessary. You have to be able to think about ranges of hands, percentages and perception of your opposing player (and yourself!) all within seconds.
I'd say poker keeps your mind more active than doing an evening Sudoku or crossword. Plus, it's way cooler. Who's ever heard of the World Series of Sudoku? I've yet to hear about anyone who's become a millionaire putting numbers in boxes.*
Imagine it's a random Thursday night. No one is about. You're pretty sure you've watched everything on Netflix and no one cares about the Europa League. What to do? You could spark up a game of FIFA or perhaps you decide to register for a poker tournament instead. Keep your mind active and at the same time give yourself a chance to earn some pocket money!
*Unsure if The Lottery counts
4. The Competition
You've just made a great bluff which got an opponent off their hand. You've just made a great call to scoop a big pot. You've just beaten 500 runners to first place in a tournament.
As you start getting older and start drifting out of that youthful sporting age, poker can provide the fun competition you crave with none of that horrid exercise. It doesn't always have to be serious.
Play a home game with friends. Wreck someone's dreams with jack-six offsuit. Have fun. There are tons of ways poker can be enjoyed. Whether that's for making money or just having a laugh, it's all good.
5. The Dream
The difference between poker and every other profession is that it's a completely level playing field. You can enter the exact same tournaments as poker pros who have earned millions and play against them as equals. You can't do this in any other profession I can think of.
Sam Trickett was playing the same tournament as me at Nottingham DTD a couple of years ago and he bubbled the money. There were a couple of us who had already busted and were hanging out by the bar.
After he had just exited the tournament, we gathered the courage to ask him if he fancied playing a £10 SnG with us. He accepted. For those that don't know of Sam Trickett… He is the fifth highest earner in tournament play of all time with circa $20 million in live winnings and he ended up sitting with us playing a £10 tournament like it was his normal game.
Poker players are dreamers. Every single one of us (amateur or pro) has a dream to travel to the WSOP and win the Main Event for a life-changing sum of money, but in terms of dreams, it's one that is perfectly possible. I'll never win the World Cup with England scoring a hat trick in the final. But if I go to the WSOP and pay the entrance fee, I have just as much of a shot as most. That's the dream.
This article appeared in its original form at www.ramblingsofg.com. Check out the site for more posts from gazza127.
This article was written by one of our community members as part of the PN Blog. The thoughts, opinions, and strategy are those of the user only and do not necessarily reflect the positions of PokerNews. We appreciate your feedback, but ask that you be respectful of our PN Blog users who have generously donated their time. You can learn more about the PN Blog here.