Coast to Coast in Canada: A Familiar Face in an Unlikely Place
HSmitherz1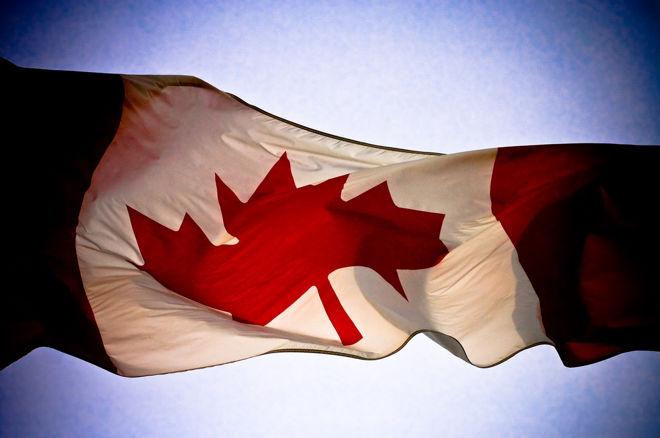 If you want an amazing NHL rivalry in an area with incredible natural landscapes, the Albertan pipeline/Bible Belt stretch between Edmonton and Calgary is hard to beat. But I wasn't into sightseeing and hockey season hadn't started yet.
My road trip was about action at the poker tables and, despite the high expectations I had of tapping into some Calgary oil money, the landscape for grinding was barren. I spent less than three days between these two fortresses of Western Canada. Apart from a near-disaster when I caught someone trying to break into my car (they bolted when I showed up), not much of interest took place. Boring games and cold people.
Disappointed, I headed east.
I wasn't exactly sure where I would stop next; driving from Alberta to Ontario involves crossing the seemingly unending stretch of Canadian prairies. Farmlands, dust and the odd small town are the only (minor) distractions on the open road.
I wasn't exactly sure where I would stop next.
Eager to make it to the action of Central Canada, I thought I might be able to pull an all-nighter and complete the 14-hour drive from Calgary to Winnipeg.
But I didn't make it to Winnipeg.
A couple hours west of the home of Neil Young, the weather got bad. Because I am slightly deranged when I set myself a goal, I stayed on the road as the wind picked up and the rain became a monsoon. There were two, maybe three times when I considered pulling over.
In the end, I made it to the small city of Brandon, Manitoba where I checked into the first motel I could find. I poured myself a gin and tonic stiffer than wartime Winston Churchill's upper lip and crashed in a single bed that would have made sense as a form of sleep-punishment for a prisoner spending his first night in solitary.
***
I woke up the next morning exhausted from the drive. While (barely) making it to Brandon, I hadn't seen anybody on the road for a long while. I soon found out why: it was dark as I pulled into town and I guess I just hadn't spotted the tornado. Sometimes it's best not to know.
The final stretch of this leg of the journey took me to Thunder Bay, Ontario. Thunder Bay is a small northern city with a killer name. It's big enough to have its own symphony orchestra and is also notorious for having one of the highest concentrations of bars/pubs in North America. And there's poker: The definitely-not-OG OLG Poker Room which was spreading a single-table tourney and a juicy 1/2 no-limit game.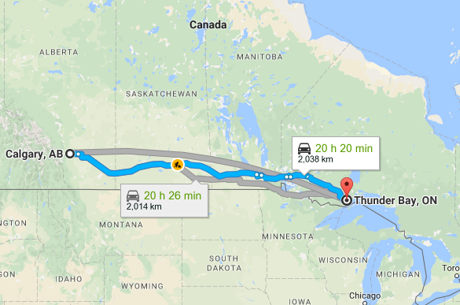 After the long stretch of prairies, forests and rivers that cover the land between Calgary and Central Canada, Thunder Bay was the first step to re-entering civilization (no offense, Winnipeg). It was the last place I expected to find a familiar face.
***
In an earlier post I mentioned that, before heading out on my road trip, I was flush with winnings from a live tourney. It had taken place at Planet Hollywood earlier in the summer; I chopped HU for a significant amount.
At the Thunder Bay poker room, I grinded up a decent stack over the first couple hours. To my immediate right was a decent player, tagging it up but running badly and getting increasingly whiny. Maybe it was that I had had one (or three) gin and tonics too many but nothing had clicked yet.
Then after a particularly gross beat, this guy - let's call him C - started telling the table about his near-miss at Planet Hollywood earlier this summer.
C had played so well.
C had run so hot - for a while.
Nearing the the final table, some crazy, ripped, spiky-haired dude had crushed C's unlucky soul by rivering his pair of fours with ace-king in a standard all-in spot. He had been soooo close to a big score!
I just can't make this shit up.
I nearly spit out my drink and asked, "What-the-fuck?!?" Yes, I am a (slightly) crazy, (slightly) ripped, (very) spiky-haired dude. Yes I had busted him just a few weeks earlier at Planet Hollywood. And yes, here he was sitting to my immediate right on the other side of the continent.
Exactly 3,217 kilometers from Vegas, here was a guy who had shared the highlight of my summer. It had taken me over an hour to realize he was sitting next to me. I just can't make this shit up.
Whether it's a tornado behind you or a familiar face beside you, I guess it's hard to find what you're not looking for. Especially on the open road.
Lead image courtesy of Alex Indigo/Flickr
This article was written by one of our community members as part of the PN Blog. The thoughts, opinions, and strategy are those of the user only and do not necessarily reflect the positions of PokerNews. We appreciate your feedback, but ask that you be respectful of our PN Blog users who have generously donated their time. You can learn more about the PN Blog here.
Everybody needs an account at one of these online poker rooms! They're the biggest, the best, and we get you the best poker bonuses. Check out our online poker section for details on all the online poker rooms around.