Calling the Clock with Tony Dunst Sponsored by KO Watches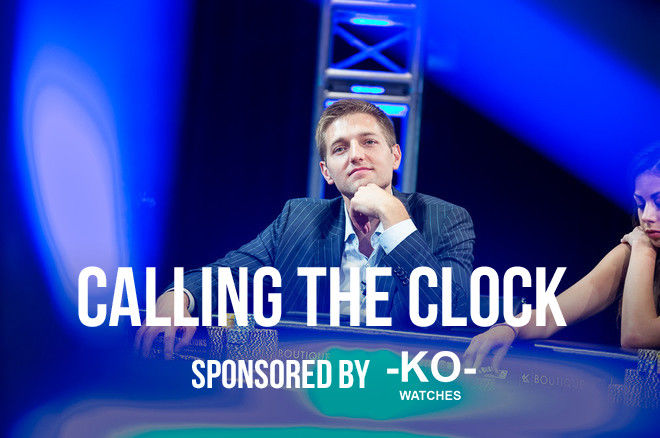 Beginning as a cutting-edge brand active in design, manufacturing and distribution of quality-finish watches from young Mexican entrepreneurs, KNOCK OUT -KO- Watches works to distinguish itself with its quality and clean design, allowing people to use time they have as they wish and without interruption. With our sponsor, KNOCK OUT -KO- Watches in mind, we're now going to "Call the Clock" on Tony Dunst.
PokerNews' Matthew Parvis called the clock on Tony Dunst, giving him two minutes to answer as many questions as he can. This week's segment comes from a previous interview with Dunst on the PokerNews Podcast.
Roger Federer or Rafael Nadal?
Federer.
Notch lapels or peak lapels?
Win-win.
First thing you did this morning?
Worked out.
Item in your travel bag you can't leave the house without?
The power adapter for multiple countries.
That's a good one. That's very practical. Favorite tournament destination?
Aussie Millions.
Go-to restaurant or food type for a date?
Dinner date? Come on, man.
Yeah, but I know dinner, but like what kind of food type or restaurant?
Sushi because it doesn't fill you up.
Nice. Better sweat: a DFS in the final quarter of the NFL game when you're about to win or a final table of a poker tournament?
Oh man. That's tough. Maybe DFS because you don't have to actually make any decisions. You just sit there at the edge of your seat, unsure of what's going to happen, feeling like you're going to die. Whereas in poker, you still have to stay calm and centered and make decisions.
Alright. We've got a WPT Triathlon that consists of poker, tennis and drinking. Out of you, Vince Van Patten, Mike Sexton and Lynn Gilmartin, who is the gold, silver and bronze winners? You got all three of those combined in the triathlon.
Uh huh. I think I would get the gold medal, Vince would get silver and Mike would get the bronze.
Alright, so Lynn Gilmartin left off the podium.
Yeah.
Last movie you saw in the theater?
I have no idea.
Alright, last question here. Give me your ultimate six-person home game lineup.
Well, I'd just pick my friends, so it'd be like Mike Watson, Mike McDonald, Andrew Lichtenberger, Dan Smith, myself, Aaron Jones. That's six.
That's a tough game.
I think I've played in exactly that game before.
I'm sure you've had…
It's a lot of fun so I'd love to recreate it.
I'll throw this last one in. The clock is done but, place that you hope becomes the next WPT or partypoker LIVE destination?
Somewhere in South America.
When the clocks stops, time comes to life. Get your hands on a Knock Out -KO- watch right here.
Everybody needs an account at one of these online poker rooms! They're the biggest, the best, and we get you the best poker bonuses. Check out our online poker section for details on all the online poker rooms around.