First Female WPT Winner Ema Zajmovic Isn't Going Away Anytime Soon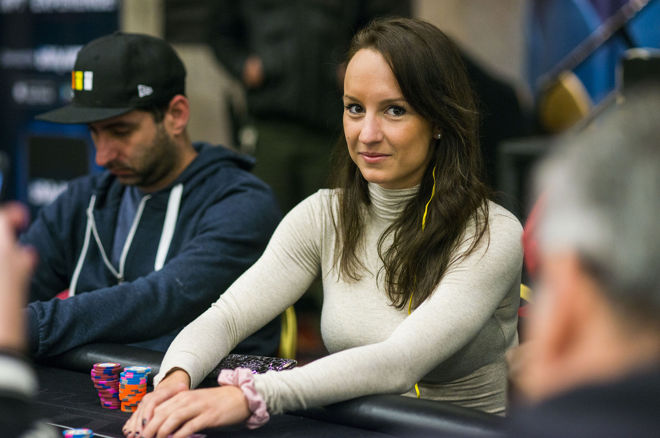 It felt unreal. Two deep runs in a row on the World Poker Tour and both in her home province of Quebec. She now had the chance for her second final table in a row.
Ema Zajmovic tried to remain calm and focus as the field narrowed to 16 players left in the partypoker WPT Playground C$3,500 Main Event. Only three years ago, the public relations professional-turned-part-time rounder only dreamed of playing an event on the tour.
With temperatures below freezing outside, Zajmovic was cool under pressure with a legitimate shot at the title.
After three long days of play, Zajmovic had bluffed, bet and raised through a field of 380 entries. But winning a major tournament takes a bit of luck at some point, an unexpected turn of cards that foreshadow that it might just be one's fate to win the whole thing.
On the afternoon of Feb. 13, Zajmovic found herself all in for her tournament life. It didn't look good – her ace-queen versus ace-king. The flop did not help. Then a miracle Queen came on the turn. She doubled up and was back in business. She remembers Poker Hall of Fame member and WPT commentator Mike Sexton passing by after the hand and giving her a wink.
The luck continued later when she hit a ten on the board with her pocket tens against the pocket aces of Eric Afriat (who would finish third). Both players got all their chips in on the turn. This young shark would go on to win the hand and the tournament for C$261,000, becoming the first woman to win an open event on the WPT Main Tour. It's an honor for Zajmovic, but she focuses on other aspects of her recent run.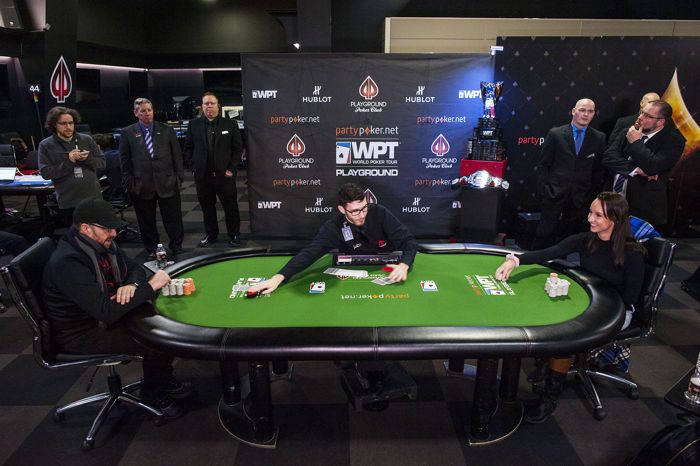 "I honestly focused on the fact that I made back-to-back final tables," said Zajmovic, who turns 27 in April. "I know the first women angle was a huge highlight on the media perspective. When I play, I just want to be better than my opponents, to make fewer mistakes than others, to play my A-game more. I want to compete against everyone and not just women."
In November at the WPT Montreal C$3,850 Main Event, Zajmovic finished fifth for C$102,010 in the event won by Sexton. Zajmovic flexes plenty of mental muscles on the felt.
"You can believe this, you'll be hearing a lot more from her in the future."
"I'm probably Ema's biggest fan," Sexton said. "She can really play. When I won in Montreal, she dominated play from four tables down to the final table. She's aggressive and not afraid to play pots. Ema's win was no fluke. She could have won the WPT event I did and she won it the very next go-around. And you can believe this, you'll be hearing a lot more from her in the future."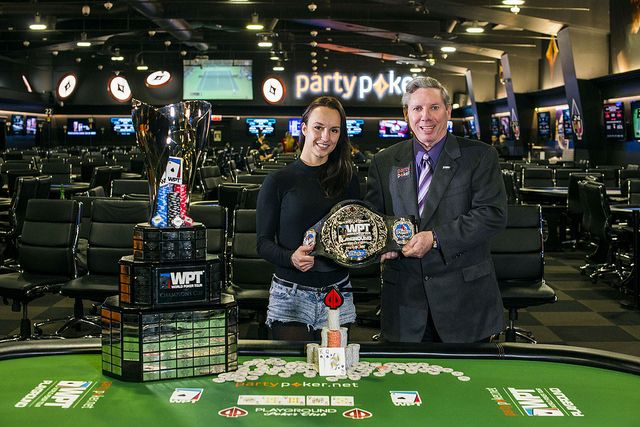 Zajmovic has the grit of a true poker player, evidenced from the strength she displayed in her upbringing.
War-Torn Europe to the Great White North
The Zajmovic family was caught in the middle of the Yugoslav Wars, a series of wars and insurgencies from 1991-2001. The fighting led to the breakup of the Yugoslav state, with smaller republics like Bosnia and Croatia becoming independent after inter-ethnic warfare. The decade-long fighting left 140,000 dead and more than four million without homes.
In 1996, when Zajmovic was 6, her family left the situation behind and headed to Quebec City, Canada.
"My parents did everything they can for my sister and me," she said. "I'm really proud of them and grateful for the chance that they gave me."
Growing up, Zajmovic was a calm kid who loved school and studying.
She "was not a cool kid at all."
And while she may have left the violence and turmoil of her home country behind, Zajmovic also faced challenges when she reached Canada. She and her family had to learn to speak French and she felt rejected during much of elementary school. But the tough new girl from Yugoslavia stuck it out and put her efforts into her studies. As she grew older, Zajmovic enjoyed sports and was more often hanging out with the guys than girls.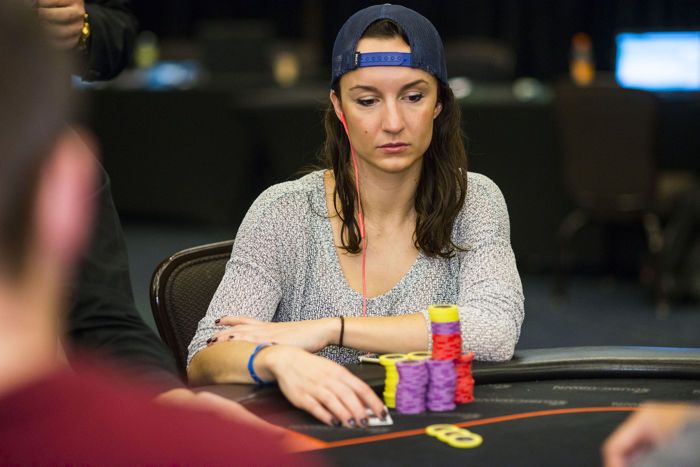 While she wanted to be a lawyer at first, Zajmovic instead earned a degree in public relations and a master's in political communication. She now works part time in the field from home in Montreal, where she moved a year ago. Along with poker, she also loves hockey and owns an NHL draft website, livedraft.ca, for those interested in running hockey pools. Away from poker and her busy business schedule, Zajmovic enjoys reading, yoga and basketball.
Like many modern cardsharps, Zajmovic began playing as a teenager. At 19, she traveled with a former boyfriend who played poker and soon joined in on the action, preferring playing rather than shopping or just hanging out. She began playing mainly cash games, but recently added tournaments. So far, that decision has been a good call.
"For sure it was a rough road, with all the money and emotional swings all poker players know about," she said. "There was also the challenge of being a girl in a man's world. I've learned a lot through the journey and I keep learning and adjusting myself to that reality. Now I won a title. That's amazing and I'm really grateful for everything."
Gender Breakthrough and Table Talk
It seemed only a matter of time before a female would win the WPT. While women tend to make up only a small percentage of tournament buy-ins, there are numerous skilled women who have won cash games and tournament at the highest level from Jennifer Harman and Vanessa Selbst to Kathy Liebert and Victoria Coren Mitchell.
"I'm only surprised it took this long for a woman to win."
Prior to the WPT Playground, there were 265 open-entry WPT Main Tour events with 117,683 total entries and $832 million in prize money awarded.
"I don't know the real importance of her win other than it's so nice to see a woman take down a WPT title in an open event," Sexton said. "I'm only surprised it took this long for a woman to win."
Certainly a breakthrough was inevitable and Zajmovic was happy to add her name to the WPT Champions Trophy, collect her cash and add the cool Playground Poker Club championship belt to her trophy collection.
She plans on playing more events including the WPT Hard Rock Poker Showdown in Florida in March, the WPT Tournament of Champions in April, a few European events and the WSOP Main Event this summer. Along with tournaments and cash games, Zajmovic plans to keep working, travel and give some gifts to family.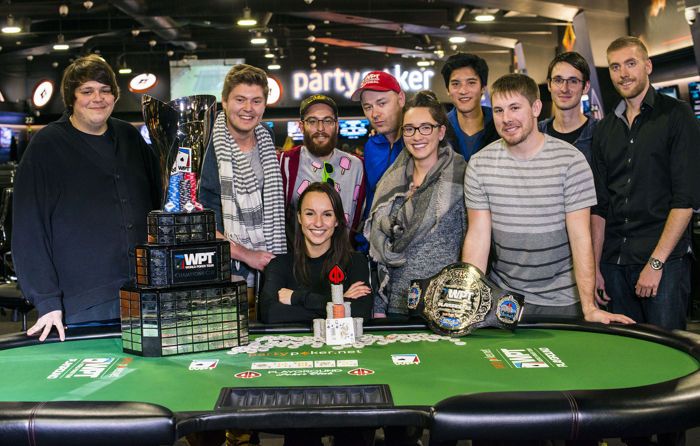 While she hopes more women get into the game, Zajmovic's focus remains on her play at the table whether facing males or females.
"A lot of people are asking me what I think about women in poker," she said. "As a community, men and women need to understand there are decades of a mentality that discourages women to play poker. We all need to be open-minded, conscious and patient about that. Women can't jump in with aggressiveness and frustration and hope to change those behaviors. I've seen a lot of women being rude, vulgar, trying to be equal as men.
"I think, from my experience, that the best way to change all those stereotypes is to be yourself, to embrace your essence and see how men and women can complete each other in that game. We all have something to learn from each other and being close-minded will be no help for anyone."