Team PokerStars, Neymar Jr. Host Poker Charity Home Game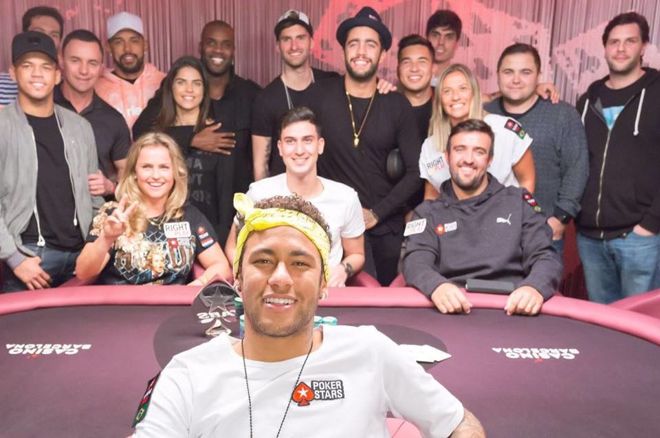 Football superstar Neymar Jr. and Team PokerStars SportStars invited Team PokerStars members and other poker players to a charity home game in Spain to benefit the Neymar Jr. Institute and Right to Play.
Via Twitter and Facebook, Neymar told his followers to look for updates March 17.
Neymar Jr., a professional soccer player, was joined by Fatima Moreira de Melo, the Team PokerStars SportStars Olympic gold medal hockey player; Andre Akkari, a Team PokerStars Pro; and Brazilian actor Rafael Zulu.
Diego Garcia Bello won his way into the home game, his first live tournament ever, after playing for free on PokerStars.
"I am more than happy and delighted with this opportunity," said Bello in a press release. "This is amazing! It will be my first time playing live and on top of that I will be sitting with Neymar. It is absolutely great!"
PokerStars invited players to a free online tournament March 11, with the top 10 players eligible for a prize package. The top 10 each submitted a video answering the question, "Why do you want to play poker with Neymar Jr.?" and then a winner was identified. The winning video from Diego Garcia Bello is below (in Spanish) from Instagram.
Neymar Jr. will take on his friends for a piece of the €50,000 prize pool. Their winnings will go to Neymar's charity, which helps underprivileged children and their families in São Paulo by providing them with sports and school activities. Fatima Moreira de Melo and Akkari will be playing for the children's charity, Right to Play.
Lead image courtesy of Neymar Jr.