Inside Gaming: March Growth for Nevada; Increases for Wynn, LV Sands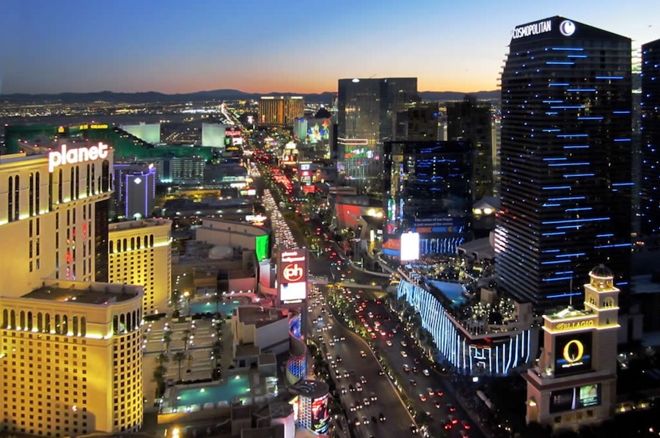 This week's Inside Gaming shares news of a big increase in revenue during March for Nevada casinos while also reporting on both Wynn Resorts and Las Vegas Sands enjoying successful first quarters of 2017. There's additional news of Carl Icahn's appealing of tax assessments on Atlantic City properties, the resolution of which may cost the city millions.
"March Madness" Helps Fuel Huge March for Nevada Casinos
Thanks in large part to betting on the NCAA men's basketball tournament, slots and blackjack, it was a good March for Nevada casinos, with a collective overall win of $991 million, a year-over-year increase of 7.45 percent.
On Wednesday the Nevada Gaming Control Board released its monthly report, showing that "March Madness" helped casinos considerably both on the Strip and elsewhere.
Casinos on the Strip enjoyed a revenue increase of just over 8 percent when compared to March 2016, notching a win of more than $526 million. Meanwhile casinos downtown were up 22.6 percent from a year ago, with a win amount of just over 62.9 million.
Nevada sportsbooks together accepted $429.5 million in bets on basketball during March with the books taking $41.3 million, a huge jump of 91.7 percent when compared to a year ago. Slots were up almost 6.3 percent statewide, and blackjack just over 12 percent year-over-year.
Looking at the first quarter of 2017, gaming revenue is up nearly 4.8 percent for Nevada this year during January-March compared to last year.
Noting how Nevada casinos have bested the $1 billion mark twice in the last nine months and nearly did so again in March, the NGCB's senior analyst Michael Lawton described the total in the latest report "a good solid number for sure," reports the Associated Press.
"Hopefully we'll start seeing those [numbers on] a more regular basis," said Lawton.
Aside from the boost from basketball betting, an extra Friday in the month compared to last year and the influx of 130,000 people thanks to a gathering of construction professionals helped improve the numbers, Lawton explained.
The numbers would have been even better if not for a just over 11 percent decrease in win from baccarat, Lawton also observed.
Examine the March report yourself over at the NGCB's website.
Wynn and Sands Both Report Q1 Increases
In other revenue-related news, both the Wynn Resorts and Las Vegas Sands reported increases in revenue for the first quarter of 2017, with the recent rebound in Macau having been beneficial to both companies.
Wynn's report notes net revenues of $1.48 billion across its properties during January-March 2017, an increase of almost 48 percent versus the just over $997 million from the same period a year ago.
Much of the increase came from the Wynn Palace in Cotai, which took $475.8 million alone. Wynn's Las Vegas operations were also up for the quarter, offsetting a decrease experienced at Wynn Macau.
In a conference call this week, Steve Wynn noted various plans for Vegas properties while also speaking optimistically about the recent news that the Oakland Raiders of the National Football League will be relocating to Las Vegas in either 2019 or 2020.
"Everybody is thinking that having NFL games in Las Vegas is going to light this town up," said Wynn, reports VEGASINC. He added that if the Super Bowl were ever to come to Vegas, "this place will go bonkers."
Las Vegas Sands likewise this week reported a Q1 increase, with a net income of $578 million across its Las Vegas, Macau and Singapore properties — an increase of 41.3 percent from last year.
"In Macao, the market overall continues to recover and has exhibited growth in each of the last three quarters," noted Las Vegas Sands Chairman and CEO Sheldon Adelson on an earnings call, Yahoo! Finance reports.
After 26 straight months of declining gaming revenue, Macau finally posted an increase in its Monthly Gross Revenue from Games of Fortune in August 2016. With an increase of 18.1 percent in March 2017, the Macau Gaming Inspection and Coordination Bureau has now reported eight straight months' of increases for the Special Administrative Region's casinos.
Meanwhile the company's Las Vegas operations delivered its "best quarterly result since 2008," according to Adelson.
Icahn Seeking Millions from Atlantic City Via Tax Appeals
When billionaire business magnate Carl Icahn stepped in last spring to take over ownership of the struggling Trump Taj Mahal, the move inspired hope in some for the Taj in particular and the Boardwalk as a whole, particularly when Icahn spoke of plans to invest as much as $100 million toward renovations to improve the property.
But such optimism proved premature as Icahn withheld such support after failing to get tax breaks from the city and county. Then following a bitter workers' strike over the summer, the Trump Taj Mahal finally closed its doors in October 2016 and Icahn sold the property last month to Hard Rock International.
Now, rather than being viewed as a possible source of stimulus to Atlantic City, Icahn is seeking millions of dollars from the city by appealing tax assessments of his properties in recent years.
This week came a report that his companies are "appealing this year's assessments for the former Trump Plaza and Trump Taj Mahal casinos, according to complaints filed last month in state tax court," reports the Press of Atlantic City.
In addition to already an already open appeal on the Tropicana Atlantic City, Icahn's companies have appeals on three separate properties for tax years 2014 through 2017.
"The complaints don't say how much money Icahn is seeking from the city," explains the Press of Atlantic City. "But successful casino tax appeals over the years have been costly, helping put the city hundreds of millions of dollars in debt."
Icahn declined to speak on the matter. "Since we are currently in discussions," he said, "I don't think it's appropriate to comment."
Governor Chris Christie expressed a willingness to negotiate with Icahn, alluding to a similar deal stuck with the Borgata Hotel Casino & Spa earlier this year in which the city owed $165 million but was able to reach a settlement to pay $72 million.
"But what everyone needs to understand is there's not much money left here," said Christie.
A longtime friend and business associate of President Donald Trump, in January Icahn was asked to serve as a Special Advisor to the President on Regulatory Reform, according to Fortune.
Visit the Press of Atlantic City for more on Icahn vs. AC.
Photo: "Las Vegas Boulevard South," David Stanley, CC BY 2.0.
Finding a trustworthy room to play online poker can be a monumental burden. That's all the more true if you're just looking for a place to play poker for free. We've listed five of the best play-money poker sites to enjoy and help hone your skills.