Inside Gaming: Bermuda Betting on Casino, Vegas Gambler Still Facing Charges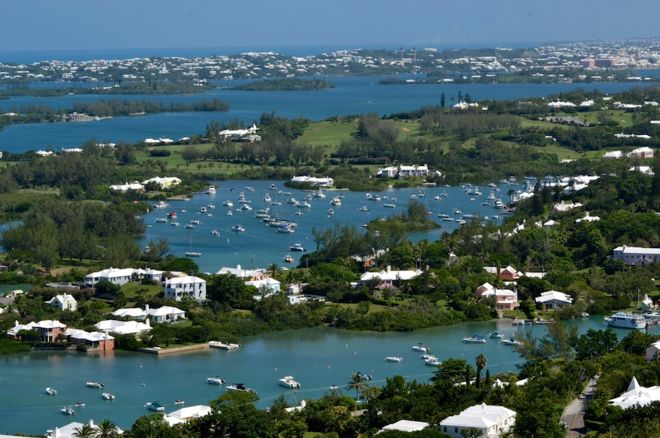 This week's installment of Inside Gaming reports on Bermuda's newly-launched efforts to introduce casino-style gaming, tells of a legendary Las Vegas sports bettor's failed attempt to have insider trading charges against him dismissed, and notes the announced sale of a closed Atlantic City property.
Another destination may be added to the mix for gamblers and poker players as the Bermuda Hospitality Institute this week shared news of plans for a casino to be built on the island located in the north Atlantic Ocean about 660 miles off the coast of North Carolina.
A press release announcing the plans suggested "the island could have its first casino in the early part of 2018," reports the Royal Gazette.
Richard Schuetz, executive director of the Bermuda Casino Gaming Commission, has "said a strategic plan on gaming was being developed, including training programmes to ensure Bermudians are ready for job opportunities."
Part of that preparation has also involved bringing in Ann Anderson, a human resource consultant from the United States, to help ready the island for the many new challenges associated with introducing casino-style gaming into an environment that never previously had legal commercial gambling.
Anderson and Schuetz have collaborated in the past in connection with the opening of casinos in the U.S., several of which were also in so-called "virgin markets" without previous casinos or legalized gambling.
"The challenges for training [in such markets] were numerous," explained Schuetz. "We also introduced casinos to a few Native American reservations where there were high levels of unemployment. Their training went beyond just job skills into life skills as well."
Malika Cartwright, executive director of the Bermuda Hospitality Institute, echoed those sentiments regarding the need to provide extensive preparation and guidance for the introduction of such a significant and unique industry.
"We need to make sure the foundation is strong from day one when the doors first open," said Cartwright. "We don't want to be in a situation where we have to fix and Band-Aid solutions."
For more on Bermuda's plans to get into the gaming game, see the Royal Gazette.
Vegas Gambler's Bid to Dismiss Insider Trading Charges Denied
Over the course of several decades, legendary sports bettor William "Billy" Walters not only won big — including once winning $3.5 million betting on the Super Bowl — but built a large business as well comprising real estate, golf courses and car dealerships.
Presently, however, Walters faces a different set of odds in the form of multiple counts of wire and securities fraud connected to stock trades he made and significantly profited from in 2012 — trades thought to have been illegally aided by insider information.
Walters appeared to have caught a break late last year when a report emerged that an FBI agent working the case had leaked information to the media, and in January attorneys for Walters filed a motion asking for the case to be dismissed on the basis of government misconduct. But on Wednesday U.S. District Judge Kevin Castel ruled against the motion, reports Reuters.
In his ruling, Castel lamented the agent's disclosures and other possible leaks as "concerning," but did not believe in Walters's case they affected "the fundamental fairness of the process that resulted in his indictment."
In June 2016, Walters pleaded not guilty in a Manhattan federal court to the charge that he'd made $40 million from illegal tips given to him by Thomas Davis, director of Dean Foods. Davis meanwhile has pleaded guilty and is cooperating with the government on the case.
Among others drawn into the investigation was professional golfer and friend of Walters Phil Mickelson, who also netted significant sums from trades made in 2011 and 2012. Mickelson avoided any charges himself, but agreed to pay back just over $1 million in "ill-gotten gains" made from those trades, according to ESPN.
Trades made by billionaire business magnate Carl Icahn were also investigated as part of the same inquiry, though Icahn likewise faced no charges related to the case.
For more regarding the ongoing case against Walters, see Reuters.
Hard Rock to Purchase Trump Taj Mahal from Icahn
Finally — and speaking again of Icahn — regular readers of Inside Gaming are aware of the ongoing saga of the now-closed Trump Taj Mahal in Atlantic City, a property Icahn took ownership of a little over a year ago after helping Trump Entertainment Resorts out of bankruptcy by making the company a subsidiary of his Icahn Enterprises.
After early intimations he'd be willing to invest in the hotel-casino, Icahn soon began expressing pessimism about its future, complaining initially about so-far unsuccessful efforts by some to allow the building of casinos in the north part of New Jersey, then talking of the need for tax breaks from the city and county and to cut workers' compensation in order to justify further investments.
Then after the closing of the Taj Mahal in October, lawmakers' efforts to prevent Icahn from being able to obtain a casino license within five years further discouraged Icahn from desiring to continue ownership of the property. (Such legislation was vetoed by Governor Chris Christie.)
This week came news that Icahn — named in December as a special advisor on regulatory reform to President Donald Trump — had found a buyer for the shuttered property in Hard Rock International with the price tag set at $300 million. For more on the sale and possible future of the site, see "Hard Rock International Agrees to Purchase the Taj Mahal For $300 Million."
Photo: "Bermuda," nathanmac87, CC BY 2.0.
Everybody needs an account at one of these online poker rooms! They're the biggest, the best, and we get you the best poker bonuses. Check out our online poker section for details on all the online poker rooms around.