Krzystof Pregowski Wins 888Live Easter Edition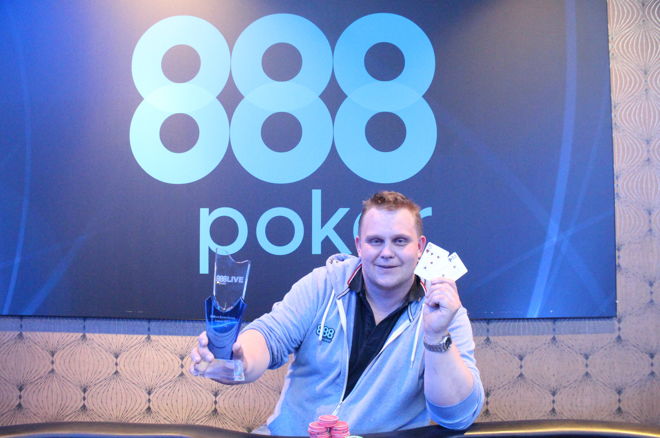 Krzystof Pregowski won the 888Live Easter Edition at Aspers Casino Stratford and took home £21,118 after a three-handed deal between him, runner-up Terry Jordon and third-place finisher Ciprian Paunescu. Pregowski beat a field of 303 entrants to take home the title and the trophy, and in doing so, stopped Jordon from becoming the first ever two-time winner of an 888Live event.
Pregowski's previous highest finish in an 888Live event was 12th just over one year ago for £1,670, but after the deal he was taking a much larger amount home, along with the coveted 888 trophy.
| Position | Name | Country | Prize Money |
| --- | --- | --- | --- |
| 1 | Krzystof Pregowski | United Kingdom | £21,118* |
| 2 | Terry Jordon | United Kingdom | £21,000* |
| 3 | Ciprian Paunescu | Romania | £15,000* |
| 4 | Robert Lim | United Kingdom | £8,855 |
| 5 | Mark Harding | United Kingdom | £6,645 |
| 6 | Amar Al Hossana | United Kingdom | £5,315 |
| 7 | Jen Yue Chiang | United States | £4,415 |
| 8 | Graeme Bester | South Africa | £3,535 |
| 9 | Egidijus Alsauskas | Lithuania | £2,650 |
(*denotes three-handed deal)
The day started quickly, with eight bust outs before the first break. Among the eliminations were Maria Kozak, the best placed woman in the field, who exited in 15th place (£1,580), 888poker Ambassador Chris Moorman (13th place - £1,580) and Julian Hazelhof (11th place - £1,930) whose overpair was no good against the set of Jordon.
All the while, Jordon was building up pressure. Such was his dominance at the tables that at the final table he had just under half the chips in play and over four times as many as his nearest opponent.
As the final table got underway, it looked like Jordon might start to crumble. Some well-timed bets from both Pregowski and Robert Lim made it look like Pregowski would relinquish his chip lead, but he held it up until heads-up play began.
888 Qualifier Mark Harding had a good run to finish in fifth place (£6,645). Harding managed to turn a $12 qualifier seat into a deep run, only to be eliminated by Jordon when Harding held an inferior straight to his opponent.
By the time play was three-handed, Jordon had built up an even bigger chip lead. As the question of a deal arose, he held over 5,000,000 in chips, compared to the sub-2,000,000 chip stacks of both his opponents.
After the deal, it took some time for Paunescu's pocket nines to be cracked by Pregowski's ace-queen to finish in third (£15,000). Then the fun began.
Over four enthralling and entertaining hands, the chip lead switched back and forth three times over three blind all-ins between Pregowski and Jordon, before Pregowski's five-deuce got the better of Jordon's ten-four, and Pregowski took down the tournament.
Pregowski told PokerNews that thankfully last night he had doubled up on the last hand to put himself in a good position for today's portion of the tournament.
"Let the cards decide, not the players, and that's what we've done!"
"Coming into today I took the same approach I had taken all the way through the tournament," he said. "I don't worry about anyone else's stack, I just play my way, take it one step at a time."
By the time it got to the final table and with Jordon holding the lion's share of chips in play, Pregowski was adamant about aiming for first place.
"I'm playing my cards not his cards," Pregowski said. "Whatever will happen will happen. Me and Terry [Jordon] have played together on a number of occasions. The deal seemed like a sensible thing to do. We all played hard, we all played well."
The final hands seemed like a bit of a coin-flip, but Pregowski believes it was more about entertainment than the money.
"The whole idea behind it was that every tournament when you come to heads-up, everyone sits there all serious for hours and hours," he said. "Someone mentioned earlier that a tournament took 10 hours heads-up before it finished. So we thought we'd just give it a spin and see what happens. Let the cards decide, not the players, and that's what we've done!"
Will Shillibier is based in the United Kingdom. He graduated from the University of Kent in 2017 with a B.A. in German, and then studied for a NCTJ Diploma in Sports Journalism at Sportsbeat in Manchester. He previously worked as a freelance live reporter, and video presenter for the World Poker Tour.