Is This How to Stop Bad Players From Getting Lucky Against You?
Nick Wealthall
The worst feeling in poker is getting a bad beat….
Even worse, even more frustrating is when the player getting lucky against you is a bad player… a weak player… a fish!
It feels sick making when their exact perfect card comes down to make their bad hand magically good…. Blueerrggghhhhh.
Too many losses where bad players get lucky can ruin your sessions or bust you from a tournament. If this is happening to you and you're struggling with it, it really sucks…
Here's the thing…. You can do something about it… right now.
If you're currently frustrated with bad players we can guarantee you're not playing well against them and winning enough against them when they don't get lucky.
This is happening because you almost certainly have a major blind spot…. a bad player leak….and its costing you TONS of chips…
Until you fix this its impossible to do well and really crush bad players.
Now some exciting news… top poker coach Nick Wealthall and his team developed a brand new tool, unique in poker, to help you achieve this…
It takes only a couple of minutes to use and will diagnose exactly where you're going wrong in your personal game... then give you the info to fix it.
Pretty cool huh? You can get it for free by clicking below right now:
Show me how to stop bad players wrecking my results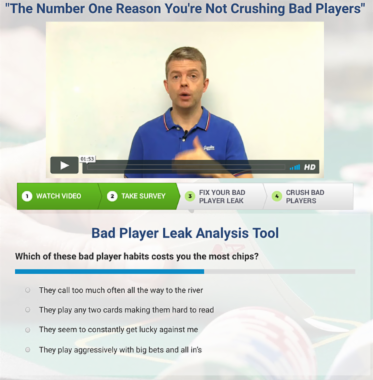 After clicking the link you'll head to the free game analysis tool.
There Nick will ask you the exact same questions he'd ask you if we were having a 1 on 1 coaching session.
Using your answers he'll diagnose the biggest mistake your making against bad players then give you the information to fix it fast!
This is really powerful stuff tailored for your game, it only takes a couple of minutes to do and there's nothing like it anywhere else in poker.
Just imagine knowing how to crush bad players and no longer worrying when they get lucky because you'll be making so many chips from them in other pots.
It's the best feeling in poker and you can get the key to making it happen right here. Just click below.
Show me how to stop bad players wrecking my results
This method is BRAND NEW and there's nothing like it anywhere in poker. You're one of the first people getting to use it!
This means you get to diagnose your personal bad player leaks and fix them for free…. but it also means you need to do it right now because it's only going to be up for a couple of days.
Take the survey and find out how to start crushing bad players, just click below now:
Find my leak and show me how to crush bad players
Finding a trustworthy room to play online poker can be a monumental burden. That's all the more true if you're just looking for a place to play poker for free. We've listed five of the best play-money poker sites to enjoy and help hone your skills.