The Muck: Valentin Vornicu Leads Two WSOP Events ... at the Same Time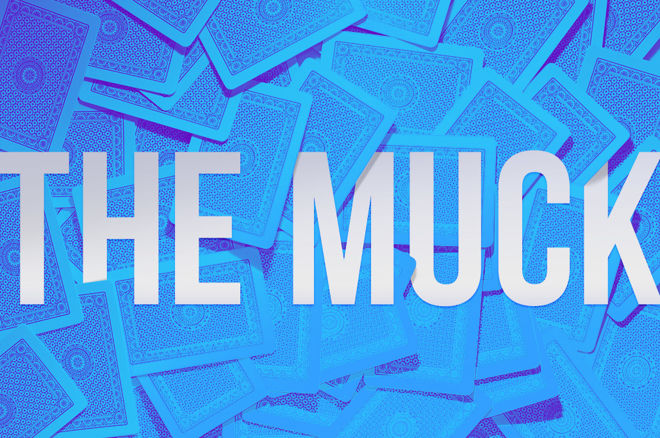 Double-Bagged and Double Chipleader
Just a few days ago, we talked about the amazing double-bagging talents of Mike Leah, who finished with chips in two different World Series of Poker events on the same day. Well, Valentin Vornicu achieved his own variation of Leah's feat on Saturday night when he stood atop two different leaderboards on the same day. Vornicu bagged the biggest stack through the first two flights of THE GIANT on Friday, and then played the $1,500 no-limit hold'em on Saturday and was the leader AGAIN.
We're not positive, but it's very likely that is the first time that has ever happened. Vornicu let his followers know all about it.
Pulled a @GoLeafsGoEh - bagged two different @wsop bracelet events in the same day, both with chip leads! Bubble starts tomorrow morning!!

— Valentin Vornicu (@mblasterx)
Vornicu returned for Day 2 on Sunday and appeared to be having fun at the table as the first break of the day was approaching. There was a lot of conversation and a lot of chips flying. Some of his tablemates, including Heidi May seated to his left, seemed eager to play back to him.
When we asked Vornicu about it, he said, "Heidi is a great, aggressive player and so far it's working in my favor. Let's hope it holds."
Unfortunately for Vornicu, it didn't hold. He was eliminated in the fifth level of the day while Mat climbed the standings. Vornicu does still lead in THE GIANT for at least another four days until Flight C of the tournament takes place.
Vornicu is a math tutor and founded Math Links which was sold to the Art of Problem Solving encourages the study and master in math. It might explain the nine WSOP circuit rings he's racked up.
"Don't worry I know I don't have a bracelet. People don't let me forget that. I'm just going to continue to play my game, and I know it will eventually come. Maybe this is the time."
In addition to a bracelet, what will also come are the math camps that he attends in the summer. He has to look at the timing though because they are usually held during the Main Event. And after his deep run last year, Vornicu feels like he has to play.
"I sort of feel like this is my event now."
It's Time to Slow Things Down
With Electric Daisy Carnival in town attracting young people away from the Rio, it's time to welcome our elders to the Rio with the Seniors and Super Seniors events.
What can someone expect on senior's weekend? Instead of slow-rolling (although there' some of that, too) there's slow walking. Instead of running to the table to grab that hand before it's mucked, there's a lot of scooting. And instead of checking phones at the tables, actual conversations are happening.
Ask anyone what seniors weekend is like, and they will tell you the atmosphere is what poker rooms used to be like. Not surprising since the majority of the field played poker before there was a boom.
And wouldn't you know, seniors can make headlines, too. Dan Heimiller, the 2014 Seniors Event Champion, played most of the day with a commanding chip lead. He withstood a massive cooler and heads into Day 4 (one extra day than planned) in fourth place and ready to reclaim the title.
"Coming into this event, I was stuck $6,000 at the WSOP even after cashing in four events. This run could mean that I can play a lot of the larger events that I would have passed otherwise."
And in the Super Seniors event, the only two champions crowned in this event both ended the day with chips, defending champion James Moore and 2015 champion Jon Andlovec.
PokerNews caught up with Moore as he was heading to break and learned that he plays other events in Vegas but only plays the two Seniors events at the WSOP. The Seniors Event still seems a bit serious for Moore's liking. He actually prefers The Super Senior Event.
"The quality of play between both events is similar," he said. "The Super Seniors is definitely a friendly game. The just over 50s are still a bit crazy. There's a lot of testosterone going on over there."
When asked if being defending champion gives him some confidence coming into the day, he replied, "Absolutely."
Then he went on to say, "There's a Stu Unger quote, 'Anyone can win a poker tournament. Defending is where it's at.' I'm here to defend."
Those words were uttered to Mike Sexton in 1990 as they were walking to the Horseshoe to play the 8 or Better Stud event that Sexton won the previous year.
And finally, it wouldn't be Seniors weekend without at least one tweet with a poker player wishing their poker playing dad some run good.
Happy Father's Day Dad and gl in the #wsop super seniors! # @JayneFurman https://t.co/fBVoTXLD20

— Jennifer Shahade (@JenShahade)
Happy Father's Day to all you grandfathers and fathers out there. None of us could do what we do without you.
Where Is Everyone?
We noticed this tweet by Jesse Martin questioning the decline of entries for the $10k 2-7 Triple Draw.
Does anyone have an explanation for the 10K 2-7 Triple Draw dropping from 125 players to 80 players in one year? @Kevmath @AllenKessler

— Jesse Martin (@MazeOrBowie)
That got us thinking: Where do entries stand as we approach the summer halfway mark?
Well, overall, when comparing events the have closed registration at the WSOP to date, there are 4% fewer entries than last year. Most would say that is not a bad number with some popular events still ahead. But the number is low thanks to the double-digit percentage increases in the Seniors, Super Seniors, and $565 PLO. The PLO event had largest year-on-year increase so far at 22%.
Only six out of 30 events through Sunday saw an increase in entrants, and another six were new events to the 2017 summer schedule, or there was no exact equivalent. The most shocking number we found is the 16% decline in $10K events.
What does this mean? Well, it's a bit early to speculate, but there were some interesting thoughts in replies to Martin's tweet. You can read the entire thread here.