Bryan Pimlott Aims for WSOP Redemption After American Ninja Warrior Heartbreak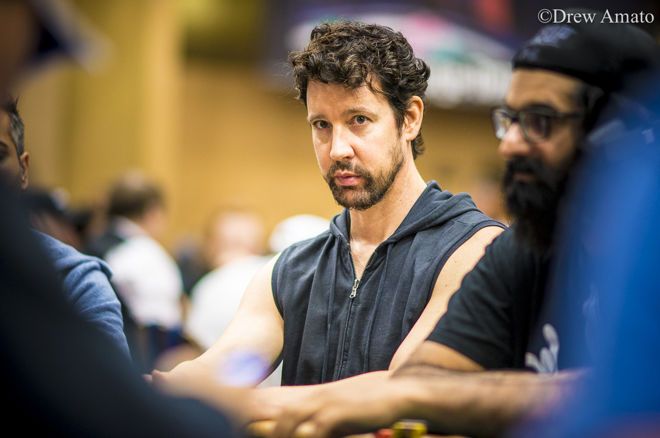 Among the thousands taking part in the World Series of Poker Main Event, Bryan Pimlott has a distinct advantage over the field – he knows that even a one-outer on the river can't bring him down.
An orthopedic surgeon specializing in the treatment of traumatic injuries, Pimlott practices his trade in Phoenix, Arizona, "putting people back to together" in the aftermath of true tragedy.
And if that line of work already offered a certain sense of perspective when it comes to poker, after experiencing the other side of the injury spectrum earlier this year, Pimlott headed into the Main Event knowing that cards can never cut quite as deeply.
Of course, not all patients he encounters during his rounds have suffered major trauma, and indeed, the most common maladies are simply freak accidents resulting in torn tendons and the like. But until February, Pimlott was the one repairing the damage – not enduring it.
That all changed in an instant, as he pushed off his left foot and attempted to climb a 14-foot curved vertical ramp known as the "warped wall."
The obstacle was one in a series of physical challenges Pimlott tackled on the set of American Ninja Warrior (ANW) in Los Angeles, as he and fellow competitors pursued a spot on the obstacle course challenge show's ninth season.
"I showed my friends in the gym how you know for sure when your tendon has snapped. That was fun at least."
Although he described the famously difficult warped wall as his "easiest obstacle" while speaking with PokerNews, the former minor league baseball player's natural athleticism couldn't protect him from the type of sudden injury he's treated so many times before.
"It was the end of a three-hour workout," he remembered. "I was having fun running up a makeshift warped wall along with a gymnast. We were taking 'slow-mo' videos of each other to study technique. For some reason, my Achilles tendon snapped halfway up the wall.
"I went through all five stages of grief on my way back down. Literally seconds after the physical pain and emotional realization of what just happened, I thought 'I still feel I'm where God wants me to be, so I guess I should do this ANW thing with my Achilles tendon torn in two.' I do surgery on these injuries all the time, so I showed my friends in the gym how you know for sure when your tendon has snapped. That was fun at least."
Before the sudden injury – which was officially classified as a ruptured left Achilles tendon along with significant damage to the left calf muscle – Pimlott had already achieved what more than a hundred thousand hopefuls nationwide had not. After working his way through the L.A. regional qualifying stages of ANW tryouts – which attracted 30,000 aspirants in its own right – he became one of only 100 contestants invited to film the Finals.
Outlasting the massive field gave Pimlott an outside shot at winning the $1 million grand prize, an opportunity the avid recreational player has actually enjoyed twice before courtesy of the WSOP Main Event. In 2009, he survived through into Day 4 before posting a 475th place finish, and added a 476th place result in 2012.
As he told PokerNews, the similarities between those Main Event runs and his ANW are striking to say the least.
"Comparisons between ANW and the Main Event are quite remarkable," he observed. "Over 30,000 people try to qualify for literally a handful of spots shown on TV. This closely parallels with the number of people who attempt to satellite or buy into the main event, and the few who actually make the final table."
Pimlott knows what it takes to make the final table too, following a fourth place showing in the $1,500 Limit Hold'em event at the 2015 WSOP. In his view, reaching the Finals of ANW and putting himself on the precipice of a bracelet required similar skill sets.
"Going deep in poker – and in athletics like ANW, relationships, or life in general – takes the same basic foundation: passion, commitment, self-control, and belief. Many aspiring Warriors have the skills, but in my eyes, it's the heart, discipline, and faith that sets the best apart. Especially when the result doesn't seem to go the way you wished."
Despite suffering a catastrophic injury that seemed to end his ANW run before it could really begin, Pimlott applied his medical expertise to determine that he could still compete – provided the afflicted Achilles was safely secured in a cast. After convincing producers that the show may have a hit on their hands with the "one-legged man" angle, he was permitted to participate in the filmed finals.
There, faced with a particularly challenging course design that left most Warriors wet in the early going, Pimlott managed to make it to the third obstacle before the infamous "Fly Wheels" forced him into the water.
With those final table moments from three summers ago still fresh in his memory, he equated his progress while wrapped in a full leg cast to surviving as a short stack on the bracelet stage.
"The-larger-than life obstacles testing your physical abilities reminded me of the heightened atmosphere and skill-level seen at the WSOP," he said. "You need good fortune. Avoiding injury is like avoiding a bad beat, because there's variance built right into the competition.
"But thanks to that variance, I got to show my sons Alex, Aidan, and David that perseverance matters. I've amazed myself at what I can do with one leg, including making it further on Mount Midoriyama than half the Warriors selected to run on TV with two legs!"
Pimlott's segment was ultimately left on the cutting room floor, but he's already vowed a return to the ANW stage next year.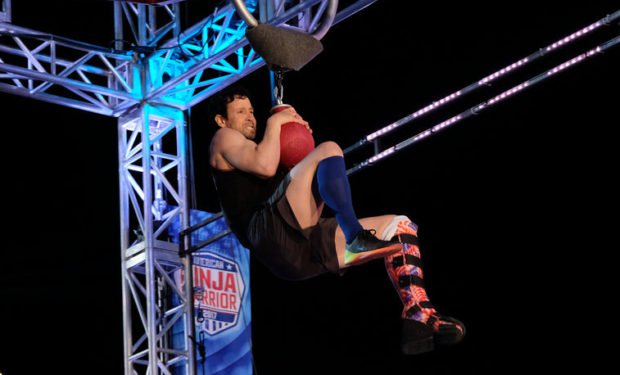 While he tries to get in as many cash game sessions and tourney tune-ups as his surgery schedule will allow, playing from his home casino at Talking Stick Resort in Scottsdale, the WSOP has become an annual pilgrimage for Pimlott.
And he's no two-hit wonder either, with nine WSOP cashes for $146,499 to his credit among 19 live scores. He took some time away from the tables after his highwater mark in 2015, but WSOP season always seems to bring him back into the fold.
"This is the season of my life where I have lots of responsibilities," he said. "Because of my family, ANW this year, and my surgical duties, I took a vacation from poker until last month.
"But I love to sneak a trip to the WSOP in whenever I can, and I'm hopeful a time will come in my life where I can truly dedicate myself to poker and accomplish something amazing. To do that, I needed to get into the zone with some long hours of play before a grind like the Main Event, so I played Omaha and Hold'em bracelet events earlier this summer. Overall, I feel rested and confident."
"Life can deal some pretty ugly blows. But there is meaning in suffering."
Confidence was crucial to Pimlott's impressive performance on the ANW stage, and he'll need more of the same to bag a stack by the end of Day 1C. Compounding the natural difficulty of the tournament, he'll be forced to cope with pain and fatigue associated with his injury during the grueling 10-hour days in the event of another deep run.
But to hear him tell it in the days before his Main Event journey, Pimlott wouldn't have it any other way.
"My mindset going into this Main Event is better than ever," he said happily. "I would say that ANW helped enlighten me. Life can deal some pretty ugly blows. But there is meaning in suffering. I've learned how to be gracious when the tournament-changing bad beat takes me out. And I've learned what a blessing it is to have brilliant kids, friends that care about you, and the love of my beautiful girlfriend Chelsea always helps.
"How many people get the opportunity to be under the spotlights and in front of the cameras, being super excited to test their skills in front of their family as well as millions who will be watching? Hearing my boys cheer as the crowd chanted 'Pim Nation' after my run, those were the best moments by far. It was simply a blessing to enjoy that experience, and I feel the same way about the Main Event, so I'm thrilled no matter what happens!"
Pimlott is among the thousands taking part in the Day 2C action on Wednesday. You can follow all the action right here at PokerNews.com.
Everybody needs an account at one of these online poker rooms! They're the biggest, the best, and we get you the best poker bonuses. Check out our online poker section for details on all the online poker rooms around.