Joe Cada: The Kid Who Grew Up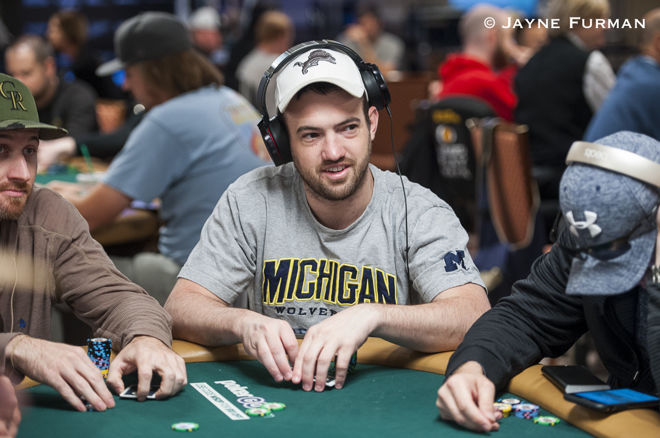 When a 21-year-old kid by the name of Joe Cada took down the 2009 World Series of Poker Main Event, he became the youngest winner in history. Eight years on, he's right back here at the Rio. He's transformed from the youngest person ever to wear the Main Event bracelet into a man on the brink of turning 30, but he's still The Kid. We sat down with the poker pro who ended Darvin Moon's dream all those years ago and who has never been eclipsed by a younger player in the Main Event.
There were detractors at the time who derided both Cada and his heads-up opponent Darvin Moon for being fortunate to make heads-up. Cada is keen to point out the luck he experienced in getting to the final confrontation in the Rio eight years ago.
"There were so many factors, you've got to put yourself in a position to win, but there's a lot of variance and a lot of luck involved," Cada told PokerNews. "I've played tens of thousands of tournaments online and there are times when you go 0 for 50 or 0 for 100 and then there are times when you catch fire and reach final table after final table. Leading up to the WSOP in 2009, I'd had a lot of success online for a few years. I put in a lot of effort and I was playing a lot of poker. I think that was a big factor in terms of getting there."
"I credit the guy for winning and walking away and having a normal life. It's awesome."
Cada's win propelled him to stardom and focus shifted in some quarters to his amateur opponent, Darvin Moon, with some calling him 'Darvin Gump.' Cada thinks that the way his heads-up counterpart was disregarded was cruel.
"I don't think it was fair. A lot of people judge people on what they do or what they win after winning the Main Event. Some people play more than others and so results aren't what they seem to be. It wasn't what he did for a living; he was a logger in Marilyn. It's something that he went and did, he won a satellite and he won [millions]. How can you take that away from the guy just because he hasn't played much since or had a really weird style that people weren't used to?
"I credit the guy for winning and walking away and having a normal life. It's awesome. Not everyone is in this to do it for a living. Some people do it for a vacation or a hobby. I think it's cool."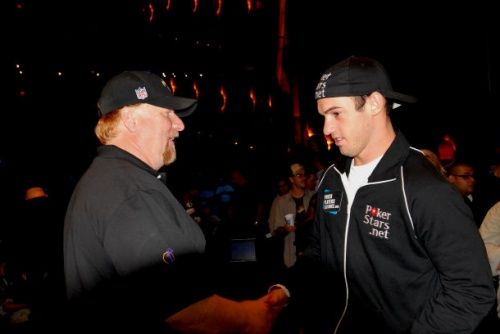 It won't come as a surprise to learn that the 21-year-old Cada considered other ways to spend his future than playing poker.
"I tried doing different things, but I always enjoyed playing poker. I put a lot of my time into it and it's something that I'll always continue to do because I'm good at it and I like to play. I don't play as much as I used to when I was 18,19 or 20, though. I was playing an insane, unhealthy number of hours at those ages. I was doing really well and it was addictive to keep winning at.
"Poker wasn't something I initially planned to do for a living. I had a job before turning pro because I wasn't sure if my early wins at 18 and 19 were just luck or I was playing well. I continued to put in a lot of volume and I quit my first job until I made around $150,000. I was working for $100-200 a night just so I could tell my mom, 'Hey, I still have my job.' Eventually, the poker outweighed the job and I quit. I was able to get my first house at 19 and pay it off. I was able to save it up, help my mom and then come to Vegas."
"Poker wasn't something I initially planned to do for a living."
It was a trip that would change Cada's young life. He won $8,546,435, although as he explains, he only took home half that amount because of a staking deal.
"The WSOP has so many tournaments and buy-ins that you can easily go through the whole series with only two or three cashes and lose $100,000," Cada said. "I found someone I could show my statistics to online and I got a financial backer. Everyone asks me 'Do you regret getting backed?' and the honest answer is that I never regretted it one bit. I knew what I could win and it was part of the risk. I was happy with half."
As well as being a glass half full, we put it to Cada that the financial stability of being staked helped his mental security going into the World Series.
"Yeah I agree with that. A lot of people want to put everything on the line. I can't live that lifestyle.
"Even after the Main Event, I wasn't one of those players who take shots at big games. This year was my first time playing a $100,000 tournament. That was eight years after I won the Main. I'd never want to put myself in a position where my back is completely against the wall and I need to win. It's something I always want to have fun with, be comfortable and have success."
Many players who win such a huge amount of money at such a young age would have blown a significant chunk of the profits. Cada was never going to let that happen but took some chances in areas of business.
"Everyone makes their own mistakes along the way. I opened up the business of a charity poker room where half the profits went to charity. I'd been in love with poker forever; it's what I was good at and it seemed like a really good idea. But they changed the rules and regulations in Michigan whereby you could have one charity supplementing each $2/$5 game and have eight or ten charities running tables. They changed that to only being allowed one charity in the casino per night. Instead of eight charities all making money, only one could. It's tough because casinos weren't happy about charity rooms because they lose business. I enjoyed it but there was a lot of pressure in owning a business as opposed to playing poker. There's not a lot of responsibility on a poker player."
Moving On from PokerStars
Just three years ago, Cada ended his role as a Team PokerStars Pro. It's clear that he sticks by that decision on every basis of making it.
"It's like being sponsored by Nike, then paying to use their warm-ups or something."
"I'm happy I walked away from 'Stars. I'm coming up on a different direction within poker with Norwegian Cruise Line which is great. PokerStars offered me a contract and I knew that I didn't bring a lot of value to the company in general. But it's weird to be sponsored by a company and have to pay to use their product. If someone wants me to play exclusively on one site, I'm going to be generating a lot of rake, because I play so much volume, so they'll be making almost $100,000 from that rake. If that all just goes to the company and they're making a profit from me, it's like being sponsored by Nike, then paying to use their warm-ups or something!"
Is it reasonable to assume that if players were in control then more maturity shown by poker companies across the industry would mean every player has the freedom to play every open event across all poker brands?
"Certain companies are stricter than others," Cada replied. "That was just the rule at the time where I could only play on PokerStars and I think they had that rule with a lot of players. It took away from me finding different games online. A lot of it is game selection and there are certain sites that have better games. Not having the choice of games while at the same time paying to use the product meant it was time to walk away.
"They were under different ownership and going in a completely different direction. When I left it wasn't so much 'Thanks for being part of the company for five years.' They were rude and it felt the right time for me to walk away."
An Unbreakable WSOP Record?
Cada's claim to fame remains his incredible breakthrough WSOP Main Event victory when he'd only been able to drink alcohol for a matter of months. He insists the record will be broken, but maybe not immediately.
"I play against people all the time who are younger than I was when I won it. One of these guys is going to win. One guy was sitting next to me and said, 'I'm going to break your record.' I told him, 'I said the same thing to Peter Eastgate; you might.'
"Every year, someone will have the chance to do it and it will eventually happen. It became a little harder after Black Friday with the ability to play online; it's not as easy or on the scale it was. I still think it will be done, but maybe later rather than sooner."
Eight years later, in preparing for the 2017 WSOP Main Event, Joe Cada sits underneath his banner on the wall of the Rio, being asked for his picture.
"One guy was sitting next to me and said, 'I'm going to break your record'. I told him, 'I said the same thing to Peter Eastgate.'"
"That'll never get old, seeing my picture with the money. It's still really strange. People might look at me differently or ask for a picture with me. I feel no different from the tournament player next to me. It's a level playing field. It's strange, but I was that same person with Daniel [Negreanu] and I was the same guy asking for a picture. It's weird to be on the other side of it. I just won the tournament."
Millions of ESPN viewers around the world thrilled in Cada's victory in 2009, while voicing the popular rhetoric that the win might go to his head. They needn't have worried. The Kid still has the same smile, the inner child who stunned the poker world. But in a sense, Cada was never the Kid.
He was always The Man.