Poker Lifeline: Rick Syverud Lives Out a Dream As He Battles Stage 4 Cancer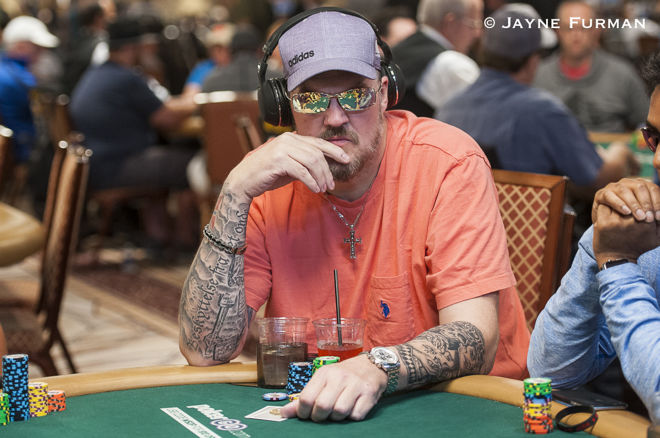 Two weeks ago, Rick Syverud took a break from the poker table and strolled around Wisconsin's Ho-Chunk Casino. Stopping at a slot machine, he dropped in a few bucks and tapped the buttons – stretching his legs and killing some time. Sitting for long hours had become difficult. The lower half of his body ached. His feet throbbed from diabetes. The 48-year-old former truck driver was diagnosed with stage 4 colon cancer in 2009. By 2012, it had spread to his lungs.
In the intervening years, chemotherapy and other treatments took a toll, but for the most part kept the cancer at bay. But things had certainly not been easy. A few years after his diagnosis, he and his wife divorced. Now on disability because of the constant pain, treatments, doctor visits, and CT scans, it's just Rick and his dog in their little place back in Baraboo, Wisconsin.
And then there's poker. A few hours at the poker tables are one of the things keeping him going – and keeping his attitude positive when most might be tempted to question their own mortality, their luck, and their lot in life.
Back in his hometown casino, Rick is a regular. That day in mid-June, he tapped the button on the slot machine a few times with no luck. He hit it again and eight "Quick Hit" symbols appeared onscreen. The jackpot bells rang. Cash and gold coins flew in the air from the bottom of the screen – he had won $10,000. Had one more Quick Hit symbol appeared, the win would have been $40,000.
But Rick does't dwell on what might have been. He doesn't have time for that and it's not his style. With cash in hand and a new poker bankroll, that $10,000 was meant for only one thing – the World Series of Poker Main Event. Only a few days later, Rick arrived in Las Vegas took his seat among hundreds of other rounders on Day 1B – hoping to bring his A game and make a deep run on poker's biggest battlefield.
"It's crazy," he says. "It's kind of been a whirlwind."
DREADFUL DIAGNOSIS
When he was diagnosed with cancer in 2009, Rick took the news as best he could. His family supported him and he took the treatments in stride.
"They did a big surgery and removed a lot of my lower parts," he says. "And I thought I was done with the whole cancer thing."
Three years later, however, doctors discovered the cancer had spread into his lungs. Stage 4 cancer is diagnosed when it has spread to other areas of the body, and is also referred to as metastatic cancer or advanced cancer. Doctors now focused on keeping the cancer within his lungs under control and from spreading even more. The process is difficult, and involved regular chemo treatments and checkups over the last six years.
"As long as it doesn't spread and doesn't get bigger, everything should be okay," he says. "I mean I'm going to die from this lung cancer because it's stage 4. Once it spreads throughout your body, especially when it's in the lungs, it's really hard to make it go away."
"I'm going to die from this lung cancer because it's stage 4. Once it spreads throughout your body, it's really hard to make it go away."
The last few years have been tough. The divorce became final two years ago, but Rick sees that as a positive because he and his wife were better apart. There was a lot of strain in the marriage that was furthered by his diagnosis. Not having children made things a little easier at least. Driving for long hours behind the wheel of a big rig was also not possible with his constant pain, so work was out of the question. Complications from diabetes only made the situation more difficult.
"I can't hold a job now because of all the chemo," he says. "It's twice a month, but you figure in all the times you go in for labs and blood work, and getting medications. I would love to work, but I just can't. From the first surgery in 2009, I have extreme pain throughout my lower body, which makes it hard for me to sit at a poker table for a real long time."
POKER LIFELINE
Seeing Rick at the poker table in the Amazon room, you wouldn't know his situation. He's tall and kind of burly. A few large tattoos cover his arms including an intricate poker scene, and he seems a bit imposing. But at the table, he's in his element – and credits his love of the game with keeping him going.
Back in Baraboo, Rick plays a $1/$2 no limit hold'em game three or four times a week and also a $2/$5 game in Milwaukee sometimes. Long hours at the table aren't a regular part of his routine because of his condition. Sitting also makes his feet ache as well because of his diabetic symptoms. But the game has been good to him and helps supplement his income with what he receives on disability.
"By no means would I consider myself a professional poker player, but that's all I do because I have a lot of free time to play," he says. "Money is pretty tight, but I actually do pretty well. I just fund myself through poker really."
Rick is also a regular on the Mid-States Poker Tour and has $54,000 in lifetime tournament winnings. And while the money he makes is nice, for Rick poker is more than a means to an end.
"I pour everything into poker," he says. "I don't have too many other hobbies. I used to hunt and fish, but with the cancer and diabetes I'm really kind of a sick puppy altogether."
"The one thing that keeps me going and keeps me motivated is poker ... It actually is keeping me alive really."
Making it to the WSOP was a dream come true. Using some of his previous winnings, he played some preliminary events and used his jackpot money for the Main Event. While he is accustomed to big tournaments, the scene in his starting flight was a little overwhelming. But he was trying to stay focused and survive.
"I'm giving the Main Event a shot, this is my first time," he says. "I played in four tournaments and cashed in three of them this summer already, so I've been doing pretty well. The money is something I don't have often. Ten thousand dollars is a lot of money. But I have a car, I rent, I have a dog, I don't really have a lot of things to pay for. I would rather spend my money on something that I really, really like, which is poker."
Family is supportive and sees how important the game has become in his life. His doctors encourage him to exercise, eat healthy, stay active, and keep up his chemotherapy. They've encouraged Rick's card playing as a way to keep active and involved with something that stimulates his mind and gets him out of the house. Treatment has been going well lately, and he is feeling even more upbeat than normal. But he recognizes his reality and must deal with daily pain.
"Stage four is no joke," he says. "I put on a smiling face, I laugh, but it really is hard a lot of times just to get up everyday when you have such a debilitating disease."
Already saving up for next year's WSOP, Rick definitely plans on being in Vegas in 2018. It's an important goal for someone stricken with such a difficult diagnosis, but he is determined on making the trip.
"The one thing that keeps me going and keeps me motivated is poker, believe it or not," he says. "I can get up and know that I can take my dog for a walk, and then go to my local casino and play poker. It actually is keeping me alive really."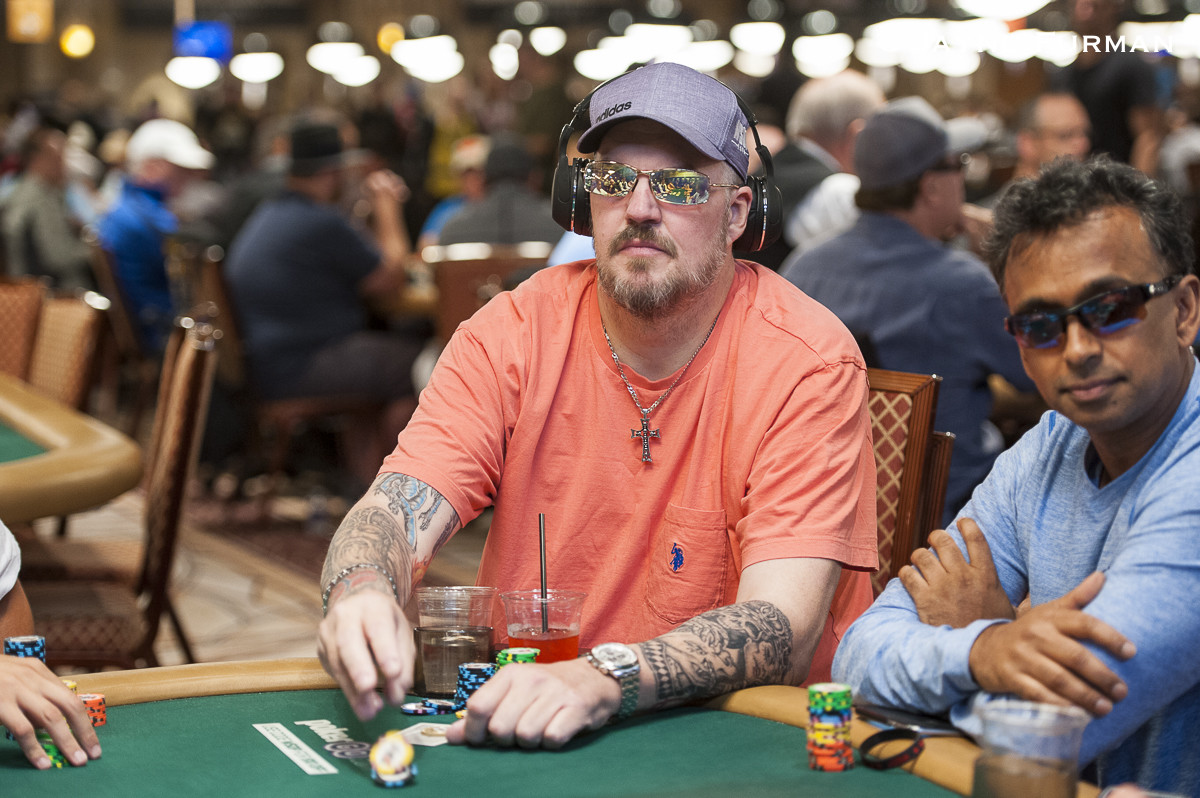 MAIN EVENT & BEYOND
As action continued in the Amazon room into the evening, Rick was building a nice stack and hoping to continue running it up. But if he doesn't last Day 1, he realizes there will be other tournaments and other events. There are bigger things to remember. He's playing the game he loves – and he's still living. There's not much better than that. He continues to beat cancer, and is just hoping his luck continues.
"Chemo will just suck the life out of you, but I still went and played poker even though I was going through chemo," he says. "A lot of people don't know. Like when I go to Ho-Chunk and play poker, they don't realize that I just came from the hospital after sitting for an eight-hour session with chemo. It's tiring and you don't want to do much. Physically someone couldn't probably be more broken and get out and do what I do. Poker's really not that much of a strain, it's much more of a strain mentally than physically."
Friends in the poker world are amazed at his outlook and resilience.
"When you look at Rick, you expect him to be rough and tough, but he's really a gentle giant of sorts," says friend and MSPT media director Chad Holloway. "Despite everything he's going through, he has an appreciation for both life and poker that you can't help but admire. He's quickly made a name for himself in the Wisconsin poker scene and it's great to see him competing on poker's biggest stage."
PokerNews live updates reporter Mo Nuwwarah shared a room with him in October 2016 for the WSOP-Circuit Hammond Main Event, and didn't even realize he had cancer.
"Despite everything he's going through, he has an appreciation for both life and poker that you can't help but admire."
"Rick's just a nice dude, he was courteous and friendly," he said. "He's a relaxed, happy, trustworthy guy who is always willing to help out. He never said a word about being in poor health or anything like that, just trucked along focused on the grind and getting through each day of poker. After every night of poker he would just lounge on the couch watching TV as if he didn't have a care in the world."
Doctors have not given Rick a time frame on when the cancer may be too much for his body to handle. In a summer when putting the fun back in poker has become a common catch phrase for many, Rick Syverud embraces the time he has left – playing the game he loves and enjoying his time at the tables. Some may find his view on his disease – and poker – refreshing.
"It could be years from now, or everything could go to hell and I could be gone in a week," he says. "That's how this goes. I could just be a wreck in a couple weeks, but I just keep going and do what my doctors tell me to do. I hope everybody can learn about from my story, and try and put on a happy face when they go out and play poker. Stay positive."
Be sure to complete your PokerNews experience by checking out an overview of our mobile and tablet apps here. Stay on top of the poker world from your phone with our mobile iOS and Android app, or fire up our iPad app on your tablet. You can also update your own chip counts from poker tournaments around the world with MyStack on both Android and iOS.