Tweet, Tweet, Bad Beat: Wild 'n Out at WSOP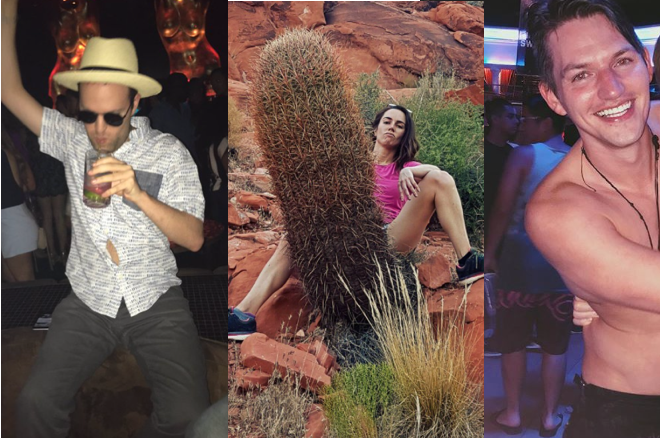 To no one's surprise, there wasn't a lot of traveling, relaxing, or sunbathing in Las Vegas this week. And seriously – can we blame anyone? It's the freakin' World Series of Poker Main Event! This edition of Tweet, Tweet is all about the biggest tournament in poker. Selfies, bust outs, and plenty of Barstool Sports shenanigans.
We. Can't. Even. You win, Liv. Everyone else go home.
Looks like a crew that plays credit card roulette. Who lost?
Watching this on auto loop. GIF of the summer!
But she ain't messing with no broke …
#MakePokerFun again achieved.
These two are just the cutest and we want in on this friendship.
We're just going to leave this right here.
We're not sure what the other guy is doing but these two look like it's their first day of school. If school were a bar and at lunch they served alcohol.
OK, even we approve of this one. Welcome to the media fam, PolkerNews.
When your smile matches your hat.
We are the three best friends that anybody could have.
Uncle Ron knew what he was doing. Let's crop out the other dude and just have Sam. We're not even mad about it.
What you can accomplish when you put your mind to it…or money.
Legends.
Just the three greatest poker players of all time sitting left to right. @phil_hellmuth

— Smitty (@SmittyBarstool)
#Blessed to be playing the greatest tournament of the year.
That dog, though!
Those shades perfectly explain what we feel for that Vegas night sky.
Brows on point!
Girl, get in touch with Natalie's crew.
When your WSOP comes to an end and life is just needling you.
When brains meets beauty.
Poker girl power with these two lovelies, @Liv_Boeree & @melanieweisner. We need more of them in this world, to make it a bit brighter #wsop

— Maria Konnikova (@mkonnikova)
We so need those...for our ski trip this winter.
Honestly, we would have done the same thing. Cookies FTW.
Of course I feel guilty for eating my kids sugar cookie I found in the fridge but I'm playing the main tomorrow and damnit, it looked lucky!

— Jeremy Ausmus (@jeremyausmus)
ESPN gets it.
Man ESPN really asks the hard hitting questions. Did an interview with them and they confronted me about eating my kids cookies

— Jeremy Ausmus (@jeremyausmus)
Get it girl! Rock that bump (and smile) all the way to the final table!
Too lazy to Google Translate but the image says it all.
On dirait que des joueurs de la table sont au courant de mes capacités d'hero call

— Kitai Davidi (@KitBul)
From the felt to Dungeons and Dragons? Just kidding. Escape is actually so much fun.
Getting that mind right. Good call.
Grind on mind.
Everybody needs an account at one of these online poker rooms! They're the biggest, the best, and we get you the best poker bonuses. Check out our online poker section for details on all the online poker rooms around.