The Muck: Hellmuth's $15K 3-Point Shot; Busquet Underdog vs. Colman?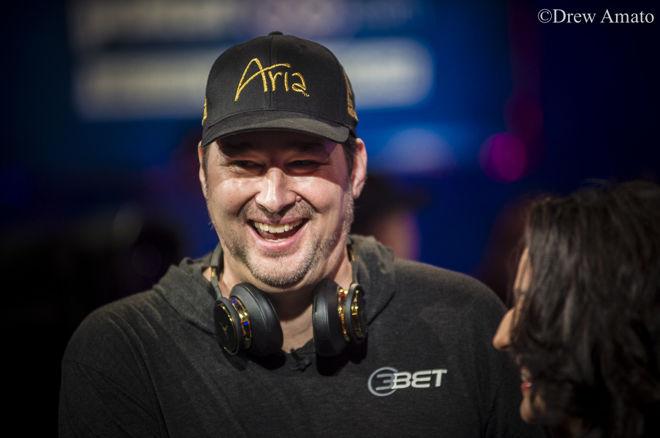 You know the saying, "Follow the money?" Well, that was particularly true when it came to predicting the King of the Hill 2 champion. The betting lines on PokerShares had Olivier Busquet the favorite from the start. And wouldn't you know...
And while Parker Talbot and Busquet were battling it out for KOTH glory, Shaun Deeb and Phil Hellmuth were busy consoling each other.
But it wasn't until after Busquet slung the belt over his shoulder, that the real fun began.
Hellmuth: Nothing But Net
And it all started with the quest to find a basketball.
Doug Polk bet $10,000 to Hellmuth's $1,000 that Hellmuth couldn't make a 3-point shot — cold, and some of the other characters involved booked action too. They found a basketball thanks to Polk's Twitter plea, but there was a problem when they arrived at the court. #NoRims.
After some dumpster diving and clarifying the number of dribbles, Polk and Hellmuth settled the squabble over the type of 3-point shot (college or NBA) the way all poker players do — Roshambo. The fact that Polk admits that, "Some drinking may have gone down in the making of this video," may explain the trouble they had getting their hands in sync.
Once they did though, Hellmuth took to the line and brought some White Magic with him.
See for yourself.
We would also like to note that it didn't take long for Hellmuth to go from this:
To this:
What World Do We Live In
The belt was barely awarded before the KOTH 3 line was announced on Twitter.
And we're wondering what kind of world we live in that has Busquet as an Underdog in this one.
Needless to say, Busquet isn't buying it!
So, we reached out to our friends at PokerShares just to see if the lines were right. Here's their response:
"We feel Olivier is one of the best in the world at this format but think that Dan is one of the few who may have a small edge. No disrespect intended toward Olivier and the vast majority of professional poker players would be available at a markdown in an event as tough at KOTH #3."
In all fairness, Busquet predicted his KOTH 2 win long before the betting lines came out.
Our guess is he is predicting a similar outcome.
The New Normal in Half-Time Shows?
Of course, not all the fun happened after the tournament was over. We don't want to forget to highlight the epic commentating stretch by Doug and Pete Manzinelli when Hellmuth decided to take an impromptu dinner break.
Polk, Manzinelli, 30 minutes of airtime and beers... What could go wrong?
Have you ever wanted to write your own articles about poker? Maybe you've got some experiences or opinions about poker that you'd like to share. PokerNews is proud to launch The PN Blog where you can have a platform to make your voice heard. Learn more here.