Inside Gaming: Nevada Sportsbooks Enjoy Record-Setting Month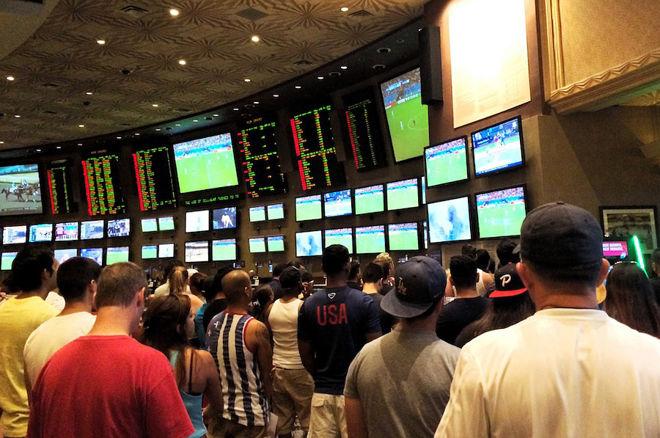 Today's installment of Inside Gaming reports on a huge month for Nevada sportsbooks, shares news of the planned-for demolition of a once-prosperous Atlantic City casino, and passes along news regarding the acquisition of a popular online poker traffic tracking site.
Highest-Ever Handle for Nevada Sportsbooks in September
Each year September brings cooler temperatures, leaves changing color, and the start of football season. And football brings out sports bettors — just ask the Nevada sportsbooks, who according to the Nevada Gaming Control Board's latest monthly report enjoyed a record-setting month for sports wagering in September.
Tuesday's report showed bettors wagered $558.4 million on sports during the month of September, a 26.6 percent increase year-over-year and the highest handle ever for a single month, barely eclipsing the previous high of $557.4 million in November 2015.
Revenue from sports betting was also an impressive $44.4 million, up almost 8.4 percent year-over-year and the fifth-highest monthly total ever recorded, according to Michael Lawton, senior research analyst with the Tax and License Division of the NGCB per the Las Vegas Sun.
Football was the big earner for the sportsbooks, accounting for just over $40.7 million worth of the win. The overall win would have been even higher if not for bettors cashing out winning tickets for the August 26 boxing match between Floyd Mayweather, Jr. and Conor McGregor.
The September figures reflect the first four weeks of the National Football League season during which a high number of underdogs covered and/or won games outright, thus enabling the sportsbooks to benefit thanks to the public's penchant to bet on favorites.
Looking at the overall figures for September, the total gaming win among all Nevada casinos was $979.9 million, an increase of 3.25 percent over September 2016.
October and November also promise to be big months for Nevada casinos in general and the sportsbooks in particular. Legal Sports Report notes how the sportsbooks' handle exceeded $500 million each of those months last year, and wonders whether the $600M-mark might soon be exceeded for the first time ever.
Closed Trump Plaza Scheduled for Implosion
The Press of Atlantic City is reporting this morning that after closing its doors in September 2014, the once-famed Trump Plaza is due to be imploded next spring, according to Atlantic City Mayor Don Guardian.
"The demolition would open several acres of premium oceanfront property that could attract millions of dollars in investment," say experts.
"The first thing you need to recognize is that the Plaza has one of the best locations in the city," explained Ken Calemmo, the CEO of Cooper Levinson who serves as co-chair for the Economic Development Committee of the Greater Atlantic City Chamber.
"It sits at the base of the expressway and in the center of the Boardwalk. You are guaranteed 29 million plus visitors passing by every year," explained Calemmo.
Trump Plaza first opened to great fanfare in May 1984, enjoying several prosperous years while becoming famous for hosting Wrestlemania events. Later came hard times, with Trump Entertainment Resorts filing for bankruptcy on three different occasions in 2004, 2009, and 2014.
In 2016 the company became a subsidiary of Icahn Enterprises, at which time then-presidential candidate Donald Trump relinquished his last 10 percent ownership stake to friend Carl Icahn. Icahn did not comment to the Press of Atlantic City regarding the demolition plans.
At the time of its closing the Trump Plaza became the fourth Atlantic City casino to close in 2014. Since then the Trump Taj Mahal also closed in October 2016, leaving seven casinos currently operating on the Boardwalk. The Taj Mahal property has since been purchased by Hard Rock International who plans to open the new Hard Rock Hotel & Casino Atlantic City at the location by Memorial Day 2018 (a topic taken up last week here in Inside Gaming).
While no demolition permit has been obtained as yet, the process for obtaining one is already in motion according to city officials.
Catena Media Acquires Online Traffic Comparison Site PokerScout
The popular online poker traffic comparison site PokerScout has a new owner. This week Catena Media announced it had acquired PokerScout.com and its related assets, noting in a press release how the acquisition has been "made in connection with the passage of gaming legislation in the US state of Pennsylvania, which will open a new market for regulated online poker and casino games."
The purchase amount was $350,000, says Catena Media, an online lead generation company founded in 2012 with offices in the UK, Malta, and Serbia. The company "already operates multiple media assets in Pennsylvania and owns several domains tailored to the market," it explains, adding that with "the impending launch of regulated online gaming in Pennsylvania, new revenues from online casino and poker are expected."
Last week Pennsylvania became the fourth state to pass online gambling legislation after both state houses passed a comprehensive bill allowing for not just online gaming but daily fantasy sports and additional "satellite" brick-and-mortar casinos as well. As anticipated, Governor Tom Wolf signed the bill into the law on Monday.
"We hope that more states will follow in Pennsylvania's footsteps," added Henrik Persson Ekdahl, CEO of Catena Media. "We have been prepared for a long time and this is a milestone for our continued expansion in the US."
PokerScout commented on the acquisition in a series of tweets this morning, explaining how "Enumerator LLC, the force behind PokerScout since 2006... will continue to be the official source of PokerScout data." Data collection on online site traffic and B2B reporting "will continue at a new website to be announced."
"In Catena's capable hands, PokerScout.com will remain as the exclusive public outlet featuring the world-renowned Traffic Report," adds PokerScout.
Photo: "Sports Book @MGM" (adapted), Daniel Ramirez, CC BY 2.0.