Inside Gaming: NV Revenue Down, Macau First Annual Increase Since 2013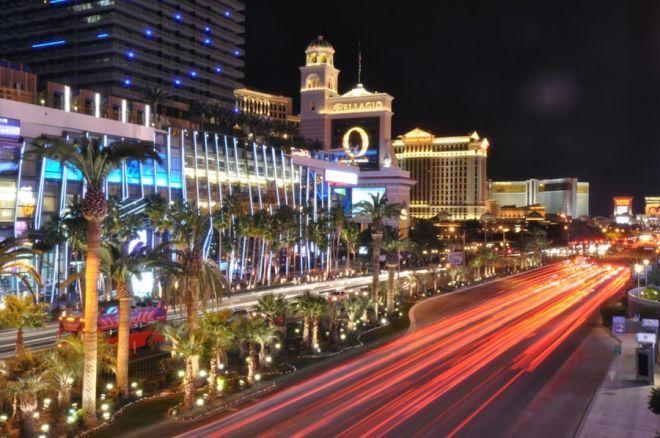 This first installment of Inside Gaming for the new year reports some gaming revenue numbers for Nevada and Macau, tells of an innovative partnership that will involve a land-based U.S. casino live streaming roulette games around the world, and shares news of the temporary closing Vegas casino this week.
Strip Decline Means Nevada Gaming Revenue Decrease for November
Last week the Nevada Gaming Control Board released gaming revenue figures for November, showing a decrease of 2.3 percent year-over-year.
The total gaming win among the state's casino's added up to just over $909 million for the month, down from the $930.4 million of November 2016. While many casinos in the state enjoyed increases, those on the Las Vegas Strip in particular decreased a bit more than 6 percent for the month.
Michael Lawton, senior research analyst with the Tax and License Division of the NGCB, highlighted the Strip's decline in his comments on the November numbers, the Las Vegas Sun reports.
"If you factor out the Strip, the state would have been up," said Lawton. "The table game win decreased this month," he pointed out, alluding to the nearly 16.8 percent decrease in revenue for table games on the Strip.
Baccarat especially saw a decline in revenue on the Strip, down almost 25 percent from a year ago. Blackjack Strip revenue was down as well by about 14.5 percent.
By contrast, downtown Vegas casinos' revenue increased 6.8 percent, with North Las Vegas (2.56 percent), Mesquite (8.78 percent), and Laughlin (4.93 percent) all up as well.
Macau Gaming Revenue Up Over 19 Percent in 2017
Meanwhile on the other side of the globe in Macau casinos enjoyed a 14.6 percent increase in revenue year-over-year in December to nearly 22.7 billion patacas (just over $2.82 billion USD), according to the Macau Gaming Inspection and Coordination Bureau.
That strong finish helped ensure 2017 to be the first time in four years Macau gaming revenue posted an annual increase. In 2017 the total revenue amounted to more than 265.7 billion pacatas (about $33.1 billion USD), up 19.1 percent from 2016.
It was the first annual increase in gaming revenue for Macau since the Special Administrative Region saw an 18.6 percent increase in 2013 over the previous years, as each of the next three years saw a decline (2014 down 2.6 percent; 2015 down 34.3 percent; 2016 down 3.3 percent). Of course, 2017's total is still well off 2013's revenue total of 360.7 billion pacatas.
The final totals for the year were right in line with analysts' projections, reports Reuters: "Analysts had expected 2017 full-year growth of 18-20 percent to $33 billion to $34 billion."
Bloomberg Businessweek notes how the recent surge in VIP traffic in Macau's casinos brings added uncertainty to casinos' bottom lines going forward as the high rollers do experience good fortune from time to time.
"Since the growth in the market is being driven by VIP, it reintroduces the concept of volatility to monthly and quarterly results," opines analyst Grant Govertsen of Union Gaming Securities Asia Ltd.
Bloomberg points to Wynn Macau Ltd. as being particularly exposed to such VIP-driven volatility "given its reliance on the high-end gambling segment."
Authentic Gaming to Provide Live Streamed Roulette Games From Foxwoods
This week it was announced that the live casino operator Authentic Gaming has formed a partnership with Foxwoods Resorts Casino through which roulette games from the Foxwoods casino will be live streamed around the world to online players.
SBC News reports the "deal marks the first time live casino players in Europe and around the world will be able to access live table games from the floor of a US land-based casino via the supplier's Authentic Roulette product."
Authentic Roulette enables operators to live stream their games from casino floors "to an unlimited number of online players via the supplier's network of B2B clients, including Unibet, LeoVegas, MrGreen, NYX Gaming Group, EveryMatrix, and the Bethard Group."
The first table to be live streamed with be a single zero, European-style roulette table in the Club Newport VIP Room of the Grand Pequot Casino.
Alluding to Foxwoods' size and popularity, Jonas Delin, Authentic Gaming CEO expressed optimism regarding the partnership. "I'm sure players will be drawn to games streamed from Foxwoods, porting them right to the heart of the action," said Delin.
Seth Young, Director of Online Gaming at Foxwoods, was equally enthusiastic, calling the partnership "a fantastic opportunity for Foxwoods to extend its brand internationally, and to show the world what it means to experience Foxwoods hospitality."
In addition to providing the games, the online operators will be able as well to offer players exclusive promotions including trips to Foxwoods.
Lucky Dragon Abruptly Announces Temporary Closure of Casino
Earlier this week the Lucky Dragon Hotel & Casino located near the Stratosphere on Sahara Avenue announced it would be closing temporarily and reducing its staff as part of cost-cutting measures.
The announcement only barely preceded the closure of the Asian-themed boutique hotel and casino that first opened in December 2016.
According to the Los Angeles Times, a statement yesterday announced the hotel-casino "is beginning the process of repositioning and, in doing so, will have a reduction in staff."
While the casino and restaurants have closed, the 200-room hotel remains open with room service continuing to be provided to guests.
The statement added that the closure will be temporary, but included no mention of a target date for reopening the casino and/or restaurants.
FOX5 in Las Vegas adds that while "all gaming chip and ticket redemption can be done through the front desk at the hotel... any previous gaming, food and beverage promotions or offers will no longer be valid according to a property representative."
Photo: "Las Vegas Strip at Night," Marco Verch. CC BY 2.0.
Finding a trustworthy room to play online poker can be a monumental burden. That's all the more true if you're just looking for a place to play poker for free. We've listed five of the best play-money poker sites to enjoy and help hone your skills.