Molly's Game Film Review and Poker Breakdown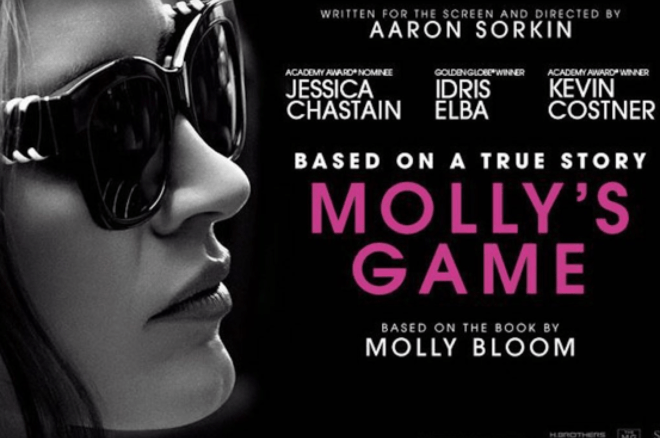 Molly's Game Film Review - Is it Worth Watching?
It has been a few years since the premiere, but Aaron Sorkin's 2017 film has remained in the public consciousness thanks to its availability on streaming services. It's time for PokerNews to take a look back with a review of Molly's Game to see if it's worth watching.
Molly's Game Review
Jessica Chastain narrates the story of Molly Bloom, a champion skier that suffers a career-ending injury on her road to the Winter Olympics. After the injury, Bloom moves to Los Angeles and finds herself in the world of high-stakes gambling, where she eventually hosts a game that attracts the rich and famous from around L.A.
The film carries all of Sorkin's trademarks in his directorial debut. The dialogue is dry and speedy, while the story still takes its time to let its characters develop relationships with one another. Sorkin's ability to build great drama through dialogue comes from his background as a playwright, and Molly's Game feels like it could have worked just as well on a stage with a live audience.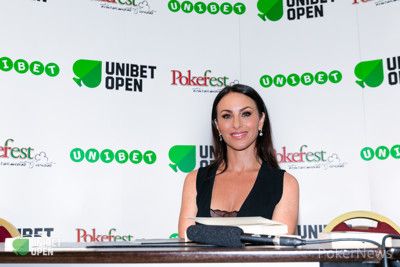 British-born Idris Elba is excellent as Bloom's lawyer, Charlie Jaffey, who is one of the few characters that is not based on someone from Bloom's real life. Jaffey reluctantly agrees to represent Bloom when she needs him the most. Bloom's father is played in flashbacks by Kevin Costner, who does some of his best acting as an uncompromising figure in her early life as a high-level skier. Michael Cera also turns in a great performance as the whiny, petulant "Player X" and Jeremy Strong shows a few early signs of Kendall Roy in his role as real estate developer Dean Keith.
Chastain remains on top of her game throughout the movie, handling the demands of Sorkin's dialogue with ease and giving depth to Molly Bloom as a high-achieving character that finds control over her life slipping away. Adapting the autobiography of a living figure can be a risky proposition. Still, both Chastain and Sorkin do a great job of making you root for Molly Bloom without any over-the-top emotional manipulation.
Molly's Game doesn't strike the same tone as other gambling movies, mostly because the people doing the gambling generally serve as antagonists to the main character—who doesn't play any poker. It doesn't celebrate or glorify the lifestyle of a high-stakes gambler, even if it occasionally gives you a sense of fantasy for the money and culture surrounding that scene. Bloom's flaws are front and center and play a role in her downfall—a level of honesty about the story that Bloom was not shy about when she wrote the original book.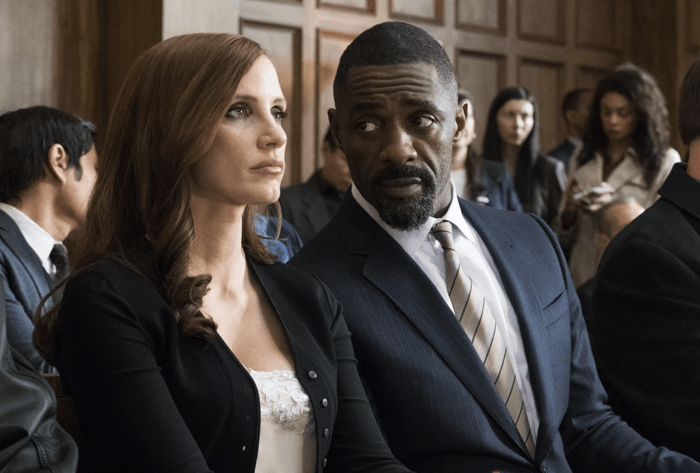 Molly's Game Cast
| Character | Actor/Actress | Overview |
| --- | --- | --- |
| Molly Bloom | Jessica Chastain | Molly Bloom is an Olympic skier that suffers an injury during a qualifying event for the Winter Olympics. Her transition to the next stage of her life leads her deep into the world of high-stakes poker. |
| "Player X" | Michael Cera | Player X is a narcissistic movie star that finds himself wrapped up in the consequences of gambling addiction. Cera plays a compositive character, meant to stand in for several individuals. |
| Charlie Jaffey | Idris Elba | Jaffey is Molly's lawyer and her voice of reason. He helps her navigate her issues with the FBI. |
| Larry Bloom | Kevin Costner | Costner plays Molly's father, Larry, a no-nonsense perfectionist that was hard on his daughter from an early age. |
| Dean Keith | Jeremy Strong | Keith is a real estate developer that hires Molly as his personal assistant. He introduces her to the world of high-stakes poker. |
Molly's Game Plot
After Molly Bloom suffers an injury during a qualifying event for the 2002 Winter Olympics, she skips out on law school and moves to Los Angeles. She quickly lands a job as a bottle service waitress at the Cobra Lounge, where she meets Dean Keith, a noisy real estate developer that runs a high-stakes poker game.
Keith hires Bloom as his personal assistant and soon she is managing his game, where she meets a variety of wealthy businessmen and Hollywood celebrities. After a conflict with Keith, she strikes out on her own and dives deeper into the world of high-stakes gambling.
The story exists in two time periods, with a present-day story of Bloom's and her lawyer, Charlie Jaffey, as he represents her as she navigates her troubles with the FBI. Bloom spends much of the film fighting a lonely crusade, but that is balanced by the story of her relationship with Jaffey, who helps her when no one else would. The film flashes back to fill in the context of her legal troubles with Bloom's conflicts with people like "Player X", a narcissistic Hollywood celebrity that harbors a gambling addiction—as well as the organized crime figures that fight for their piece of the underground gambling world.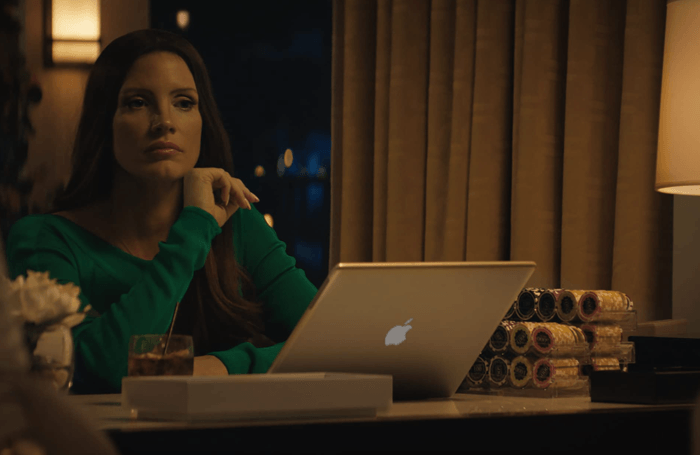 Molly's Game Explained - What Was it Really About?
Molly's Game isn't a poker movie, so don't expect much drama to be built around what happens on the felt. The movie is about Molly Bloom fighting to overcome a series of obstacles and claim her place in the world of high-stakes gambling. Her growing list of adversaries, and eventually her own demons, contribute to the legal and personal troubles that result from a life in that world.
"It's a story about decency," as Sorkin said in an interview on NPR. "This was a morality tale of doing the right thing when the wrong thing is easier."
Consensus - Is Molly's Game Worth Watching?
The movie retains a strong 7.4 rating on IMDB and an approval rating of 82% on Rotten Tomatoes, and the strong writing should keep it among the better films in the "gambling genre" for some time. Molly's Game is worth watching if you are looking for a docudrama of the high-stakes poker world.
Poker Breakdown - Is Molly's Game Realistic?
Molly's Game is based on her book of the same name, so you can expect a biased perspective towards Bloom's side of the story, but like the book, the film portrays her flaws in an honest light. Aaron Sorkin's writing does the job of building a realistic world, and the gambling scenes aren't out of touch. Poker players may find some of the lingo to be over the top.
How to Watch Molly's Game
You can watch Molly's Game on DVD, Blu-Ray, and on several streaming services to either rent or buy.
Is Molly's Game on Netflix?
Molly's Game is currently available to stream with a subscription on Netflix.
Is Molly's Game on Amazon Prime?
Molly's Game is available to rent on Amazon Prime for $3.99, or you can own it for $9.99.
Is Molly's Game on Disney+?
Molly's Game is not available to stream on Disney+.
Molly's Game FAQs
Who are the four celebrities in Molly's game?

Jessica Chastain, Michael Cera, Kevin Costner, and Idris Elba
Did Leonardo DiCaprio play in Molly's Game?

No, Leonardo DiCaprio did not play in Molly's Game, though it is rumored that he attended to watch.
Did Molly From Molly's Game go to jail?

Molly Bloom did not serve any jail time for her role in the illegal money laundering and illegal sports gambling operation. She was sentenced to one year of probation and 200 hours of community service.
Is Molly's Game a true story?

Molly's Game is based on the real-life story of Molly Bloom.
Is there a sequel to Molly's Game?

No, there is no sequel to Molly's Game.
Who is Player X in Molly's Game?

"Player X" is a composite character meant to represent several different people from the real-life story.
Who plays Molly in Molly's Game?

Molly Bloom is played by Jessica Chastain.
How much did Molly's Game gross?

Molly's Game grossed $59,284,015 at the worldwide box office.
When was Molly's Game released?

Molly's Game was released on December 25, 2017


What is Molly's Game rated on IMDB?

Molly's Game is rated 7.4 on IMDB.
Is Tobey Maguire in Molly's Game?

No, Tobey Maguire is not in Molly's Game
Las Vegas-based PokerNews Live Reporting Executive, originally from Chicago, IL