Sean Chaffin Showcases the Elusive World of Underground Gambling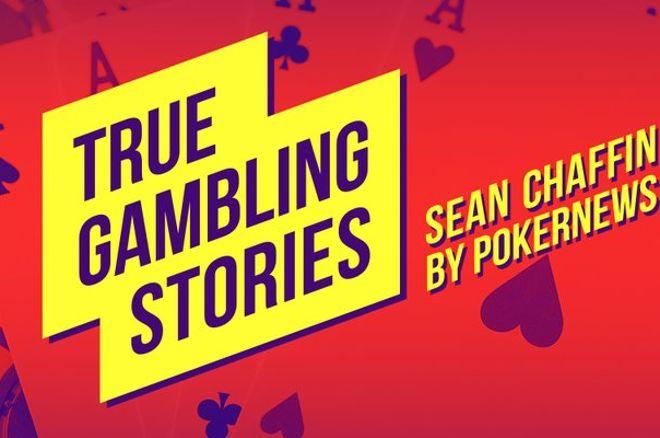 If you are a frequent reader of PokerNews, then it is likely you have read something Sean Chaffin wrote.
Whether it was one of his daily "What to Watch For" pieces during the World Series of Poker this past summer or his immensely popular article introducing the poker world to John Hesp (before John Hesp became a thing), then you know the man can tell a good story.
Well, get ready, because Chaffin is bringing his stellar storytelling talent to the PokerNews Podcast Network in late January 2018 with "True Gambling Stories".
"True Gambling Stories" will appeal to anyone who's a fan of the "ripped from the headline" type of stories. Appealing to both poker players, gamblers and degenerates alike, if you like a well-told, intriguing non-fiction tale, you've found a new place to spend some time every month.
About the Host
Chaffin is a freelance writer and a teacher who grew up in Texas. What better place to develop an interest and talent for sniffing out stories in cardrooms, the pit and backrooms with a secret knock?
"I grew up playing in my father's regular poker game, which I still play in today. He and his buddies have played together for over 30 years. Gambling and poker have such unique stories and characters and that's why I like writing about those topics. I write about other topics too, but those two have kind of been mainstays and are now the majority of my work."
When asked if he had any underground stories of his own, Chaffin skillfully avoided the question by throwing out some fascinating tidbits about gambling history, giving us a taste of what we can expect to hear.
"Most people may not know, but in the '30s – '50s, Dallas-Fort Worth had underground casinos in every major hotel. Gangsters Benny Binion and Herbert Noble had open shootouts in the streets over turf and plotted ways to kill each other. Crazy.
Poker interests me a lot because of its historical place in American society
"Anyway, Texas has a ton of character gamblers including some of poker's early champions like Doyle Brunson and Jack "Treetop" Strauss. Strauss coined the phrase "All you need is a chip and a chair." I think that might make a good story. He was a real character and many may not know so much about this particular poker hall of famer."
His love of the world of poker and gambling is evident when talking with Chaffin, but it's more than just a love for the topic. He wants to get to know the people behind the personas. He wants to tell the stories, the real stories.
Chaffin does just that in his book, "Raising the Stakes: True Tales of Gambling, Wagering & Poker Faces." It's the book that sparked the idea for the podcast.
Here's the description of the book from Amazon, "From underground games in Dallas to tales of the World Series of Poker to crazy stories like wagering at a Puerto Rican cockfight, Raising the Stakes features something for everyone interested in gambling, poker, or history in general."
The podcast is a natural extension of those crazy stories. From a three-hour long craps roll to an old-west tale about a train robber and poker player, the podcast will appeal to anyone who loves engaging and good storytelling that makes you feel you are at the scene of the crime.
Engaging Themes
"Poker interests me a lot because of its historical place in American society," Chaffin responds when asked about the subject matter. "Everyone from teenagers in their garage to older women with friends or grandchildren love to play poker. People think I gamble and play poker a lot more than I really do. These days, I write about poker and gambling way more than I really do it. I think it's important to appeal to players beyond the traditional poker tournament scene."
Sarah Herring, Head of Video and Podcasting for PokerNews, talked about the exciting growth in the variety of content at the company.
"The longer I am in the poker industry, the more incredible stories I am exposed to that need to be told. The very nature of poker attracts interesting people, each one of them with a unique journey. After working on the PokerNews Podcast for two years, I started to see that we were missing opportunities to tell some different stories and to reach a new audience."
And "True Gambling Stories" is the answer to one of those missing opportunities. Herring continued, "It is our take on the True Crime explosion. Each episode Chaffin digs into some unusual or wild story that you can't turn off. His research is incredibly detailed and some of the stories will blow your mind. It has a similar tone and feel to a lot of my favorite true crime podcasts, but has its base in gambling. There are so many incredible stories you have never heard from train robbers to the man with the Golden Arm, Chaffin digs deep and I LOVE it!"
It's obvious Chaffin has the writing chops. In fact, he was awarded the Aynesworth Award from the Press Club of Dallas for excellence in journalism last year. But how does he feel about the transition from paper to the airwaves?
"It has been a challenge as a writer to write for an audible experience. I am having to remember, 'How will this sound when someone is listening in his earbuds?' I'm also the narrator, which is a huge challenge for me. I was hesitant about that as it is completely new to me. When I initially approached Sarah about the podcast, she wanted to make sure I narrated because she thought my Texas accent would be good for the show's narration."
Frank Op de Woerd, who just this week stepped into the role of Head of Content at PokerNews, had this to say when asked his thoughts on the growing variety of content on the site.
"There's something about the good old days that speaks to my imagination. I can only imagine how it must have been for the likes of Brunson and Chip Reese playing in back rooms of saloons, with one hand on their pistol just in case …
"Maybe I'm romanticizing the way things were, but it just has an attractive force for me. I love reading about it and listening to stories from the past. I can't wait to listen to this new podcast, I won't miss an episode!"
You shouldn't miss an episode either. The first episode drops later this month. Until then, visit True Gambling Stories online www.TrueGamblingStories.com and follow Chaffin on Twitter @PokerTraditions to get notified when new episodes are available.
And stay tuned to PokerNews for more exciting podcast announcements. Herring had this to say about what's on the horizon, "We are also working on another podcast about the Dark Web. I hope to continue expanding this network of Podcasts to provide a one-stop shop for people who love this game, no matter what their specific interest."
Be sure to complete your PokerNews experience by checking out an overview of our mobile and tablet apps here. Stay on top of the poker world from your phone with our mobile iOS and Android app, or fire up our iPad app on your tablet. You can also update your own chip counts from poker tournaments around the world with MyStack on both Android and iOS.