Lex Veldhuis Keeps Reinventing Himself, Conquers Twitch (Part 1/3)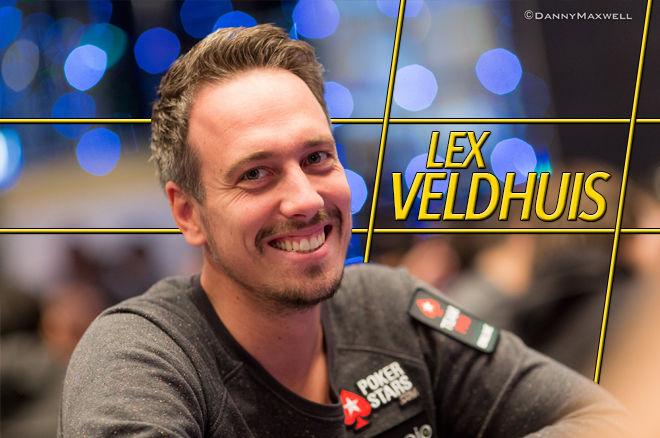 In the heyday of (online) poker, PokerStars and Full Tilt Poker were literally handing out bundles of cash to players getting moved to the feature table of the WSOP Main Event. If you found your name on the table draw next to Phil Ivey or Phil Hellmuth, you were just praying that ESPN was picking that table to highlight for the day, as it meant freerolling the tournament, or at the minimum, a big discount. Everyone was getting patched up, and if you made a lasting impression, you might even get a sponsor deal.
When the rivalry between PokerStars and Full Tilt Poker was at its boiling point, both had an army of sponsored pros. PokerStars had their Team Pros, Full Tilt called them Team Full Tilt and Full Tilt Red Pros. The latter even had recognizable faces grind the micros almost full time since they played rake free and got a nice hourly to go along with it. Their custom avatars were an attraction. PokerStars had multiple Team Pros, and all they had to do was show up at live events wearing a patch, and play online.
As Black Friday happened and the competition changed, PokerStars changed its marketing strategy. While partypoker and 888 are still in the business of signing players just because the general poker public knows them, PokerStars has shifted its focus. Players' contracts aren't renewed or have significantly fewer perks. And so players like Jason Mercier, Vanessa Selbst, Bertrand "ElkY" Grospellier, and Felipe Ramos have all recently disappeared from the PokerStars Team Pro roster.
PokerStars still has some of the most recognizable poker players employed; Daniel Negreanu remains the spokesman for the company, and Liv Boeree, Igor Kurganov, and Chris Moneymaker are still patched up. But there are two new categories of sponsored players that are in contrast to the situation a couple years back.
PokerStars has A-list celebrities like Kevin Hart and Usain Bolt to attract the masses. And, maybe in contrast, PokerStars has a small legion of poker players signed that solely focus on playing online and streaming their grind to the masses via Twitch. The latter is interesting because it really breaks with what PokerStars has done in the past, and what competitors are doing right now. The only poker brand with a similar approach is Unibet, though on a smaller scale. Barry Carter, over on his personal website PokerMediaPro.com, wrote a really interesting article about the state of affairs poker sponsorship is currently in.
One sponsored player that stands out is Lex Veldhuis. He's that guy that bluffed everyone on the WSOP Feature Table some years ago. He's the guy that sat down for High Stakes Poker and hero-called Doyle Brunson, and got bluffed by Phil Ivey with five-deuce. He's that guy that knocked out ElkY in a kickboxing match and he's the guy that ran deep in the $40,000 buy-in WSOP event all the way back in 2009. Lex Veldhuis is the guy that's been with PokerStars since March 2009. But these days, Veldhuis is mostly that guy that streams and commentates.
Veldhuis is currently traveling the globe with his girlfriend Myrthe. When deciding on where to go next, he's not just looking at the weather forecast and inspecting Yelp to find good places to eat; he's mostly concerned with what the internet is like. The download speed is important, but details of the upstream are crucial since streaming his online poker adventures is what he does now. Veldhuis is no longer just a poker player, he's an online streamer playing poker. He's one of the few that successfully transitioned from the role of standard patched-up pro, to that of online streaming fan-favorite. His Twitch channel twitch.tv/lexveldhuis has almost 85,000 followers, and thousands of them pay a monthly fee to interact with him. He's, by some margin, the most popular poker streamer on Twitch today.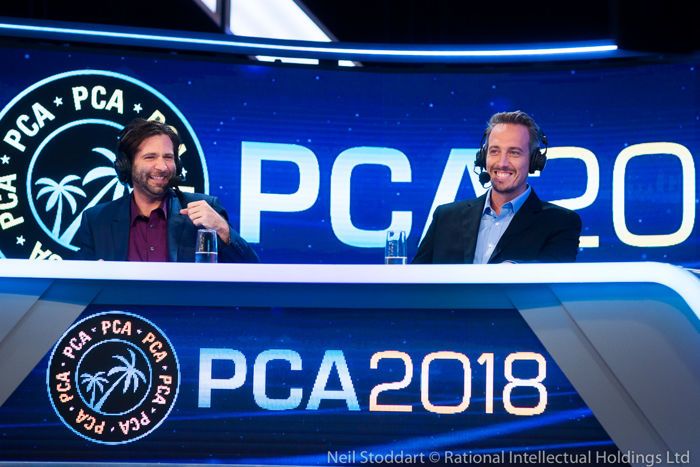 Veldhuis came to the PokerStars Caribbean Adventure last month, the biggest tournament of the year for his sponsor PokerStars. But he wasn't there to play. He was there to do what he does best these days: commentate on the action. Veldhuis was part of the massive television production team that broadcasted the High Rollers and Main Event for days, in the booth as play by play commentator, and behind the desk in the intermissions to break down the most interesting hands. This time, though, wearing a suit jacket and sitting in a fancy chair without all the cursing and the beers, but it was still his voice doing all the work instead of actually playing poker himself.
We sat down with Veldhuis to see how he got to where he is right now: one of the most valuable sponsored pros in PokerStars' roster.
Lex, you were in the Bahamas but you didn't play any tournaments because you were part of the webcast team. What was your role?
PokerStars gave the broadcast a sort of esports feel. They had a desk for some deeper strategic things and a massive set. It was like something you would expect on Twitch if you were watching an esports event.
They wanted me to participate in that concept and I liked the idea right away. It's a new way of doing things for them, but for me as well. I feel like I'm exploring a new area, it's something I haven't really done before, though it's similar to what I do on Twitch of course.
"I was a bit nervous in the beginning, but I think it went well."
Since I was part of the production team, I had to get a work permit. While you're in the country on a work permit, gambling isn't allowed. So even if I had wanted to, playing poker wasn't an option. But I was too busy to play myself anyway.
The segments in the break where you and some others analyzed hands were something completely new. How did you like it?
I think it's fantastic. It comes close to what I'm doing on Twitch of course. When I'm streaming and I tell my audience that I'm gonna grab a coffee or something and return in five minutes, I'll lose 500 viewers. Let alone if we would say we'd be back in 20 minutes, you can imagine how many viewers you'd lose.
So yeah, I really like the new setup. Of course, it took some adjusting since it's all new. Hosting a segment like that is something I'd never done before. When I'm streaming, I'm full screen on camera as well, but it's a different ballgame when there's a playbook to go by and you have a producer in your ear saying your segment ends in 10 seconds. You have only so many seconds to finish your thoughts, we should mention a promo, et cetera. It's new, but it's cool.
I was a bit nervous in the beginning, but I think it went well. I got a lot of positive feedback, from the production team as well. Online as well; people messaged me saying they liked it.
In the end, it's not rocket science of course. I'm talking about stuff I like, about stuff I'm a fan of already.
As you said, it wasn't just a random thought why they came to you to join the team. It's because you've been a force on Twitch, entertaining thousands with your stream. It's skyrocketed in 2017, your presence online.
It all went really fast in 2017. The stats continue to surprise me. In December, I think I averaged 4,500 simultaneous viewers. Every stream reached seven to 8,000 viewers.
I'm into Twitch since 2011, watching game streams. I remember thinking 'Wow, this guy has 2,000 viewers while he's playing DOTA, that's just crazy!' And now I'm at that same point as well. It's all gone really fast, but I've put a lot of effort into it. And I have an amazing community, it's insane.
At the PCA, you were part of a huge team. With Joe Stapelton and James Hartigan as lead commentators, you had the role of expert commentator. When you're sitting there, commentating on the players in the $50k and $100k, how comfortable are you? Because, I mean, you're not on the same level.
You can be an expert, without being on the same level. The job is to look from the outside to the play at the table and explain what's going on. Of course, I don't know at all times what they're thinking. That's why you'll hear me say 'Let's look at what Ike [Haxton] is gonna do here.' I'm really interested in that myself as well. I mean, it would be a bit weird if I'd disagree with Ike in a spot, because he's fucking Isaac Haxton, so who am I to disagree? I learn from looking at situations, and I hope the audience does so alongside me.
"It would be a bit weird if I'd disagree with Ike in a spot, because he's fucking Isaac Haxton, so who am I to disagree?"
You got to put yourself in a vulnerable position there, as I'm just as interested as my audience is. 'Is he gonna go big in this spot, or instead bet small?' If he chooses one option, we can then try to figure out what his thought process must have been. It's important to be honest in your commentary because these guys are just really really good. And we got a front row seat.
I must say that it's come in handy that I'm grinding tournaments myself now these days. Before, when I would go on EPT Live, I wasn't as versed in the world of tournament poker. Now I am. I mean, I played tournaments back then as well but I wasn't grown up, I was just messing around. Really, I was quite horrible in certain spots. Now that tournament poker is my bread and butter, I recognize a lot more. Now I really pay attention and recognize what's going on. I see someone like David Peters just demolish a table, and I'm just in awe. I really learn from it as well; I pay attention to what his three-bet ranges are, what kind of flops he check-raises with what kind of hands, et cetera. The fact that I have a microphone in front of me doesn't matter; I would have tuned in from home to watch that show if I hadn't been a commentator.
Check back tomorrow for Part 2 of this 3-part interview. We talk about swearing on the live stream, the good old days of playing massive cash games with even bigger swings, and the Top 3 moments of his poker career.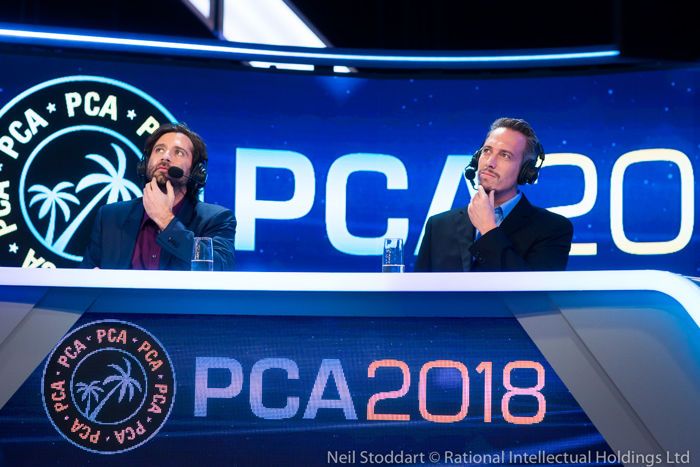 Photos courtesy of Neil Stoddart/PokerStarsBlog.com.
This interview was originally conducted in Dutch for PokerNews.nl. This article is a translation from that SoundBite on PokerNews.nl.
The Stars Group owns a majority share in iBus Media.