PokerStars Europe Thriving, Winamax Signs Margets & Vieira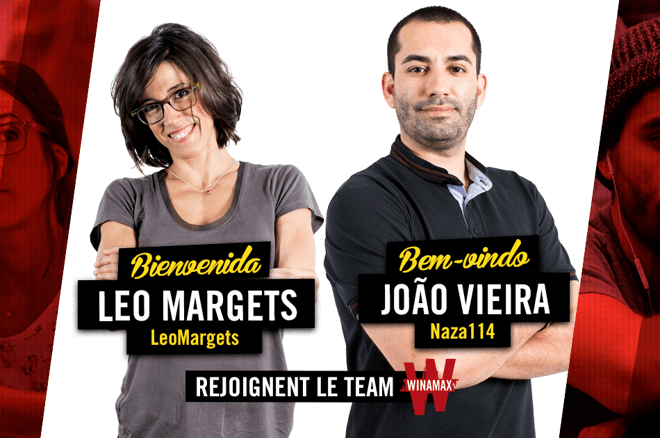 PokerStars has steadily been expanding its European presence as the principal early beneficiary of shared liquidity, just last month becoming the first operator to open tables where players from France and Spain's regulated markets can play together.
"PokerStars Europe" got the ball rolling fast, promptly launching the FRESH (France España Hold'em) series with €5 million in guarantees that ran for two weeks starting Jan. 28.
FRESH Success
Despite the relatively late notice of the series announcement, the benefits of the shared player pool were immediately apparent with FRESH attracting more than 30,000 unique entries and surpassing its guarantees, paying out €6,149,751 across its 50 events.
With buy-ins from €10 to €250, the €250 Progressive Knock-Out Main Event drew 4,305 entries, just barely clearing the ambitious €1 million guarantee by four entries. The winner was not French or Spanish, but hailed from Argentina. Gonzalo "gonzar32" Robles took down the €114,073 top prize and a $30,000 Platinum Pass for his win in the inaugural FRESH Main Event, according to CalvinAyre.
"The success of the FRESH Series is an encouraging start as we look forward to extending the shared player pool to Italy and Portugal in the future."
"It was great to see French and Spanish players challenging each other on the virtual felt," said Rafi Ashkenazi, Chief Executive Officer of The Stars Group. "The success of the FRESH Series is an encouraging start as we look forward to extending the shared player pool to Italy and Portugal in the future."
According to Poker Industry PRO ($), cash game traffic on the site went from steady around 1,600-1,700 players in the weeks immediately following launch to over 2,500 today. While the exact causes for the spike are unclear, it appears the shared player pools are proving attractive to potential online players.
Again, it's not clear if the majority of the increase in players is attributable to people migrating from other sites or other countries, or if the combined market is attracting completely new players to the games (or bringing back players who have abandoned the online poker scene in those countries). Regardless of the sources, the benefits are apparent, but soon, PokerStars will have to deal with some competion for market share.
Make Way for Winamax
French online poker market leader Winamax has been readying to enter the Spanish market for over a year now, what with their hiring of Spanish-speaking staff, applying for licenses to operate, and adding of Spaniards to their team pro roster.
In regards to the latter point, 2017 GPI Player of the Year Adrian Mateos officially signed with Winamax in October 2017, along with Italian high stakes crusher Mustapha Kanit. Now, Winamax has announced the additions of Spain's Leo Margets as well as Portugal's João Vieira.
Le Team Winamax fait un pas de plus vers l'Europe ! Bienvenida @LeoMargets et bem-vindo João Vieira !

— Winamax (@Winamax)
Both well known players from the Iberian Peninsula, Margets is a recognizable face the world over ever since her deep run in the 2009 WSOP Main Event, and Vieira holds a unique position in the poker world as an ex-pro basketball player turned high-stakes poker pro with plenty of online and live success in Europe.
Though still waiting for their official license from the DGOJ to operate in Spain, Winamax has put up a bold landing page on the Winamax.ES site advertising their readiness which reads, "Estamos listos, y vosotros?"
Once that license is approved, it appears Winamax will be ready to spring into action to compete with PokerStars for that shared Spanish-French player pool. Winamax is also ready for greater European expansion with a license in Italy, and apparently has also applied for one in Portugal.
Italy and Portugal Bringing Up the Rear
While Italy does not yet allow for shared liquidity, country officials assured back in January that the country will respect the international agreement, so it's only a matter of time.
Portugal appears on the brink of officially opening its doors to pooling players after a Feb. 9 addendum and a Feb. 16 regulation published in the country's daily bulletin amended Portugal's online gambling law that establishes technical standards for sharing player pools, according to PRO ($). The Portuguese regulator said that further publication of the shared liquidity text is required before the green light will be given.
Once that happens, PokerStars is poised to connect their Portuguese site with the already-established PokerStars Europe network, assuming it comes after the March 4th conclusion of the Turbo Series currently underway at PokerStars.PT. Stars appears ready to add Italy to that group when the time comes as well.
Besides PokerStars and Winamax with their sights on expansion, 888 Poker recently launched in Italy and will likely join that site with their Spanish site when opportunity permits.
partypoker may also have opportunities to merge player pools as they already operate in France, Spain and Italy. However, as PRO points out, party's offerings differ greatly on each network, so they will have to do significant work to bring the various sites in line in order to take advantage of shared liquidity.
The Stars Group is a majority shareholder in iBus Media.
Image courtesy of Winamax
Finding a trustworthy room to play online poker can be a monumental burden. That's all the more true if you're just looking for a place to play poker for free. We've listed five of the best play-money poker sites to enjoy and help hone your skills.