Meet the 11 Candidates for 2018 Women in Poker Hall of Fame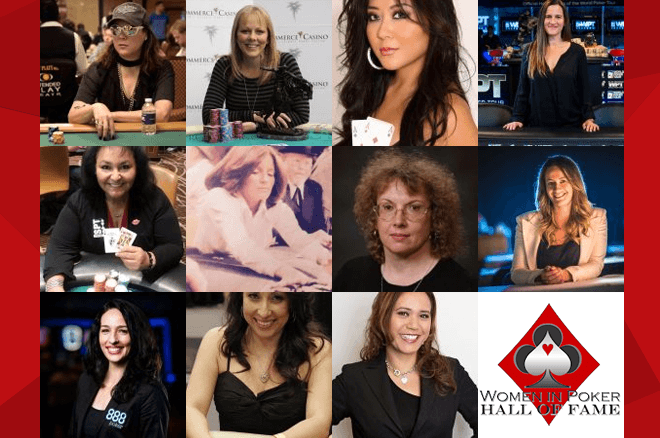 The Women in Poker Hall of Fame has announced the candidates for the Class of 2018 inductees. Of more than 50 submissions made by the public, the WiPHoF committee has narrowed it down to the following 11 candidates: Hermance Blum, Mandy Glogow, Angelica Hael, Haley Hintze, Maria Ho, Karina Jett, Terry King, Shirley Rosario, Kara Scott, Lupe Soto and Jennifer Tilly.
A voting panel that consists of members of the WiPHoF committee as well as several industry leaders and media personnel will determine the final 2018 inductees, who will join the 19 legendary ladies that have been inducted since the inception of the Hall in 2008.
Voting members have until midnight April 15 to cast their votes. Each panel member has ten votes to distribute for the candidates as they see fit, meaning they can give one vote to ten different ladies, or ten votes to a single candidate and anything in between. Once all votes have been tallied, the public announcement of the winners will take place in May.
The 2018 Women in Poker Hall of Fame Celebration Induction Ceremony & Luncheon will take place Tuesday, June 26 at 11 a.m. at the Orleans Casino in Las Vegas. The luncheon is open to the public and tickets may be purchased here.
To be considered for the nomination, the ladies must have been active as a player and/or industry leader for at least ten years, be a proponent of women in poker, be at least 35 years old and have contributed to the poker world in some meaningful way. These 11 women have met all those qualifications and are all uniquely qualified for the HoF. More information on the nominees can be found here, but the following provides a cursory glance at each lady's accomplishments in the poker world.
A Look at the Candidates


Hermance Blum came into poker in the form of a PR and Marketing position at PokerStars in 2008, where her role evolved to her operating as their Country Manager France. She then worked for PartyGaming in June 2010 to launch their French platform and then took a marketing role at the WPT in 2011. Since 2014, Blum has served as General Manager WPT Europe in charge of financial P&L and Operations, also overseeing contractual partnerships with WPT casinos and sponsors.


Mandy Glogow had a passion for poker before joining the WPT television show production team in 2005. She then worked up the ranks to become the show's Supervising Producer. Glogow focuses on showcasing the strategy of the game along with personal stories of its players for the show's 140 million viewers.


Haley Hintze is a veteran writer and editor who has covered poker for a number of publications, print and online, for nearly two decades. Having amassed thousands of byline credits in articles covering the poker and gambling worlds, Hintze is perhaps best known for her investigative reporting of two major insider-cheating scandals surrounding poker's infamous Black Friday.


Angelica Hael got her start working on the Aussie Millions at Crown Casino in Melbourne, Australia and has since overseen global events for a host of companies. Hael worked for partypoker, overseeing more than 30 global events, and then founded her own consulting company, through which she helped the Asian Poker Tour (APT) reach historic highs in entries and prize pools. Since 2010, Hael has led Global Tour Management for the WPT, contributing to WPT's international expansion to Asia, Africa, and South America.


Maria Ho is ranked fourth on the GPI female players list and 10th on the female all-time money list with over $2.7 million in tournament earnings. In addition to playing, Ho has established herself as a TV personality and host/commentator, holding the position as the first female in history hired to a poker television broadcast (HPT) as a strategic commentator. She appeared on The Amazing Race, was part of the WSOP Main Event broadcast team on ESPN in 2017, and now co-hosts WPT's King of the Club on Fox Sports Net.

Karina Jett is a professional poker player who started her career in 1997 playing Seven-Card Stud. With close to half a million in tournament earnings to date, notable results include four final table finishes in $1,000 WSOP Ladies Events and a final table appearance in the London Open where her and husband Chip Jett became the first husband and wife duo to final table a major poker tournament together. She also coordinates the annual Ante Up for Autism charity event.


Terry King played professional poker from age 18 to 21 after moving to Las Vegas in 1972, and then started a career as a poker dealer, tournament director, and floorperson. King won a WSOP bracelet in 1978, was one of the first women to deal the Main Event and played as a prop in games at the Dunes for Chip Reese. More recently, King has worked as a floorperson at the Bicycle Casino, helped open Hollywood Park Casino, and serves as an admin on the RealGrinders Facebook community page.


Shirley Rosario has been active in the poker industry for more than 25 years. As a player, she has more than $500,000 in tournament earnings including 12 wins in five different poker formats, notably winning back-to-back Cal State Poker Championship HORSE titles in 2009 and 2010. Rosario was an independent entrepreneur of a poker website featuring her blog along with extensive player bios which she sold to PokerStars. In addition to serving as a consultant for PokerStars, Rosario was one of the original hosts of Live at the Bike and appeared in Poker for Dummies.


Kara Scott has worked exclusively in poker and gaming since 2005 as a TV personality, broadcaster, commentator, ambassador and poker player. Scott has played in televised events including EPT, WPT, High Stakes Poker, WSOPE and SHRB, amassing more than $660,000 in tournament winnings. She has anchored ESPN's WSOP broadcast for several years, hosted the European and American Poker Awards and is widely published.

Lupe Soto started online poker group Victory Poker Players in 1999, and later created the first online poker forum for women called Poker Chix in 2002. She later founded the Ladies International Poker Series (LIPS Tour) in 2004 to bring more ladies into the game, and the Women in Poker Hall of Fame in 2008. In 2013, Soto expanded her reach to include senior players with the creation of the Senior Poker Tour, and plans to launch the Women's Poker Association (WPA) to unite women globally. Soto also serves as CEO of Poker Gives, a nonprofit charity serving military families.


Jennifer Tilly is a well-known actress who stormed onto the poker scene in 2005, beating out a field of 601 to win the $1,000 WSOP Ladies event. In total, Tilly posts $992,501 in tournament winnings including a win in the 2010 $5k Bellagio Cup and sits in 35th on the female all-time money list. Tilly wrote a column for Bluff magazine for ten years and recently published a short story in "He Played for his Wife, (and other stories)." She has also been a staple on televised poker shows for years, most recently making appearances on Poker Night in America and Poker After Dark Cash Game.