Phil Ivey Makes Triton's Short Deck Poker Final Nine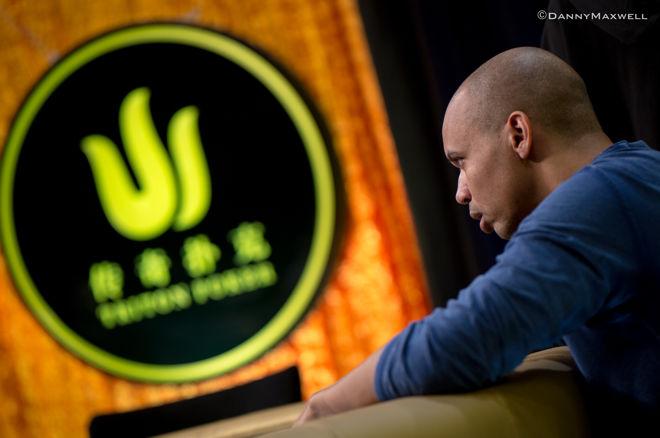 The Triton Super High Roller Series returned to the stunning Maestral Resort & Casino in Budva, Montenegro. The seven-day festival kicked off with the first-ever live Short Deck Ante-Only tournament and attracted some of the biggest names of the international high stakes poker scene.
Compared to regular No-Limit Hold'em, the Short Deck format features a 36-card deck with the deuces, threes, fours, and fives removed, with aces doubling as fives instead. With just 36 cards instead of 52, straights become more common, while flushes are a rare sight. In order to adjust for this, the hand ranking chart has been updated, and a flush beats a full house.
The tables were running seven-handed to further increase the aggressive playing style with frequent all in showdowns despite the ante only format. With a starting stack of 300,000 chips split into three bullets, which could be redeemed at any time during the registration period in the first nine levels of 45 minutes each, the vast majority of the participants opted to try and run up individual bullets of 100,000 each at a time.
As a result, it came as no surprise that the tournament with a buy-in of HKD250,000 (approximately $31,850) saw it's field of 61 total entries consist of 31 unique entries and 30 re-entries. This included some of the most well-known faces of the High Stakes circuit such as Tom Dwan, Dan Cates, Phil Ivey, Triton Poker founder Richard Yong, Paul Phua, Winfred Yu and Mikita Badziakouski.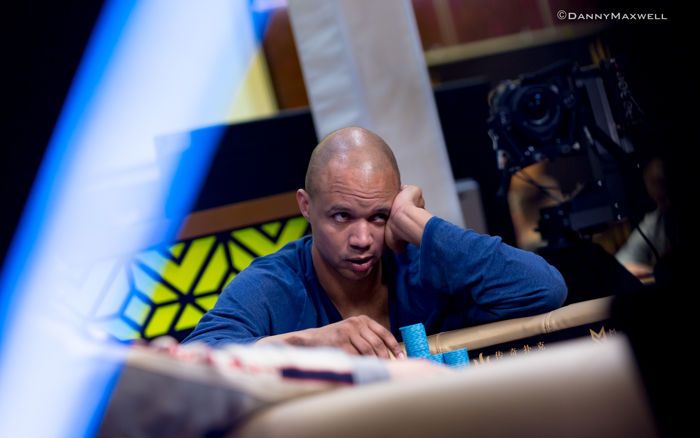 Ivey not only returned for another rare sighting on the live poker circuit but reached the last nine. The bubble burst in level 13 with Badziakouski heading to the rail empty-handed.
In the second-last hand of the night, Ivey doubled through 2016 Triton Super High Roller Series Manila Main Event champion Wai Kin Yong and advanced to the final day with a stack of 1,800,000. He is joined by Dan Cates and Jason Koon, who narrowly missed out on the overnight chip lead after bagging up 2,670,000 and 2,495,000 respectively.
The top spot after Day 1 belongs to Alan Sass with 2,775,000. Mid-way through the day, Sass went on a hot streak to emerge as big stack. The other finalists include Gabe Patgorski (2,575,000), Ivan Leow (2,070,000), aforementioned Wai Kin Yong (1,970,000), Furkat Rakhimov (1,190,000), and Mikhail Smirnov (900,000).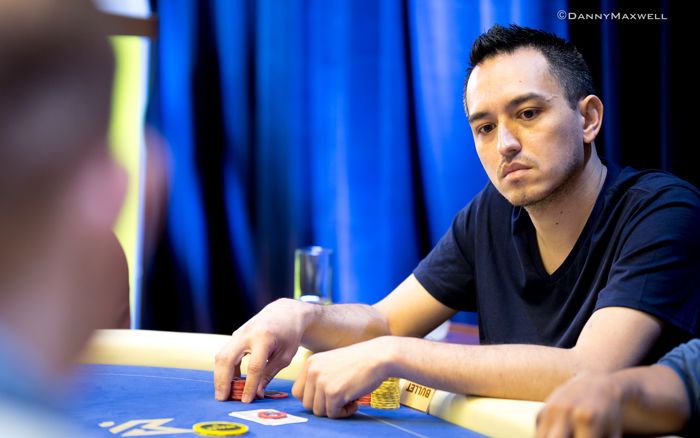 Among those to bust throughout the day were Devan Tang, Sean Dempsey, Peter Jetten, Winfred Yu, Marius Torbergsen, Rui Cao and Tom Dwan. After joining late and entering three times, Dwan ran a big bluff for most of his stack on the last two tables with ace-queen high against Wai Kin Yong. The latter called with queen-eight for a straight on the river of a paired jack-ten high board.
Only minutes later, a short-stacked Mikita Badziakouski invested half of his stack preflop with ace-king and Gabe Patgorski called on the button with jack-ten. Badziakouski jammed a queen-high flop with a straight draw, while Patgorski looked him up with middle pair. The bubble burst after two blanks on turn and river. That ended the day, and all remaining nine hopefuls bagged and tagged right after.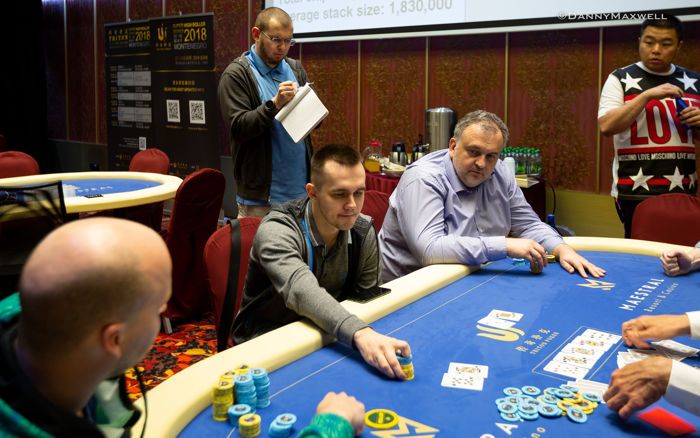 Action resumes on Sunday with just over 30 minutes left in level 13 with an ante of 20,000 and button double ante of 40,000, which gives bottom stack Smirnov 23 antes worth, while chip leader Sass has 69 antes. The second and final tournament day kicks off around 1 p.m. local time on Sunday, May 13, 2018, and for the first time, Triton Poker is also hosting a live stream on their Twitch channel on a security delay of 30 minutes. English commentary by Kane Kalas and Randy Lew, further streams are hosted in Russian and Chinese.
Seat Assignments for the final day
| Table | Seat | Player | Country | Chip Count | Antes |
| --- | --- | --- | --- | --- | --- |
| 1 | 1 | Wai Kin Yong | Malaysia | 1,970,000 | 49 |
| 1 | 2 | Furkat Rakhimov | Russia | 1,190,000 | 30 |
| 1 | 5 | Ivan Leow | Malaysia | 2,070,000 | 52 |
| 1 | 6 | Alan Sass | United States | 2,775,000 | 69 |
| 1 | 7 | Phil Ivey | United States | 1,800,000 | 45 |
| | | | | | |
| 2 | 1 | Dan Cates | United States | 2,670,000 | 67 |
| 2 | 3 | Gabe Patgorski | United States | 2,575,000 | 64 |
| 2 | 5 | Mikhail Smirnov | Russia | 900,000 | 23 |
| 2 | 7 | Jason Koon | United States | 2,495,000 | 62 |
Here is what the nine finalists are playing for:
| Place | Prize (in HKD) | Prize (in USD) | Prize (in EUR) |
| --- | --- | --- | --- |
| 1 | HKD 4,749,200 | $604,977 | €505,812 |
| 2 | HKD 3,199,000 | $407,505 | €340,708 |
| 3 | HKD 1,937,000 | $246,745 | €206,300 |
| 4 | HKD 1,334,000 | $169,932 | €142,077 |
| 5 | HKD 918,000 | $116,939 | €97,771 |
| 6 | HKD 689,000 | $87,768 | €73,382 |
| 7 | HKD 560,000 | $71,336 | €59,643 |
| 8 | HKD 488,000 | $62,164 | €51,974 |
| 9 | HKD 473,000 | $60,253 | €50,377 |