Maria Ho, Lupe Soto Honored at Women in Poker Hall of Fame Luncheon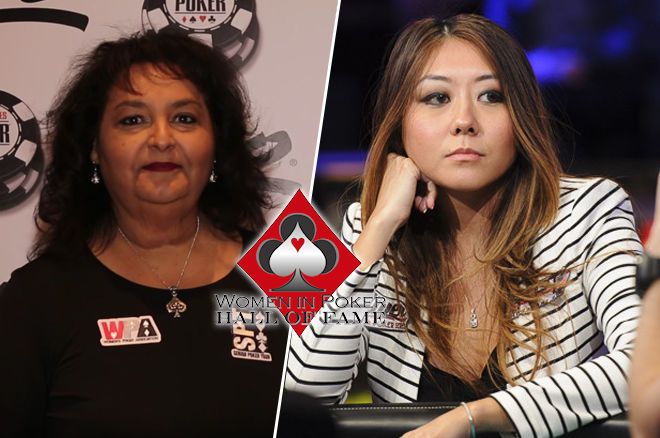 "All of these people that have created something before me, and I get to be a part of it." --Lupe Soto
The inductions of Maria Ho and Lupe Soto into the Women in Poker Hall of Fame on Tuesday afternoon at the Orleans Casino in Las Vegas provided a great demonstration of the variety of ways that strong women can be influencers in the industry.
Ho has racked up $2.78 million in career tournament earnings, in addition to serving as a commentator and host for a variety of poker productions in the last ten years. She hangs with high-rollers, is good friends with Daniel Negreanu, and plays for millions of dollars on the regular.
Soto, on the other hand, has very little in the way of Hendon Mob results, a fact that Soto's presenter, 2008 inductee Linda Johnson, lovingly joked about. But Soto's reach in the poker world stretches beyond the tangibles, as she has worked tirelessly for around two decades to bring more women into the game, bring women from online into the live arena, and connect a small but growing network of females playing across the country and internationally.
Seeing these two women welcomed into the elite group of nineteen existing members of the Hall, and the respect and adoration they command from their peers, speaks volumes to the character of each. While their bios may seem to differ greatly, their ties are undeniable.
Both women exhibit strength of character, hard work and persistence in the face of adversity, and a vision for women in poker that supersedes any one hand or tournament. Both women also expressed keen awareness and deep appreciation for what they have gained - as people - through the game they both so deeply love.
Maria Ho
Johnson said of Ho's induction: "It was no surprise that Maria got in as soon as she was eligible. She's a role model to me, to poker, and to women in general."
Ho's presenter, Negreanu, opened with an anecdote that demonstrated that even during an important tournament, Ho's first priority is always the well-being of her friends.
"Her empathy never takes a day off."
"Her empathy never takes a day off, and that just to me describes so well the friend that I have known for ten years," said Negreanu. "I honestly believe that it's her empathy that makes her such a great poker player."
Negreanu summed up what makes Ho so deserving of her place in the Hall. "I think poker is actually very very lucky to have someone like Maria in it because she's the best ambassador you could ask for," Negreanu said.
"She's always doing everything possible to promote the game. I can't imagine in the last few years, there has been anyone that's worked harder than Maria."
Maria Ho's Draw to Poker
Ho said in her induction speech that she got into poker because she was basically told that she couldn't – it was college at UCSD and the three magic words that drew her to the boys' poker game were, "No girls allowed."
You can guess the story from there.
"I'm the kind of person who's driven by doing the things that people think I can't do," said Ho. "I've always gravitated towards the unconventional, maybe because of my fairly strict upbringing; that and the challenge of finding success in this male-dominated industry, are some of the reasons I was so drawn to it in the first place."
Success she has found, and Ho expressed gratitude to poker for all it's given her.
"I've learned to critically think about things, and approach situations with logic and rationale," said Ho. "I've cultivated a greater independence from playing a single-player game where I can only rely on myself to make important decisions, and trusting that I have all the tools that I need to achieve my desired outcome. And most importantly, the way this game has taught me to navigate failure, in all aspects of life, whether it be career or relationships.
"What I want to stand the test of time, isn't what I do in poker, it's the person that I am outside of poker."
"I wouldn't be where I am today without those skill sets, but I also wouldn't be here without the work ethic that was instilled in me by my parents. They immigrated to America when I was just four years old and their tirelessness in working hard to create a better life for their family is what drives me and pushes me further in every facet of my career."
As far as her legacy in poker goes, Ho told PokerNews after the ceremony that what Negreanu said at the beginning of his introduction, got to her, though she was able to collect herself in time to deliver her speech.
"I think what I want to stand the test of time, isn't what I do in poker, it's the person that I am outside of poker, and when [Negreanu] touched on that, I just lost it."
Lupe Soto
While Lupe Soto may not be a recognizable top professional player in the community, her contributions fit and exceed the requirements set forth by the Hall of Fame.
"What she did for getting women involved in poker is amazing."
As her presenter and member of WiPHoF and the Poker HoF Linda Johnson said, "If this was jeopardy, and the answer was Lupe Soto, the question would be, 'Who has done the most for women in poker over the last twenty years?'"
Johnson told the story of a life of hard work, ingenuity and adaptation that saw Soto shift into learning about computers and poker when she decided to leave her career in social services administration in the 1990's.
Online poker forums turned into her own poker website, and more forums turned into annual gatherings in Las Vegas. An all-women poker forum then became Ladies International Poker Series (LIPS) in 2004 in response to demand for a tour where women could meet, learn and have fun with the game.
"What she did for getting women involved in poker is amazing," Johnson said. "It was a place that women could go to play and where they could meet like-minded players, and for many women, the LIPS tour is their first exposure to live tournament play."
After ten years of recusing herself of the nomination for the Women in Poker Hall of Fame that she started herself in 2008, Soto had to uphold her promise to her kids that she had made all those years ago. "If the hall's still going in ten years, I'll consider it," Johnson said Soto told her children a decade before.
She has continued to be an innovative trailblazer in the poker world, creating the Senior Poker Tour in 2013 and most recently, the Women's Poker Association (WPA), in addition to continuing work for a variety of charities including Poker Gives that provides for military families in need. She also continues to be an advocate for new players, especially women just getting into the game.
After the ceremony, Soto described the highlight of her career as being, "Bringing women into the game - the ones who had never played before live, and then they enter into their very first tournament and they get hooked. They get the interaction with these other women, the social part of it, the caring part of it, because there are women who met through LIPS tour that are besties to this day, and it's been years. They travel together in packs; it's just the most beautiful thing I could have ever expected to happen."
Soto also explained that there wouldn't be a LIPS tour without her daughter, who runs most of the day-to-day operations. About her mom's induction, daughter Angela said, "She's been so deserving of it for so long, it's great for her to actually get that recognition that she's needed for quite a while. So I'm glad she's actually getting the accolades that she deserves."
Takeaways for Women in Poker
Soto had some words of encouragement for women getting into the game, explaining how gender can be beneficial for the sub-population that generally represents no more than five percent of the tournament fields. For Soto, women have a natural edge in the game because of intuition and they can get enjoyment out of the game through relationships.
"Look at it as, you belong there and I think if you own it, that's the best way to go."
"I think that women are really good poker players because they can read those things – they know how to read their children, they know how to read their partners, and that translates to the actual poker table," said Soto.
"So I think that women get a lot out of the innate things that we possess. They can make money. And they can create some phenomenal relationships, and for me, that's the most important part – the relationships and the friendships and the industry as a whole, just what a wonderful sport it is to be in."
Besides embracing the push to make the poker environment more appealing to women, Ho had some advice for ladies in poker.
"For women, to empower ourselves, and to know that even if this isn't the most friendly environment in the beginning, we can make it what we want to make of it," Ho said. "And that's the stance I've always taken: don't feel like you have something to prove, don't look at it as you're a minority in a man's world. Look at it as you belong there and I think if you own it, that's the best way to go."