Did Daniel Negreanu Really Just Play Golf at $20K a Hole?
Daniel Negreanu is continuing his vlogging series even with the 2018 World Series of Poker in our review mirror. This week was a bit of a fun one because he took us on a tour starting off with giving us a scope of his golf skills. It's no secret that he has a golf simulator in his own home, so he starts off there showing how he gets his practice in with his golf coach before hitting the links.
Let us remind you that Negreanu is no stranger to the game and even once told the tale of a game of high-stakes golf involving himself and Phil Ivey, Doyle Brunson and Mike Sexton. Ivey won, of course, but still found reason to yell at his caddie.
But once he's at the course in his latest vlog, Negreanu explains that he picked up a $20,000 a hole match. In the background, there's a woman on the driving range, decked out in Nike attire looking ready to go. She even suggests they up the bet to $25K instead of the initial $20K but Negreanu says he'll stick to the initial bet size because he "hasn't played in a while." The two even decide that Negreanu will get five shots per side to offset the fact that Nancy would be playing from the Ladies tees.
This is where the viewer, including myself, gets really into it. $20K a hole! Once out on the course, there's a moment where Negreanu is giving Nancy 10:1 to hit the green — but only from 130 yards out? And here is where I grow suspicious. She appears to be hitting a wood of some sort, either a 3 wood or a 5 wood, again from only 130 yards out, and misses the green.
As the video continues, he says they only played nine holes because in Vegas, it was 116 degrees out and Negreanu claims that he beat Nancy for $160,000 and that she should be good for it because her family "is in oil."
At this point into the video, anyone who plays golf is salivating at the idea that there is this much action on the golf course — and then we are all punk'd. In his very next clip, Negreanu lets us all down by saying, "Just in case some of you people took me seriously, that we were playing for $20K a hole, I was kidding." But, he says he did beat her for $20, so there's that.
So sadly, there wasn't any high stakes action on the golf course, but we did get a consolation prize in the form of a glimpse into the athleticism of Gus Hansen. Turns out, he's pretty fit and pretty good at squash. We get to see him play for just a bit, but it's enough to leave you wanting more. Confirmed: Gus Hansen is still having a great summer. Hey Gus, how about more videos of you at the gym?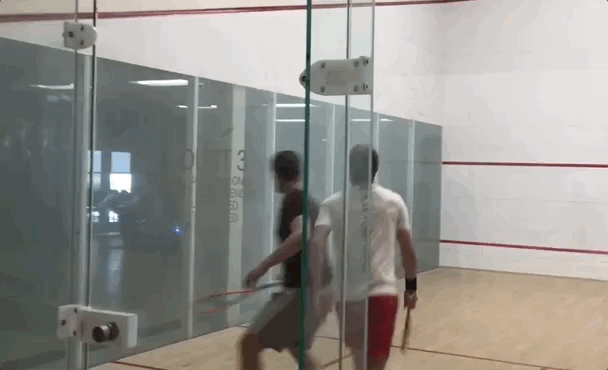 Check out Negreanu's latest vlog below for a look into his recent fitness and athletic endeavors.