Prop Bets: Lily Kiletto to Bench Press; Joey Ingram Makes Music Video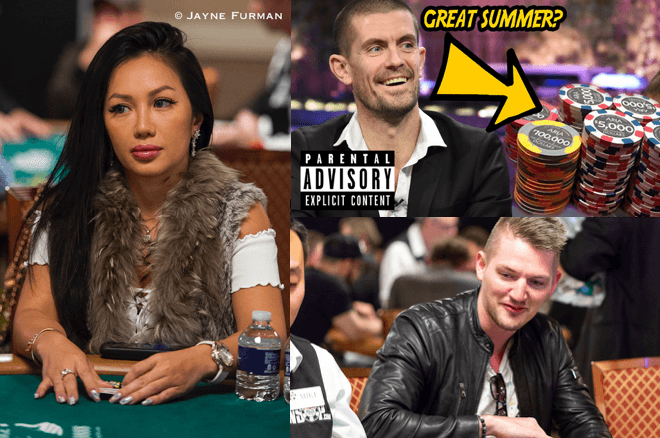 Prop bets and poker go together like pepperoni and pizza. So it's not uncommon to see prop bets being made at any given time while at the tables. In the past, we've seen Lex Veldhuis and Jason Somerville start a fitness bet, Jaime Staples lose a lot of weight, and more recently, Antonio Esfandiari and Kevin Hart with a boxing bet.
Well it's a new week with new bets on the line. Let's start with the ladies. By now, we've all seen the insane five-bet jam from Kelly Minkin with 7-2 against Lily Kiletto's ace-king suited. Crazy five-bet or crazy fold? That's neither here nor there. What matters (at least for now) is what happened after all that cash-game action was over. "Ladies Night" on Poker Night in America was far from nitty, so naturally the bets continued once the game wrapped up for the night.
For whatever reason, the table took the action to the side for a round of... arm wrestling. That's right, the women can duke it out just like men do. Round 1 of the night (the 7-2 hand) was undoubtedly won by Minkin, but in Round 2 (arm wrestling), Kiletto destroyed Minkin ever so quickly as you can see at the very end of the stream.
Through all that testosterone and adrenaline, came the bets.
---
Prop Bet #1: Lily Kiletto vs. Danielle Andersen
The two will dual it out in a bench press competition. Kiletto believes that she could bench more than Danielle "DMoonGirl" Andersen in one month's time and is putting $2,000 on the line to prove it. It's simple: whoever can bench more will win $2K from the other person. We reached out to Kiletto because, of course, we needed the details.
Kiletto says that she's never bench pressed in her life and can only do 25 push-ups. In case you haven't seen, Andersen does Crossfit, like everyday.
She can 'clean and jerk' - whatever that is - lift heavy things and just do whatever it is Crossfitters do, and by the looks of things, do it well. With that in mind Kiletto says, "If I can beat Danielle, then it would be embarrassing for her and that would bring me great joy."
While DMoon does seem to be a heavy favorite, don't underestimate Kiletto. While she may not post much in the way of physical activity on Instagram, she does post a lot of gym selfies so we know she is going at least. And from this 2016 Instagram post, she apparently had a foray into competitive jump-roping.
After speaking with Kiletto, she says she's an athlete by heart. She does go to the gym regularly so "this would be a challenge" and something to add to her daily routine. "I can squat 300 pounds at the moment so I'm sure training arms won't be too difficult."
---
Prop Bet #2: Lily Kiletto vs. Jamie Kerstetter
It doesn't stop there, as Twitter favorite Jamie Kerstetter got into the mix. Lifting will not be involved in this bet, but endurance and speed will. The challenge: $1,000 to whoever wins in a one-mile race. The run will take place in two months, or 60 days after the Ladies Night stream. According to Kerstetter, "Kiletto said that she does more cardio so I suggested that I would race her for $1K and she accepted."
Sure, these bets aren't for a lot of money, but it's all for good fun and at the very least, these women will be meaner and leaner after it's all done.
---
Prop Bet #3: Joey Ingram Creates Music Video
That's right, the prop bet world has blessed us with this Gus Hansen-centered gem. Of course we know Hansen had a great summer. It was the summer heard around the world and we are all better for it.
But now it's been reimagined as one three-minute video created by YouTuber Joey Ingram. In a bet between Ingram and DFS pro Jonathan Bales, Ingram was assigned to create a music video of his choice which must generate 100,000 views by Sept. 6 in order for Ingram to win $10,000 from Bales. If the video fails to reach 100K views, then Ingram will owe Bales $5,000.
So why center the video around Gus Hansen? We reached out to Ingram to get the details. "I thought the summer of Gus was epic and wanted to tell his story in a song format, while also tying in my favorite moments in television poker history."
Titled, "It's Going to Be a Great Summer," the video highlights just that - a montage of Hansen's Instagram posts mixed in with some pretty great moments from poker history. Take a look and enjoy.
In a Twitter post, Ingram also mentions that "all comments and likes — on YouTube — could potentially help with reaching that 100,000 view mark. Will he reach his target?