Ye Wang Takes Chip Lead to Day 2 of 2018 PKC HK$200K Super High Roller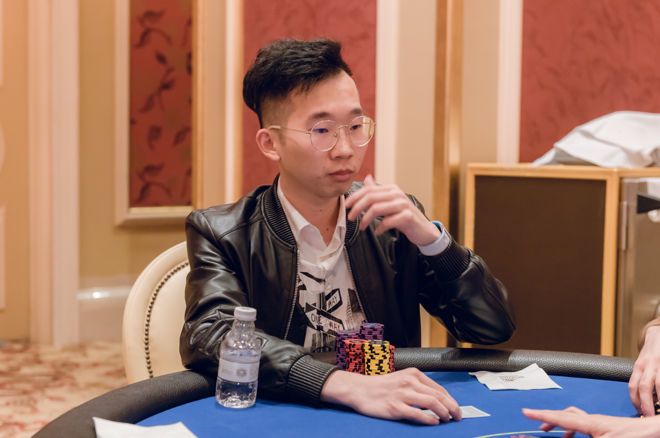 With the first nine levels of the 2018 Poker King Cup Macau HK$200,000 Super High Roller in the books, taking the chip lead into Day 2 is China's Ye Wang with 710,000 in chips. The Chinese player was the fifth player to enter the field today and finished at the top of the chip counts.
Wang lost a chunk of his stack to Mikita Badziakouski when he ran into Badziakouski's kings, but clearly managed to build it back up. Wang played the High Roller and Main Event earlier this week but failed to make the money stages in those two tournaments. He will be looking to do better in this one.
More Survivors
Second in the chip counts is Kui Song Wu with 633,000. Wu was chipping up steadily at the start of the tournament but lost a decent amount of it to James Chen. He then went down in the chip count but climbed back up to above starting stack. He then clashed with Phanlert Sukonthachartnant in a huge hand where he managed to double up.
Badziakouski closes the podium with fewer chips than he had at his high point, bagging 484,000 in the end. Badziakouski himself was quick to dominate the tournament. He eliminated the High Roller Day 1 chip leader Duan Chao when he flopped a straight against Chao's set of sevens. It all went in on the turn and no full house came on the river for Chao as he was the first to be sent away from the Super High Roller tournament tables.
The only female player to enter the High Roller earlier this week, Wenling Gao, who finished sixth in that one, was back to try her luck in the Super High Roller. She was bleeding chips early on but managed to win some hands and also doubled up through Jacob Rasmussen to bag 454,000 for Day 2.
Shan Huang cashed for HK$52,000 in the Main Event for finishing in 27th place and jumped into this tournament immediately. Huang was probably the most talkative player of both tables, but he busted when he shoved his last 12 big blinds into the ace-jack of Wang while holding ace-seven. Huang smiled and quickly walked to the cashier to reenter and bagged 339,000 on his second bullet.
Other players through to Day 2 are Michael Addamo (328,000), William Fasano (311,000), Takashi Ogura (259,000), Sergio Aido (235,000), Phachara Wongwichit (144,000), and Phanlert Sukonthachartnant (99,000). Fasano finished in fourth place and Ogura as the runner-up in the High Roller three days ago so they will both be gunning for that first place this time.
Fallen Players
Unfortunately, not everyone was that lucky. James Chen was taken out by Addamo when his flopped top pair couldn't win against the flush Addamo hit on the river. Gui Fei Zhang qualified last night in the satellite and started off well, but he fell after several hurdles. He doubled Addamo up after a failed bluff and then got eliminated by Sukonthachartnant in a five-bet pot which also included Rasmussen.
Rasmussen got short when he doubled up Gao and then lost whatever he managed to build up again when Sukonchartnant called his shove with ace-king. Rasmussen's king-jack didn't get there and he was the last player to hit the rail for the day. With nine levels in the books, the eleven remaining players bagged and tagged their chips for the next day.
Day 2 will start at 2 p.m. local time on Tuesday, September 25, in Level 10 which features a small blind of 4,000, big blind of 8,000, and a running ante of 1,000. Registration will remain open for the first two levels and the 10-minute break that follows it. Once that period closes around 3:50 p.m., the final prize pool details will be announced.
Make sure to come back tomorrow to follow the updates as the PokerNews live reporting team will be covering the event until the Super High Roller Champion has been crowned.