Inside Gaming: Phil Ruffin to 'Bring Vegas to Florida' With Casino Miami Purchase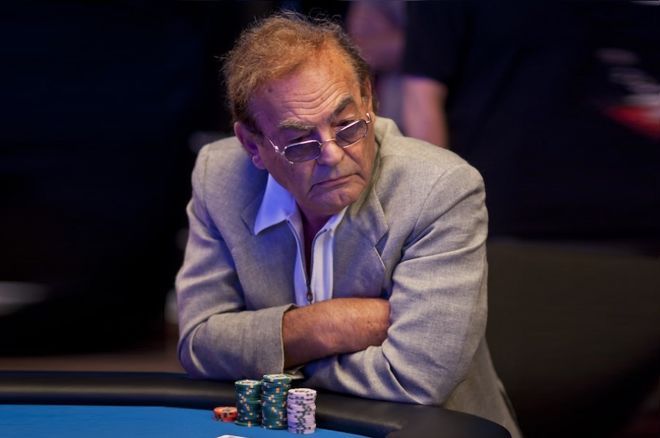 This week's Inside Gaming starts with the acquisition of a Miami property by a well-known Las Vegas casino owner, shares a new study about gambling's effects conducted in Massachusetts, tells of increased competition in New England caused by MGM Springfield, and reports on a sportsbook deciding to pay out college football national championship wagers more than a month before the title is even decided.
Billionaire Phil Ruffin Purchases Casino Miami
The November elections happened only a month ago, but the results of some votes have already led to some industry deals being made. An example of such happened this week with reports that Phil Ruffin, the 83-year-old billionaire businessman and owner of the Treasure Island Hotel and Casino in Las Vegas, has purchased Casino Miami in Florida located near the Miami International Airport for an undisclosed sum.
As The Miami Herald reports, last month's passage of "Amendment 3" by Florida voters had a direct effect on the deal, since one consequence of the amendment's passage will be new licenses might prove harder to come by in Florida given that they will each require voter approval.
"Ruffin believes existing licenses like Casino Miami's are now that much more valuable," explains The Miami Herald. The property has generated "about $60 million in revenues through the first 10 months of 2018" according to The University of Nevada-Las Vegas Center for Gaming Research.
"We plan to bring Las Vegas to Florida," Ruffin told The Miami Herald.
Formerly known as Miami Jai-Alai Fronton, the property still hosts jai-alai events seven days a week while also frequently hosting musical acts in its 6,500-seat indoor arena. Ruffin, who purchased the property from Fronton Holdings, shared plans to add hotel rooms and expand offerings, intentions that were amenable the seller.
"This is someone who can bring strong brands and ideas to Miami," said David Jonas, president of Fronton Holdings. "He could create something Hard Rock-like," Jonas added, referring to the successful Seminole Hard Rock Hotel & Casino in Hollywood, Florida.
In addition to Treasure Island, Ruffin co-owns the Trump International Tower in Las Vegas with U.S. President Donald Trump. He was the owner of the New Frontier Hotel and Casino in Vegas from 1998 to 2007. A bid by Ruffin to acquire The Mirage from MGM Resorts International fell through in November 2015.
Readers of PokerNews might recall Ruffin's participation in the $1,000,000 Big One for One Drop at the 2012 World Series of Poker (pictured above). Ruffin also appeared on High Stakes Poker during the popular series seventh and final season in 2011.
Study Finds Social Effects of Casino Gambling Not Negative
The Boston Herald this week shared findings from a new study by the University of Massachusetts Amherst concluding the social and economic effects of casino gambling are not as harmful as some might think.
"At the state level, there is no compelling evidence that negative impacts related to problem gambling have increased as a result of casino introduction," said the study's lead researcher Rachel Volberg, a Research Associate Professor in the university's School of Public Health and Health Science who has studied problem gambling since the mid-1980s.
In its analysis of "socioeconomic impacts" of casino gambling the study looked at incidences of "bankruptcy, divorce, restraining orders and cases of child welfare" as potential indicators of gambling's negative impact.
The study focused on the effects upon surrounding neighborhoods of a single casino, the Plainridge Park Casino that opened in 2015, as well as statewide effects. Researchers found "no evidence that the introduction of casino gambling has had any impact on crime rates" statewide, although locally there was "an increase in credit card fraud, lost property, reports of suspicious activity, and traffic complaints in the town of Plainville that 'can likely be attributed' to the casino."
The Massachusetts Gaming Commission was keen to learn of the study's findings given the recent opening of MGM Springfield in August and next year's opening of Encore Boston Harbor, currently scheduled for June 2019.
MGM Springfield Affecting Connecticut Casino Revenue
Speaking of MGM Springfield, there were other items of interest in the news this week related to the newly opened property.
Yesterday The Hartford Courant reported that MGM Springfield has inexpensive round-trip buses available to enable Connecticut residents to come gamble — just $20 (plus a $20 gambling voucher) to and from several CT cities. And NBC Connecticut today was letting its readers know the casino now has massage therapists available to them while they grind the slots and table games.
Uncoincidentally, one of Connecticut's casinos, the Mohegan Sun, is reporting that MGM Springfield is already starting to hurt its profits, reports CBS Boston.
Yesterday the company reported that revenues at Mohegan Sun had decreased by three percent during the most recent quarter ending on September 30, earning about $275 million compared to $284 million during 2017 Q3. "New competition in the New England region" was listed as a cause for the decline by the company, an obvious reference to MGM Springfield.
FanDuel Sportsbook Pays Off Alabama Title Bets Early
Finally, many college football fans have been watching the top-ranked Alabama Crimson Tide routinely crush all comers this season on its way to securing a spot yet again in the four-team College Football Playoff National Championship, this time as the top seed.
Currently 13-0 on the season, Alabama is the defending national champion and has won five titles in the last nine years.
One sportsbook decided last week to end the suspense early for bettors wagering on the Tide to win again this year. FanDuel, operator of the sportsbooks at Meadowlands Racing and Entertainment in New Jersey (as well as a mobile app in NJ) and the Greenbrier Resort in West Virginia is paying out bets to anyone who has wagered on Alabama to win it all prior to last Friday afternoon at 5 p.m.
According to the Associated Press, FanDuel stated "it wants to reward customers for betting on a team with odds that were so lopsided it was difficult to make money."
After opening at almost 2-to-1 to win it all (+195), Alabama's season-long dominance saw its price fall to -280, meaning one would have to bet $280 to win $100. By paying off the bets early, FanDuel says it risks losing about $400,000 should a team other than Alabama win the title.
Interestingly, less than 24 hours after FanDuel made the decision, Alabama nearly lost its first game of the season to the Georgia Bulldogs in the Southeastern Conference title game, having to overcome a two-touchdown deficit to win 35-28.
The semifinals of the College Football Playoff National Championship is scheduled for Saturday, December 29, with No. 1 Alabama taking on the No. 4 Oklahoma Sooners and the No. 2 Clemson Tigers squaring off against the No. 3 Notre Dame Fighting Irish. The winners will then compete in the final on Tuesday, January 7.